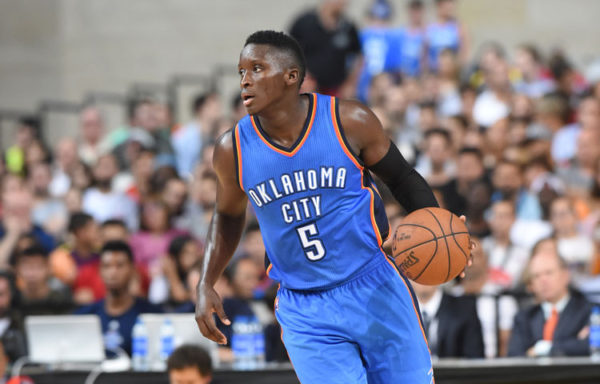 Victor Oladipo has been misused and poorly coached his entire career.
Now a member of the Indiana Pacers, his third team in three seasons, Oladipo is in desperate need of continuity. He'll have a great chance to enjoy that continuity in the city that grows basketball.
The Pacers will likely be a bottom tier seed in the Eastern Conference. Besides Oladipo and Myles Turner, Indiana lacks the talent to seriously compete for a playoff spot in the Eastern Conference. The only conceivable way for the Pacers to have a shot at making the playoffs would be for Turner and Oladipo to both make large strides in their play. For Turner, many believe he will have a big year. With Paul George shipped to Oklahoma City, he seemingly was handed the keys to the team.
This makes sense. Turner is young and extremely talented. He is entering his third year in the league and has had the time to accustom himself to the best professional basketball league in the world.
The key piece Indiana landed in the Paul George trade was Victor Oladipo. Many have since scoffed at the Pacers for only acquiring Oladipo and Domantas Sabonis for George, but Indiana has high faith in both young players. Oladipo, specifically, could be set for a breakout season.
Last season with the Thunder, Oladipo averaged just 15.9 points per game, a career low since his rookie season in 2013. His assist numbers dropped to an all-time low, as he averaged just 2.6 assists per game. Those numbers could lead to concern, but they shouldn't. Oladipo will no longer be playing alongside Russell Westbrook, which will help unleash his full potential.
Alongside Westbrook last season, Oladipo posted a career-low usage of just 21.4 percent. For comparison, his best year in the league so far, the 2014-2015 season, Oladipo held a 25.2 percent usage. Many would have thought that Oladipo would have averaged a career high in shot attempts per game last season with the Thunder's weaker roster, but that was not the case. He only averaged .4 more attempts from the field than he did in the 2015-2016 season, 13.5. Bottom line, Oladipo needs the ball more. He will get that opportunity in Indiana.
One area that breeds potential for Oladipo in Indiana is in the pick and roll. With two big men that can be productive in the pick and roll, Myles Turner and Thaddeus Young, Oladipo will have better options when working in this play style than he did in Oklahoma City. Both Turner and Young are athletic, adequate finishers, and can slip out for jumpers rather than roll to the rim. Oladipo will also have better kick out options in Indiana, with the likes of Darren Collison and Bojan Bogdanovic surrounding him in the starting lineup. A more dynamic and offensively versatile group surrounding Oladipo will help unlock his potential in the pick and roll offense.
Oladipo is a slightly above average shooter himself and is showing improvement. Last season he shot a career-high 36.1 percent from deep. In the preseason with Indiana, Oladipo connected on 50 percent of his three-point attempts, as he attempted four long balls per game. He made six of the twelve threes he attempted. Oladipo seemed comfortable shooting the long gun in catch-and-shoot situations, as all of his three-point makes were assisted.
With the personal Indiana holds, they should shoot a hefty dose of threes, and Oladipo should fit into that feasible plan. While he should have the ball in his hand more, it would be best if he took the majority of his threes in catch-and-shoot situations.
Oladipo's best quality overall is his athleticism. He has freaky insane abilities in that area. He is quick and can jump high. If Nate McMillian wants to maximize Oladipo and other young pieces on Indiana's roster, he very well could adopt a quicker offense with an emphasis on getting out and running.
Victor Oladipo drops it to Myles Turner for the jam!

— Def Pen Hoops (@DefPenHoops) October 11, 2017
In the video above, Oladipo gets out running after the steal and makes the simple pass to Myles Turner for a quick bucket. That style of play will be very fruitful for Indiana.
For Oladipo to take the next step on offense, he will need to take care of the ball much better than he has. He posted a career low in turnovers per game last season, averaging just 1.8, but that was also due to playing alongside Russell Westbrook while having such a low usage. In the preseason, he averaged 3.7 turnovers per game. Hopefully, some of that is just the sloppiness that usually comes with preseason; but nonetheless, he has to cut the turnovers down, especially if he wants the ball in his hands often.
Oladipo will need to continue to develop as a defender, as he will be relied on heavily in that area to improve. This is because his fellow members of his projected starting lineups tend to struggle on that end of the floor. As of now, Oladipo is merely an average defender with the tools to be a good to great defender, much like Detroit Pistons' center Andre Drummond. Take it as you will, but Oladipo posted a fantastic 88.4 defensive rating in three preseason games. For comparison, his defensive rating with the Thunder last year was 109. He also averaged 2.3 steals per contest. While neither of those stats encompasses the full details of defense, those two numbers bode well for the 25-year old guard.
In retrospect, Oladipo shows a lot of promise. He is just 25 and has so many tools to help him succeed. He is back where his basketball career took off, in the state of Indiana, with the Indiana Hoosiers, and is ready to take off.
In an interview with Hot 97, a local radio station in Indiana, Oladipo spoke out.
"I really don't care anymore. That's just my mentality," Oladipo said. "I'm not worried about nothing else but dominating and winning basketball games.
He also said the following:
"You have no control over anything, and you want to be the nice guy … I'm just tired of being Mr. Nice Guy. I'm ready to make stuff happen.

"They're going to have to tie me down and tell me to calm down because I'm on 1,000, every day."
Oladipo let the NBA know he is coming, and let them know he would not be stopped easily.
"We plan on going after people, and I plan on leading the way."
As they say, Indiana grows basketball. We'll see if they can help blossom Victor Oladipo into a franchise-changing level player.