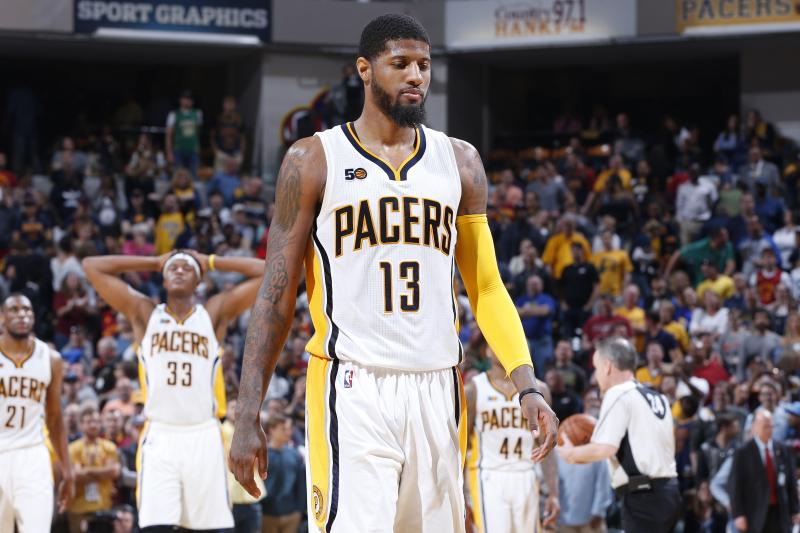 After long speculation of where his next destination would be, it appears we have a clear view of the new home for Paul George. The Boston Celtics, Cleveland Cavaliers, Houston Rockets and Denver Nuggets were just a few teams connected to George but no one actually made a move out of fear of the Los Angeles Lakers.
The Lakers reportedly loom as George's preferred free agency destination in the summer of 2018 and other teams were reportedly hesitant to make a trade because of the Lakers possibly swooping in last minute to trade for him. But the Oklahoma City Thunder decided to take a chance and get the newly minted NBA MVP a co-star.
Paul George has reportedly been traded to the Oklahoma City Thunder.
Following comes from Ramona Shelburne of ESPN.
Paul George has been traded to OKC, per sources

— Ramona Shelburne (@ramonashelburne) July 1, 2017
Hearing Oladipo and Sabonis going to Indy

— Ramona Shelburne (@ramonashelburne) July 1, 2017
For the Pacers, they apparently got all they could get for Paul George. Some are reporting that the Celtics had huge offers for Indiana to mull over but they didn't bite. Instead, they get two former lottery picks under the age of 26 under some long-term contracts.
Victor Oladipo is one of the most popular players in the history of the Indiana Hoosier basketball program and hopefully he can return to his old stomping grounds and help usher in a new era for the Pacers.