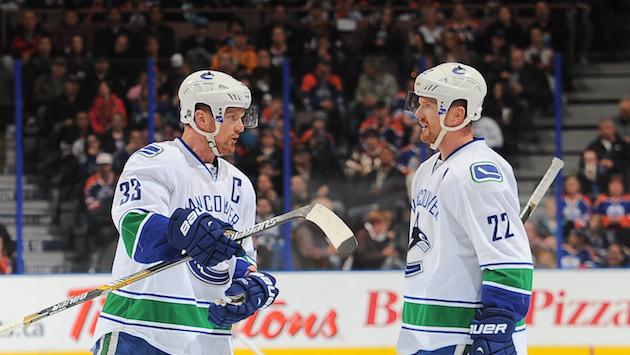 Wrapping up the pacific division off-season recap, now could be the time for you to go back and read all the teams at once. Or if you want you can let me sum it up like this, Anaheim is still the best team in this division, Arizona in the middle of a rebuild that's going pretty well, Calgary looking to load up and take that "contender" jump, Edmonton at the tail end of a rebuild looking to take the next step, Los Angeles should be able to get back into the playoffs, Same goes for San Jose who looks like they have the team to do so.
All those teams in most peoples opinions would say they had a good off-season, at least for what they were trying to do. The Vancouver Canucks are the only team in the division who didn't have a very good off-season.
A team that has had a very up and down decade. That decade includes being one of the best teams in the entire NHL making the finals and winning the presidents trophy two years in a row to missing the playoffs and early playoff exits. After missing the playoffs in the 2013-14 season the Canucks rebounded with a very good 2014-15 and qualified for the playoffs once again. Gathering 101 points for the season that was good enough for second in the division and home ice advantage in the first round. A return to the playoffs gave the Canucks a familiar situation though, an early exit. Losing to the Calgary Flames four games to two and putting in question once again the Canucks plan of both short term and long term.
The short term plan was easy enough to figure out, squeak enough years out of the Sedin's to try to compete for a couple of more years. After missing the playoffs in 2014 it seemed that short term plan was going to turn into the long term plan and the rebuild was going to be started shortly. Proof of this was the trading of Ryan Kesler. Being traded on June 27th 2014 most people thought the rebuild was in fact on.
Then free agency hit and the Canucks still seemed to be a buying team and trying to make more Cup runs. Signing high profile free agent Ryan Miller on July 1st patching up some goaltending questions which the Canucks always have these days. Then the very next day, July 2nd the Canucks also signed coveted free agent Radim Vrbata.
Even the head coach search and eventual hire wasn't low key as if anything is in Vancouver. Willie Desjardins was a coach plenty of teams wanted and a coach the Canucks got, most people got excited what he could do after the failed John Tortorella experiment.
Still I think most questioned if the Canucks really had enough. Going into last season it was expected the three California teams would continue their good form of recent seasons and be hard to knock out of the top three. Getting into the wild card wasn't going to be easy either, you had Chicago, St Louis, Minnesota, Colorado and people were excited with the off-seasons of Dallas and Nashville.
You have the right to disagree, but in my opinion, the Canucks were the team that benefited most from the Los Angeles Kings and San Jose Sharks bad seasons. The Canucks had some good players, good games and even good months record wise. For a team that got 101 points on the season, they never had more than a four game winning streak. To their credit they never had to many big losing streak either, topping at five games from December 6th-17th. Looking at their schedule they're pretty much the same as the other pacific division teams last year, up and down.
They were better than LA and San Jose though, bottom line. But for how much longer? Read both my LA Kings and San Jose Sharks off-season recaps and you'll see I like both teams chances at improving next season and pushing for a playoff spot after fairly good off-seasons. The Canucks off-season has been iffy. Iffy isn't a word you want to see when you have two or more teams behind you trying to take your spot.
Some off the Trades the Canucks have made this off-season leave you wondering what the front office is thinking. Trading away twenty-seven year old goalie Eddie Lack for a third round pick in the 2015 draft and a seventh round pick in the 2016 draft seemed like a bit of a bad return for someone who was thought to be the future and maybe even present in the Canucks goal. Instead the Canucks decided to keep thirty-five year old Ryan Miller and hope he can keep his solid play until they find someone else for the future.
The next trade being Zach Kassian going to the Montreal Canadiens for Brandon Prust. Kassian never seemed to work in Vancouver, but for what he brought he was better than Prust. Kassian is twenty-four and seemed to have potential to score while being a nasty player to play against. Prust can't really score isn't as good as a skater but can be nasty to play against. If they wanted to trade Kassian they could have gotten better than this I'd think.
The most recent and maybe most puzzling was the trade for Brandon Sutter from the Penguins in exchange for Nick Bonino and Adam Clendening. The trade was confusing enough then the resigning of Sutter to a five year $21.875 contract extension. That's a little much for what Sutter brings.
Looking at the rest of the Canucks roster doesn't look promising especially when you compare it to teams around them. I would easily take Anaheim, San Jose, Los Angeles, and Edmonton over Vancouver and Calgary has a better defensive team which could be more than enough. Vancouver doesn't have a lot of good player under thirty, the best players all be over thirty-four, Sedins, Burrows, Vrbata, and Miller. The Canucks have to hope Edler (29) and Horvat (20) and some other young guys take a step up this year to inject some youth and energy into this team otherwise this could be a bad season in Vancouver.
Other teams in the pacific have gotten better and after Anaheim it's going to be a heck of a fight for the second and third spots between five teams. Vancouver hasn't gotten any better than last season and possibly have gotten worse. Not a good off-season and I think they miss the playoffs next year as a result.