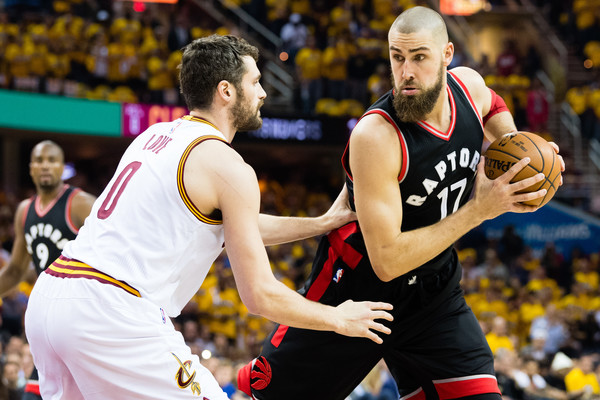 The Toronto Raptors have been one of the most actives teams throughout the NBA this offseason. They re-signed their franchise point guard in Kyle Lowry and shipped away some of their more established pieces in Patrick Patterson, DeMarre Carroll, and Corey Joseph.
They were also rumored to be on the quest of another trade, one that saw them deal center Jonas Valanciunas. Though they were reportedly shopping the big man, they apparently failed to find any trade partners that were willing to take in Valnciunas and his hefty contract. Following from Sean Deveney of Sporting News:
But the team has been unable to shed the final piece that would complete its restructuring: Valanciunas, and the three years and $50 million (including a final-year player option) he is owed.

"With him, there are still a lot of questions, and like a lot of big men — not just Jonas — you have to try to find their place in the way everyone is playing the game now," one general manager told SN. "He is talented and he still is young. But he is pretty much the same player he was three years ago.
However, when asked about the recent trade speculation regarding the Raptors and Valanciunas, General Manager Masai Ujiri said just the opposite, stating that he is more than comfortable with his center and isn't looking to trade the 7-footer. Following from Brandon Schlager of Sporting News:
Jonas Valanciunas is still very much a part of the Raptors' future plans, according to team president Masai Ujiri.

"We're very comfortable with JV. We're not trying to give JV away," Ujiri told reporters during a press conference Tuesday to introduce newly acquired veteran C.J. Miles. "I'll be transparent, there were some scenarios where if we're trying to create space and do some other things in some of the other scenarios we had that maybe we make a move, but with this team now we're very comfortable."
While Ujiri could be telling the truth about Valanciunas never being on the trade block, it could also just be a smoke screen. It seems as if their center was offered up at some point or another but Toronto just wasn't able to find someone willing on to take on his one-sided play and brutal cap hit.