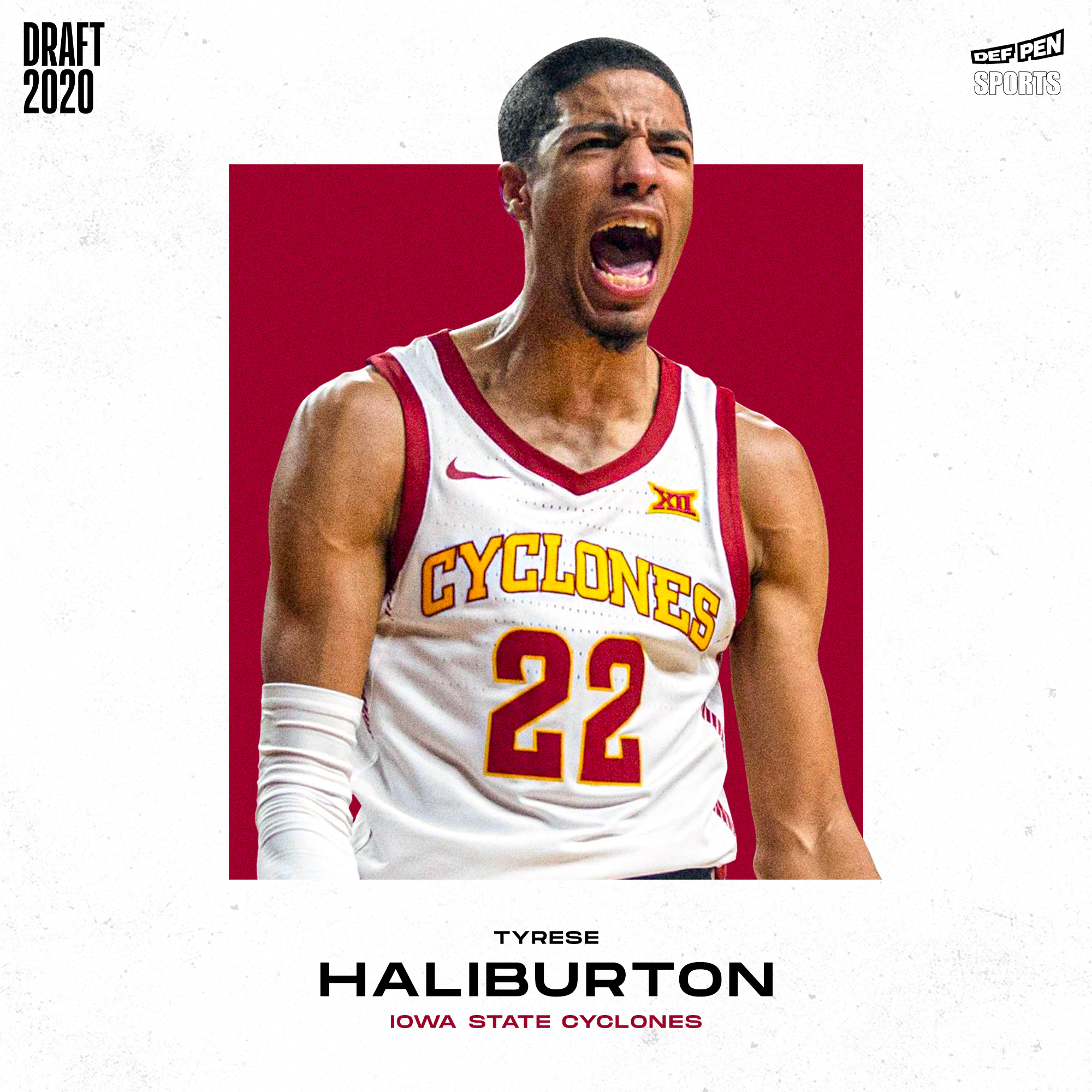 Tyrese Haliburton flashed as a freshman with his creativity as a passer while also taking care of the ball, which intrigued scouts. His size and spot-up ability while playing off the ball only further added to the résumé. As a sophomore, he took his game to another level as the primary ball-handler for Iowa State while maintaining his efficiency from deep and showing an even improved ability to get in passing lanes. The young guard's season was ended early this year due to injury, but in the 22 games he did play, he showed more than enough to convince just about everyone he's worth a lottery pick, if not top 10. The Tyrese Haliburton draft profile will give a look at the strengths that make him a consensus lottery pick as well as the limitations he has in his game.
Passing and Vision
Tyrese Haliburton @TyHaliburton22 might be the best PG and passer in the draft. His size, pace and vision in the pick and roll is going to translate well at the next level. Created opportunities all day at @impactbball run | @CAA_Basketball pic.twitter.com/93em0Udz0g

— Swish Cultures (@swishcultures_) September 18, 2020
Haliburton first and foremost has an exceptional IQ on both ends of the floor but when he has the ball in his hand it really stands out. As a primary ball-handler this season, he averaged nearly seven assists and maintained a nearly 2.5:1 turnover ratio. He wasn't surrounded with the greatest talent this year at Iowa State and was responsible for creating all of their offense. He was great at operating ball screens with his ability to see everyone on the floor, hitting shooters in the corner, or hitting the roll man with a pocket pass. His ability to see all where all of his teammates were on the floor and decide the best option routinely was impressive.
Haliburton never seemed to be sped up either and used that to his advantage when probing defenses. He sometimes gets caught leaving his feet without a place to throw, but that's something that can be coached to him. Overall he's an impressive talent when looking to create for others. He can throw the flashy pass while also making the smart, simple play when it's there. Haliburton consistently finds cutters and sees the lob play better than most and because of this vision expect him to continue showing these smarts at the next level.
Spot-up Shooting
There's no way around Haliburton when left open and with space, he is an excellent shooter, especially from three. In his 57 games at Iowa State, he shot 43% on over 230 attempts from deep. He has a funky release, almost like a shot put but it's effective when given the space. He's got a deep range too with many of his threes coming a step or two behind the college line.
There is no doubt that his range should easily translate to the next level. He never really showed much of a mid-range game as he struggles with his release off the dribble, the awkwardness of his release keeps him from getting the shot up as it is fairly slow. If he has the time, he's shown to be a good shooter, a big reason why he shot nearly 60% from inside the arc both seasons. He gets to his spots and is extremely efficient when he gets there. It reminds many people of Lonzo and the questions of if he was capable of having that in-between game that is still useful in today's NBA game. He's shown to be a better shooter than Lonzo though while in college as Lonzo never put up the percentages Haliburton did. Haliburton ranked in the 99th percentile for spot-up shooting his sophomore year. When it came to catch-and-shoot situations, Haliburton scored a ridiculous 1.49 points per possession. With the stats like that, it's not hard to think his shooting should translate.
Weakness
Haliburton's inability to create for himself is the biggest weakness in his game. He's not the greatest on-ball defender either but as a team defender, he's excellent, so the weakness is somewhat masked. When it comes to his ability to score outside of transition and spot-up opportunities, he's fairly limited. He struggles to get to shots most point guards look for when needing a bucket. Haliburton often looks to pass when driving the lane and doesn't always look to get himself points. It's a reason he shot only two free throws per game in 22 games this season. He doesn't attack which in turn keeps him from getting to the line. This will ultimately lower his ceiling which is why many say he has such a high floor is tabbed by many including our draft expert here at Def Pen Sports as maybe the safest pick in the draft.
NBA Comparison: Lonzo Ball
These two play so similar it's almost scary. Both have high IQs, pass-first point guards who aren't great at creating for themselves. They both love to get out in transition and are great at jumping passing lanes on the defensive end. Haliburton is a better shooter while Ball is the better on-ball defender. At the end of the day, both are great at creating for others, excellent in a pick and roll, and are great lob throwers. The thing that Lonzo struggles with is his shooting, it's plagued him in his three seasons in the league.
It's hard to imagine Haliburton will struggle as mightly as Ball even if the transition is a little tough at first. As mentioned above, he has range already but the speed of the NBA may take some time getting used to with his slow release. Although with the extended draft prep, one has to imagine that his release has quickened in pace which is a must as he enters the league. If Haliburton turns into a better shooting Ball, the team that drafts him I think would be very happy to get a strong contributor and good secondary ball-handler for their team.