All eyes are turning to the basketball world as both college basketball and the NBA enter the crucial stretch of the season. Schools are trying to bolster their NCAA Tournament resume, players are trying to improve their draft stock, and NBA teams are jostling for playoff and draft position. Here is Def Pen Sports' first 2020 NBA mock draft of the year, as we enter the post-NBA trade deadline stretch.
The draft order is based on NBA standings as of 2/10/2020. Team needs are not taken into account.
1. Golden State Warriors
Anthony Edwards: Combo Guard – Georgia
It still doesn't seem normal seeing the Warriors in this position, but they will be sure to add the best talent from this spot. Anthony Edwards is the best prospect in the class. While he doesn't have the consistent production that we typically see from top picks, he displays the best flashes of talent on both ends with a skill-set that gives him a fairly high floor in the NBA. Allowing him to grow in an organization that excels at developing talent while also not putting pressure on him is a more than optimal situation.
2. Cleveland Cavaliers
LaMelo Ball: Lead Guard – Illawarra Hawks
Hoopla aside, LaMelo Ball is a legitimately good prospect. At 6-foot-6 and growing with a desirable offensive skill-set, Ball will be too tantalizing to slip much further than this. Shot selection, fit in a team offense, and defensive effort are all questions that will have to be addressed. However, the foundation is there for Ball, along with high-level instincts. The baby Ball brother averaged 17-7.6-6.8 in his 12 professional games in Australia.
3. Atlanta Hawks
Deni Avdija: Combo Forward – Maccabi Tel Aviv
Deni Avdija is an interesting, versatile combo forward prospect who has some initiator equity. Avdija, at 6-foot-9, can handle the ball and flashes a strong level of passing ability. The Israelian forward can fit in many different offenses, and should only become more versatile as his 3-point shooting improves. Avdija will have to show that he can be highly effective without the ball in his hands as much, but his playmaking qualities at his size offer an intriguing palette of skills.
4. Minnesota Timberwolves
Killian Hayes: Lead Guard – Ulm
In a class that has been lackluster and featured many guys' stock slipping, Killian Hayes has been a genuine riser. As is the case with many young lead guards, Hayes needs to improve his decision-making and risk/reward balance. However, the offensive skill-set combined with great size at 6-foot-5 is enticing. Hayes is shooting 39% from deep on four attempts per game and 91% from the free-throw line in the EuroCup. His shooting indicators are reassuring, and with time it is easy to see his passing vision reeled in to control the risk and turnovers. Hayes projects as a prototypical offensive-minded lead guard that is needed in the NBA.
5. New York Knicks
Nico Mannion: Lead Guard – Arizona
Nico Mannion is a crafty and explosive lead guard who has proven himself as a guy who can run an offense at a high level. Mannion is arguably the best passer in the class and projects as a reliable deep shooter. He also works well off the ball, as there are Steph Curry-esque sets ran by the Wildcats in which Mannion is weaving through off-ball screens to free himself up for three-point opportunities. He has the explosiveness to get by defenders and into the paint, but he will need to capitalize on it more if he wants to maximize his potential to bend defenses and leverage his vision.
6. Charlotte Hornets
RJ Hampton: Lead Guard – New Zealand Breakers
RJ Hampton has shown some extremely promising flashes in the NBL. Hampton can play effectively on or off the ball, though he is best with the ball in his hands. Though, his versatility makes him an easier fit in most NBA systems. There is some injury concern at the moment, as he is done for the season with a hip injury. So long as he can get healthy and regain his dynamic athleticism in its full form, Hampton should be a quality offensive contributor.
7. Detroit Pistons
Onyeka Okongwu: Big – USC
Onyeka Okongwu is the best big in the draft and, to be frank, one of the safest prospects that this draft has to offer. The devaluing of his position and role has lent itself to this position for Okongwu. Make no mistake, the dynamic 6-9 center is poised to contribute immediately. The rim-runner/rim protector archetype can provide tremendous help in a system featuring talented floor-spacers with guards who operate well out of the pick-n-roll in particular. Okongwu is smart and bouncy with a degree of natural touch around the basket. Look for him to be a reliable NBA center for a long time.
8. Chicago Bulls
Cole Anthony: Lead Guard – UNC
Anthony is fresh off a knee injury and has only returned for a small handful of games so far. The electric guard has been up-and-down in his time playing. At his best he has looked unstoppable, scoring nearly at will. Other times he has looked more like a volume scorer with questionable decision-making. He is somewhere in between, but it remains to be seen exactly where. Anthony will want to utilize his explosive athleticism to get to the rim more often as well as engage better defending the point of attack. This last stretch of the season will be crucial for Cole Anthony in particular, seeing as many evaluators still are not sure exactly what they will get with him.
9. Washington Wizards
Tyrese Maxey: Combo Guard – Kentucky
Tyrese Maxey plays the game "the right way" with a high degree of basketball IQ, instincts, and a flat-out scoring knack. Conversely, there are concerns about his size and skill-set. At just 6-foot-2, and lacking a lead guard projection at the next level, Maxey looks to be an undersized two-guard whose secondary role is as a lead initiator. His size also brings up questions about finishing at the rim and his overall shooting inconsistency will cause teams to hesitate. His long arms and quick instincts will serve him well as a point of attack defender, however.
10. Phoenix Suns
Kira Lewis: Lead Guard- Alabama
Kira Lewis is a do-it-all guard who boasts an incredible feel for the game and projects as a three-level scorer. Lewis is going overlooked in most major mock drafts, but his talent and improvement are hard to look away from. He also gets it done on the defensive end. Often times, Lewis has looked like a dominant defender both on and off the ball. Look for his stock to continue rising if he keeps at this rate.
11. Sacramento Kings
Obi Toppin: Forward/Big – Dayton
Obi Toppin is in the midst of a sensational sophomore season. Firmly in the National Player of the Year race is Toppin, averaging roughly 20 PPG and 8 RPG while looking truly unstoppable at times. An explosive and lengthy 6-foot-9 forward, Toppin is the ideal modern power forward. His athletic tools signal that he could play center at the next level, but he will need to improve his defensive instincts and overall ability on that end of the floor if so.
12. New Orleans Pelicans
Tyrese Haliburton: Lead Guard – Iowa State
Tyrese Haliburton has been having an incredible year for a sinking Iowa State squad. The lanky lead guard is shooting at stunning 42% from deep on nearly 6 attempts per game while adding in 6 RPG and nearly 7 APG with a rock-solid 3.8 STL% to boot. Haliburton is as safe a bet there is in this class, though his upside appears capped due to his inability to be effective attacking the rim, and his unorthodox shooting mechanics bring up some minor questions about translating to the NBA. Unfortunately, Haliburton's season has come to an end due to injury.
13. San Antonio Spurs
Isaac Okoro: Wing – Auburn
The best wing in a wing-deficit draft has proven to be defensive specialist Isaac Okoro. The long 6-foot-6 Okoro is a lockdown defender who makes life tough for an offense both on and off the ball. Okoro has great natural instincts and a high IQ that serves him well on both ends. His offensive talents are a work in progress, as he has poor shooting indicators and lacks the ability to create offense at a high level. His power and feel for the game, however, do offer upside as a slasher with the ability to make plays off of collapsing defenses.
14. Portland Trail Blazers
James Wiseman: Big – Memphis
The highly touted James Wiseman has had an unenviable season after facing a suspension and eventually leaving the program altogether after not looking like a top pick to begin with. However, Wiseman has a degree of physical tools that cannot be ignored and can be developed into a force if handled correctly. Wiseman is hard to deny in the paint and on the boards, and can usually score at will against athletically inferior competition. However, he processes the game a little slowly and moves with heavy feet, preventing him from being a switchable defender. This leads to defensive lapses and as a center in the NBA, it is hard to provide high value without offering defensive anchor qualities.
15. Orlando Magic
Josh Green: Wing – Arizona
Josh Green's season has been riddled with inconsistency thus far, primarily relying on flashes of top-level skill to boost his stock. This is not to undersell Green, however, as some of those flashes have been extremely positive. Green projects to be an impactful perimeter defender and while the bulk of his scoring will likely be in a workman-like slashing role, he has displayed enough shooting flashes to believe he could develop into an average shooter. He has a fairly natural and comfortable feel for the game and can be of good value if he can put it all together.
16. Minnesota Timberwolves (via Brooklyn Nets)
Aaron Nesmith: Wing – Vanderbilt
Aaron Nesmith is a hot riser who was not on many boards prior to the season. Saying Nesmith is an elite shooter might be selling him short. He has a truly remarkable ability to shoot off movement and work as an off-ball menace, weaving through screens and flaring when needed. Nesmith is shooting an absurd 52% from deep on over 8 attempts per game. This alone provides tremendous value, and Nesmith is no slouch on the defensive end either, where he should be able to hold his own in the NBA.
17. Boston Celtics (via Memphis Grizzlies)
Tre Jones: Lead Guard – Duke
Tre Jones has shown much of the development that many wanted to see from him after declaring he'd stay for his sophomore season in Durham. The 6-foot-2 lead guard has looked much improved as a shooter both spotting up and pulling up. His confidence has grown in a more aggressively scoring role while still maintaining the defensive aptitude that he made his name on. Jones doesn't scream upside, but assuming reasonable development, he is on his way to an impactful NBA career.
18. Milwaukee Bucks (via Indiana Pacers)
Devin Vassell: Wing – Florida State
Devin Vassell has risen from a relative unknown to a near household name due to Florida State's strong year. Vassell's strong two-way skillset offers a fairly high floor for contributing in the NBA. Shooting 42% from deep on medium volume and being a smart, instinctual defender makes him a safe bet for NBA contribution.
19. Oklahoma City Thunder
Paul Reed: Big – DePaul
Paul Reed is something of a hidden gem playing in the Big East, as many folks do not tune in for DePaul games these days. However, Reed projects as a small-ball center who can switch on forwards and protect the rim all the while displaying a budding offensive skill-set. Reed is a walking double-double, averaging nearly 16 PPG and just under 11 RPG.
20. Dallas Mavericks
Theo Maledon: Lead Guard – ASVEL (France)
Theo Maledon, a mentee of French legend Tony Parker, has seen his stock slip after not quite living up to preseason expectations. Maledon is averaging 7.4 PPG to 3.1 APG in just over 17 minutes per game in the Euroleague. Standing at a long 6-foot-3, he is a lead guard who has the physical tools and craftiness that offer an enticing foundation to develop upon. His decision-making will need to improve vastly, but Maledon has shown enough high-level flashes to take an upside bet.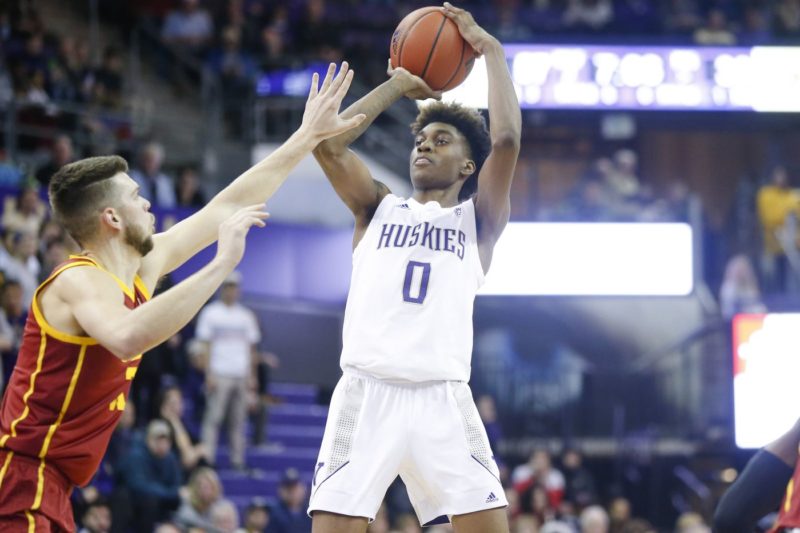 21. Brooklyn Nets (via Philadelphia 76ers)
Jaden McDaniels: Forward – Washington
Jaden McDaniels is a 6-foot-10 forward who has a guard-like handle and has shown flashes of pull-up shooting ability. Right now, however, McDaniels is more theory than reality. The lanky forward is shooting just 39% from the field and has often looked unable to create separation with the ball. If he can use his handle to gain more wiggle and, of course, improve his shooting stroke, a pandora's box opens up. His physical tools are tantalizing and make him a worthy upside gamble close to the late first round.
22. Denver Nuggets (via Houston Rockets)
Saddiq Bey: Combo Forward – Villanova
Bey has made a major leap in his sophomore season under Jay Wright. The 6-foot-8 forward is a reliable decision-maker who has an intriguing level of two-way impact. Bey has a TS% of just over 61%, which includes a near-48% mark from beyond the arc. Elite shooters at this size who project as fairly switchable defenders are always valued in the NBA.
23. Miami Heat
Isaiah Joe: Wing – Arkansas
3-and-D wings aren't the flashy picks, but its a crucial role that every NBA team needs and this class clearly has a handful of strong ones. Isaiah Joe falls into that mold as a two-way shooter. Joe hasn't developed as a sophomore, as many hoped, but still possesses positive shooting indicators that offer reasons for optimism.
24. Utah Jazz
Patrick Williams: Wing – Florida State
Patrick Williams is more of a development bet, as he has seen fairly limited playing time while not playing a featured role. Williams is a strong and shifty wing who can create off the bounce, as well as maneuver off the ball when needed. He doesn't quite have a single bankable skill yet but has shown flashes of being able to do a bit of everything. Williams projects as an above-average shooter who can guard three positions.
25. New York Knicks (via Los Angeles Clippers)
Zeke Nnaji: Big – Arizona
Nnaji is an athletic and productive 6-foot-11 center who at times jumps off the screen with his dominant game and workhorse effort on the boards. He has shown some shooting touch throughout the season, which would play a major role in his development. Nnaji is mostly a project at the moment, due to flaky defensive qualities and a currently limited offensive skill set.
26. Oklahoma City Thunder (via Denver Nuggets)
Jeremiah Robinson -Earl: Forward- Villanova
Robinson-Earl lacks the box score stats that blow you away but really pops on film as a guy who does the little things and plays with a high basketball IQ. At 6-foot-9 and mobile, Robinson-Earl looks like a modern NBA forward. He possesses a versatile skill set with a strong handle for his size and an intriguing passing ability out of the paint.
27. Boston Celtics
Jordan Nwora: Combo Forward – Louisville
A preseason National Player of the Year candidate, Jordan Nwora is thriving as a junior. Nwora is averaging nearly 20 PPG on 44% from deep while adding in 7.4 RPG. It feels safe to bet on Nwora as a rotation forward in a scoring-emphasized role. He doesn't appear to be an impactful defender at the next level, but he is ready-made to add offense to a contender.
28. Toronto Raptors
Scottie Lewis: Wing – Florida
Scottie Lewis is a lanky 6-foot-5 wing who genuinely loves to play defense. An elite perimeter defender, this skill holds most of his current value. He's a great athlete who possesses slasher equity and has flashed some shooting ability. His offense is far from consistent or reliable, and if a team can tap into that potential, he could be of tremendous value this late in the first.
29. Los Angeles Lakers
Jahmi'us Ramsey: Wing – Texas Tech
Jahmi'us Ramsey has been a two-way force for Texas Tech. Ramsey is a two-guard primarily, who has the defensive chops that will allow him to guard 3s in the NBA, making up for his lack of traditional wing size. The freshman is shooting 45% from deep on over five attempts per game as well. It is easy to see him carving out a role as a 3-and-D off guard.
30. Boston Celtics (via Milwaukee Bucks)
Vernon Carey Jr: Big – Duke
Vernon Carey is an uber-productive center who is a focal point of Duke's offense. Averaging 17.8 PPG and 8.8 PPG, Carey has more of a throwback big man style of play. Though, he has shown some bits of shooting touch, he will need to develop that aspect and vastly sharpen up his defense to be a fully impactful center.