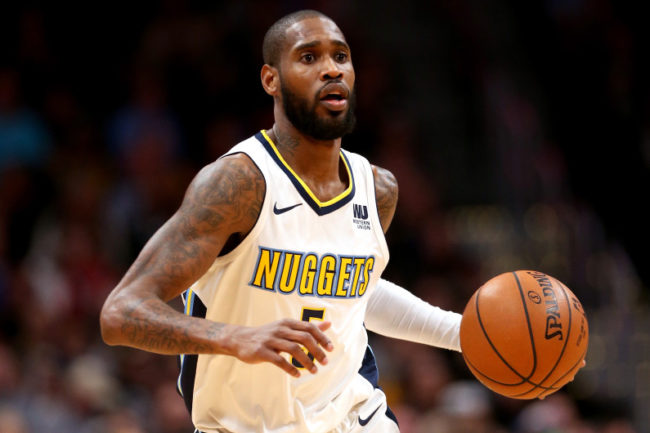 In just the latest scuffle in the NBA, Phoenix Suns guard Troy Daniels and Denver Nuggets wing Will Barton got into in the opening minutes of the Nuggets' 123-113 triumph over the Suns on Saturday.
Daniels started the incident only three minutes into the contest, which was started due to Barton's recent comments about the Suns' 48-point loss to the San Antonio Spurs on Wednesday, including that the team should be sent down to the G League, on teammate Richard Jefferson's podcast, Road Trippin'. According to Nuggets's Chris Dempsey, Barton only figured out the source of the scuffle once the game was over.
https://twitter.com/chrisadempsey/status/962555654262079489
Like most incidents in the NBA, the 'fight' was broken up quickly by every player on the court before things could've gotten out of hand, with even Nuggets' head coach Micheal Malone running onto the court to step in.
Evidenced by what the scuffle was rooted from – an embarrassing blowout – the podcast rant may have just been the tipping point for the sharpshooter out of VCU as his team has been struggling mightily since the beginning of the season. However, while the Nuggets are currently sitting at seventh in the Western Conference, they can't get too comfortable, as just one loss could put them in the lottery in favor of the streaking Los Angeles Clippers, so while they have had more good fortune than the Suns, it seems a bit premature for Barton to be taking shots at another franchise.
Barton, who has flourished with the Denver Nuggets since being acquired from the Portland Trail Blazers in 2015, has a history of getting into it with fellow players, but in the end, this is just another small incident in a season which has seen its fair share of scuffles between players.