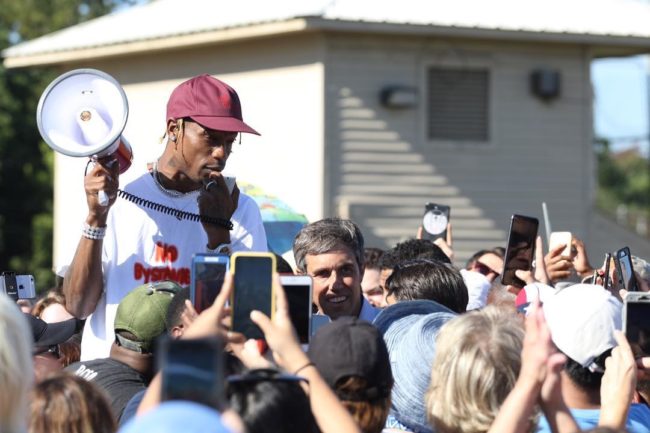 Over the last few months, a number of major musicians have made their voices heard in the upcoming midterm election races. Pop acts like Taylor Swift have voiced their support for candidates in the state of Tennessee. Hip-Hop acts like Kanye West and Chance The Rapper have voiced their support for Chicago mayoral candidate Amara Eniya. Most recently, Playboi Carti teamed up with #iVoted campaign to offer free concert tickets to those who simply vote for anyone. Today, another major musician put his hat in the political arena.
https://twitter.com/FTPflame/status/1056649426134024193
Texas senate candidate, Beto O'Rourke, pulled out all the stops for today's rally at the Bayland Community Center in Houston, Texas. During the rally, O'Rourke brought out Houston's own, Travis Scott. While he was out there, Scott took the megaphone to tell attendees a few things. Scott said, " You just need to go out [and] hit these polls." He also said, "We need to just tell our peers, man, to step out and vote."
Scott has not been publicly active politically throughout much of his career, so this definitely came as a surprise. By voicing his support for O'Rourke, Scott joins the likes of LeBron James, Willie Nelson and Spoon as public figures who shown their support for the candidate.
O'Rourke will need all the help he can get as he attempts to take down favorite and former presidential candidate, Ted Cruz. We'll be waiting to see how this race turns out on November 6th.