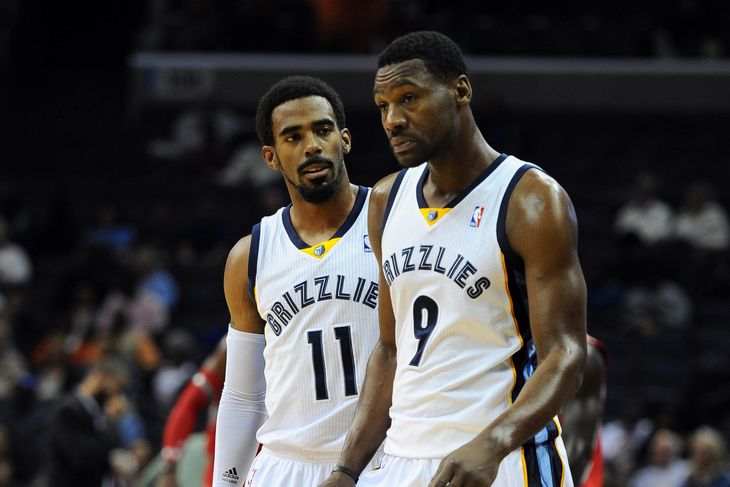 Tony Allen is one of the most fierce defenders and competitors in the NBA. His under-handed Memphis Grizzlies were swept by the San Antonio Spurs this weekend, and they will go on to face the Oklahoma City Thunder in the 2nd round. With this injury-proned season out of the way for the Grizzlies, they're going to be focusing the rest of their attention on re-signing unanimous snubbed all-star (because he deserves it almost every year and doesn't make it every year) point guard Mike Conley.
There has been tons of speculation as to where unrestricted free agent Mike Conley will go next year, but the most mentioned destination is New York City, the Knicks in particular. Yesterday during their exit interviews, Tony Allen sent a polite warning to Mike Conley about his decisions this summer (Via @929ESPN):
"He knows he's got a flagrant foul coming if I see him in NY." ~TA on Conley free agency pic.twitter.com/aGN9SIYvtV

— 929ESPN (@929espn) April 25, 2016
Whether Mike Conley is considering the Knicks or he has other plans this summer, Tony Allen is making his feelings towards the situation apparent, he doesn't want his star point guard to leave. After Marc Gasol and Mike Conley were scheduled to miss the rest of the season, the Grizzlies narrowly hung onto their Playoff spot and ended up dropped from the 5th spot to the 7th spot. On one side, Conley is obviously a necessity to winning for this team. On the other side, the Grizzlies have had 3 or more consecutive seasons of Playoff failures with this same core, is it time for them to blow up the team? Tony Allen obviously doesn't think so.