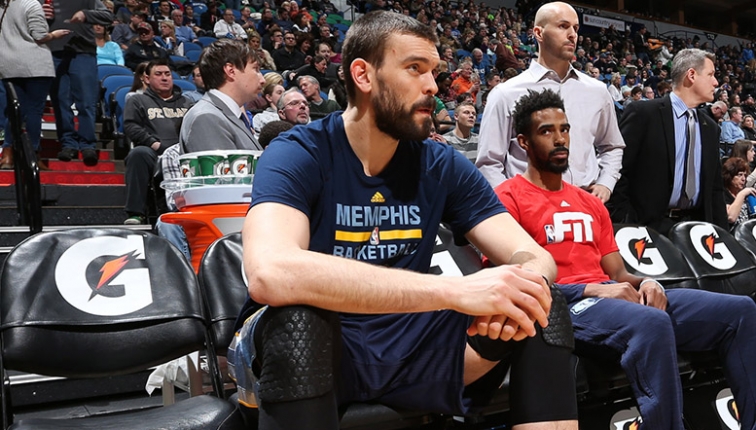 Marc Gasol was one of the top free agents going into the summer of 2015. Not many believed he would leave Memphis, a city he grew up in while his brother, Pau, played for the Grizzlies.
Marc ended up staying with Memphis and signed a 5-year max deal to stick with the Grizzlies as they continue to push towards a title run. The hopes of an NBA Championship coming to Memphis might now have to be put on hold for at least one more season as Gasol's season will come to an end.
After suffering a foot injury the Grizzlies big man underwent foot surgery to officially end his 2015-16 season.
Following from an official Grizzlies press release.
Marc Gasol underwent successful surgery on Saturday, Feb. 20 to repair a non-displaced Type II fracture of the navicular bone in his right foot. Although Marc will not return to the court this season, he is expected to make a full recovery. The surgery was performed by foot and ankle specialists Dr. Robert Anderson of OrthoCarolina and Dr. Drew Murphy of Campbell Clinic.

"Marc remains a cornerstone of our franchise and we are pleased to hear that the surgery went according to plan," Grizzlies General Manager Chris Wallace said. "Marc's determination and competitive spirit will serve him, his family and the team well as he begins the healing and rehab process from which we expect him to make a full recovery. We are confident we will have Marc back anchoring our team next season and beyond."

"It is frustrating to not be on the court with my teammates at this time," Gasol said, "but I understand that the focus of this process is on long-term health and stability. I look forward to the road ahead and a full and successful recovery.