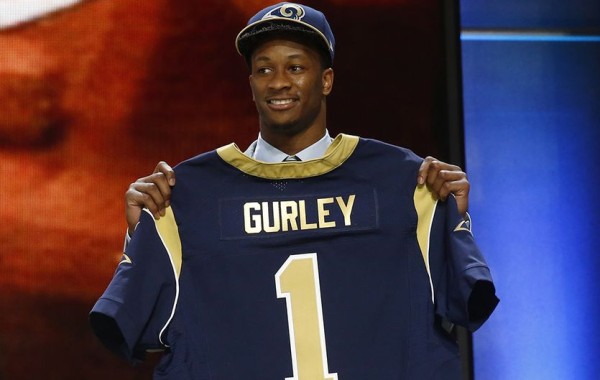 Todd Gurley's rehab from an ACL tear has been moving quicker than expected, so much so that the St. Louis Rams running back is hoping to return to the field for next month's training camp.
"That is definitely a goal that I'm shooting for," Gurley told NFL Media's Tiffany Blackmon from the NFL Rookie Symposium Wednesday night. "Just to be able to get out there and do at least some individual stuff. It's looking pretty realistic. This month I'll be in St. Louis rehabbing, so hopefully I can aim for (training camp)."
Gurley suffered the horrific injury just seven short months ago. Gurley likely would have been a top five pick in this past draft if he were completely healthy. The rookie back has gone through some light walkthrough's thus far but the Georgia alum feels he is ready to master the Rams offense.
"It's been going pretty good," Gurley said. "When we first came in with the rookies for minicamp, you get the install those three days and then OTAs came around, it kind of slows (the offense) down a little bit because you get to have more practices and a lot more meetings. So it's been coming a long pretty good so far."

"Right now I'm just trying to get back on the field, that is one of my biggest goals right now," he said.
The 10th overall pick will likely be brought along slowly as second year pro Tre Mason has proved he can handle the load. Then again if St. Louis feels he is healthy a 1-2 punch of Gurley and Mason could be dangerous. The Rams hope to make some noise in the NFC West this year especially with the addition of quarterback Nick Foles.