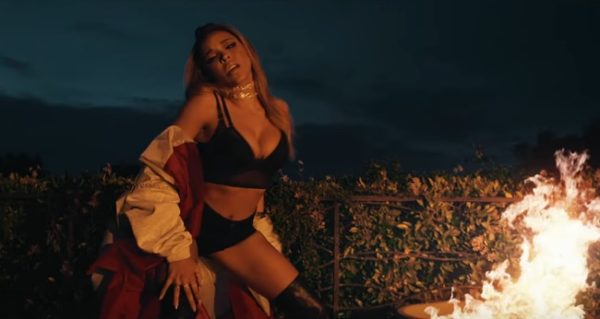 Tinashe is back with a new video for her latest single, "Faded Love". The single, which features Future, is an ode to love just in time for "cuffing season". In three minutes and twenty-five seconds, the video features Tinashe doing what she does best-dancing. Uniquely enough, Tinashe has decided to release two versions of the video love story. The first version was delivered in the standard version, while the second was delivered in a vertical version, most suitable for mobile consumption. The only thing missing from the rollout for the "Flame" singer is a cameo from the Atlanta musician, Future. For now, fans will have to let Future's verse do the trick.
The Future-assisted single serves as the second single in a trio of singles that the singer announced she would be releasing ahead of her upcoming album, Joyride. First, Tinashe led off with her Offset assisted banger, "No Drama". There's no word on what her third single will sound like or when it will come, but with the success of the first two records, it would be hard to see her releasing anything less than a hit the third time around.
Faded Love is a BOP !! @Tinashe is collecting wigs this time around. pic.twitter.com/iVZ8L4e7RZ

— sherri mugler ? (@geeVONshee) February 16, 2018
I just watched the video for Tinashe's Faded Love and wow! She deserves all tbh.

— Sitha (@Chief_Seets) February 19, 2018
The Spotify video for Faded Love is everything. @Tinashe is just one of those pop stars who could just stand in a room and you wouldn't be able to take your eyes of her.

— Joshua Haigh (@joshcharles_21) February 16, 2018
While there's no official release date for the singer's next project, it seems that the child actor turned entertainer has turned the page on what was a tough summer. Tinashe made headlines this past summer for her comments on what role colorism may or may not play in the trajectory of her career. Later, Tinashe stated that the comments were taken out of context. While the internet is not a forgiving place for public figures, her new music may be the first step in getting things back to normal.