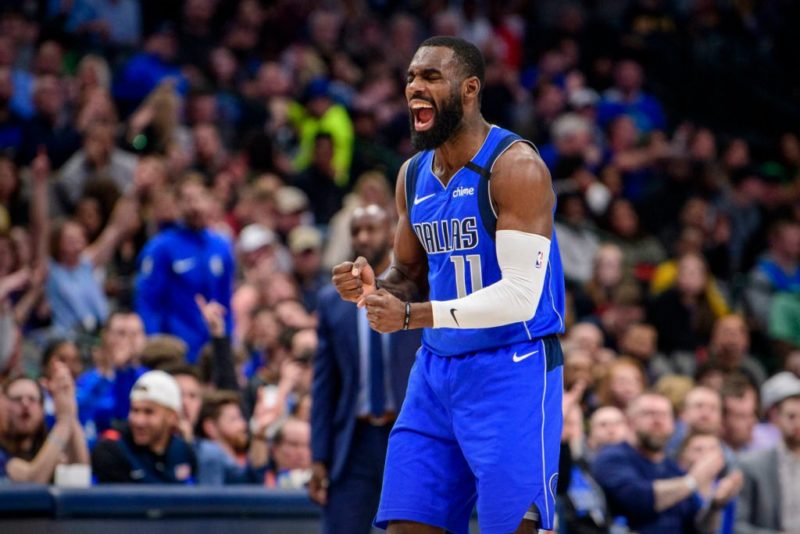 Tim Hardaway Jr. put up 42 points to propel the Dallas Mavericks past the Detroit Pistons. On a big night in the NBA for guys named after their dad. Hardaway had his best offensive performance ever. In the absence of Luka Doncic, it was very needed. While Kristaps Porzingis was available, he only played 21 minutes.
Porzingis would leave the game with knee soreness.
Hardaway is a big part of the Mavs success in recent years and will be a key to unlocking a playoff run this year as well. Shooting 6-10 from beyond the three-point line, Hardaway got his points all over the court. He finished the game a perfect 10-10 from the free throw line.
Have a NIGHT, TIM HARDAWAY JR. ??

He tallies a career-high 42 PTS (17 in 4th) to go with 48.7 FPTS in the @dallasmavs dub. #MFFL pic.twitter.com/CfTYkBtw5A

— NBA Fantasy (@NBAFantasy) April 30, 2021
By the way, those white and gold unis are so nice out on the court.
Hardaway would have to put the Mavs on his back in the last quarter. Luckily he was up for the challenge. He would score 17 points in the last period. Dallas would outscore Detroit 29-22 in that final 12 minutes. This wasn't just any career-high night either. Hardaway's dad, Tim Hardaway Sr. was in attendence to see the big performance.
Tim Hardaway Jr. dropped a career-high 42 points with his dad in attendance ?@dallasmavs | @T_HardJRpic.twitter.com/ATCYtLSFVX

— Dime (@DimeUPROXX) April 30, 2021
That jersey and those shoes are destined for a shadow box somewhere. This is also a huge positive sign if you are a Dallas fan. The Mavericks have let it be known their distain for the play-in tournament and is doing everything in their power to stay out of it. That includes this embarrassing win over the Warriors earlier this week.
The Mavericks currently sit in the 6th seed. They are 1.0 game behind the 5th seeded Lakers. Behind them, the Trail Blazers (1.0 behind) and the Grizzlies (3.5 behind). Dallas will keep their heads down as they finish up the season and stay out of the play-in tournament.