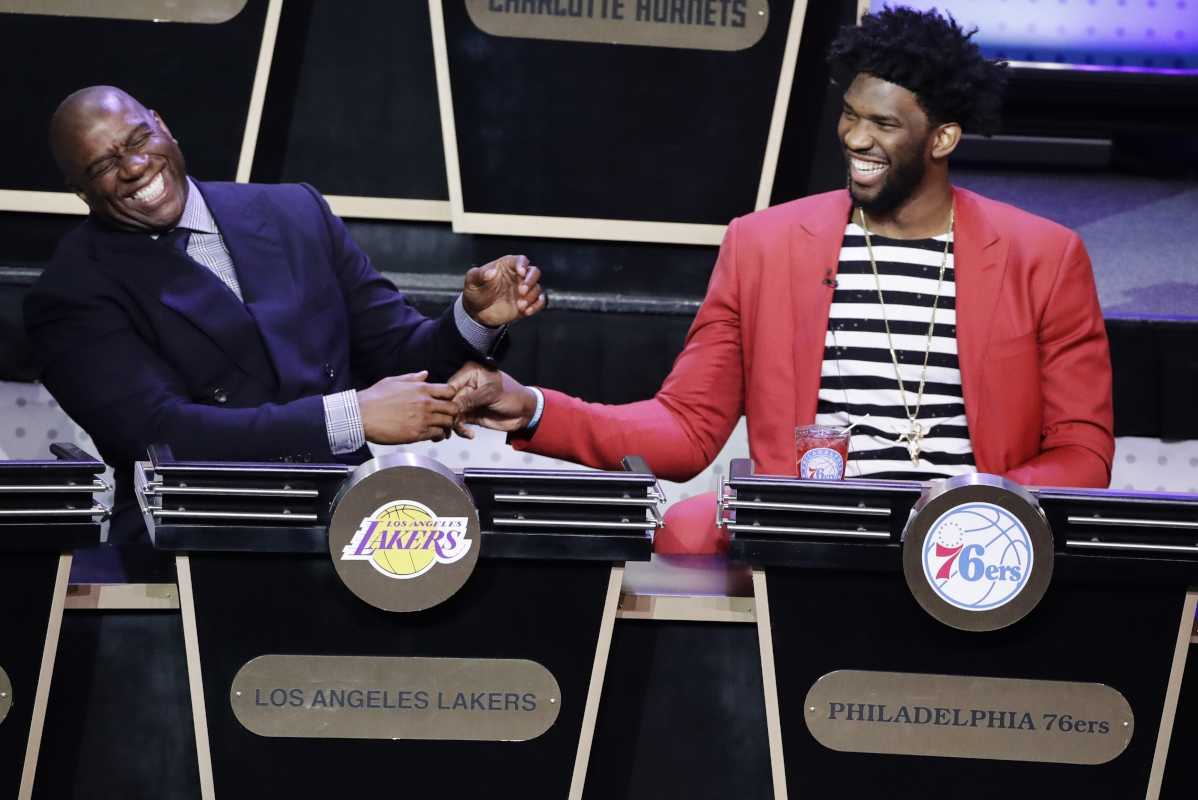 The Half Court Heave is a panel of four dudes: Two Def Pen Hoops writers, myself, and the chillest dude I could find on Twitter to write a roundtable. Or mailbag. More like a panel. Something of that sort.
The goal of the Half Court Heave is to ask and answer the very pressing questions concerning this thing called basketball. Questions that pop up on the interwebs during the week – on Twitter, Reddit, Facebook and not Google Plus. And we'll get them answered for you.
Yes, just for you.
Hot takes are welcome here. Welcome to the Second Edition of the Half Court Heave. (you can find the first edition here.)
This week's edition of the Half Court Heave features some dope writers. Here's who they are, what they do, and where you can block them for their horrendous takes.
Dalton Graham: Dalton is the resident historical basketball columnist here at Def Pen, meaning he's actually gone back and watched tape of pre-merger basketball, unlike to those Basketball Reference addicts. He truly believes Dirk is better than Kevin Garnett. You can follow him on Twitter @PrimeKristaps.
JD Shaw: JD is the resident aspiring reporter (meaning, he actually has "sauces") here at Def Pen. He's the next Adrian Wojnarowski. He once thought Melo was a Top 15 player and better than Kyle Lowry. But don't quote me on that, my source hasn't confirmed. You can follow him on Twitter @JShawNBA.
George Kondoleon: George is the Site Expert at Section 215, a Philadelphia sports haven. He also runs an underground music website called DimiHub. He also talks all things 76ers on the "We Talkin About It" podcast. He claims that he is the reincarnation of Keith Van Horn. You can follow him on Twitter @GeorgeyTheGreek.
And of course, myself. My name is Austin Hutchinson and I cover the NBA for Def Pen Hoops. I also help run the Chicago Cubs website Wrigley Rapport. You can follow me on Twitter @AE_Hutchinson.
Let's get this party started!
1.) NBA Lottery Night (all 15 minutes of it) was a blast. What was your favorite part of the night? What team/incoming draftee do you think the results had the largest effect on?
Graham:
Joel Embiid. The man is just funny.
Josh Jackson. I was nearly certain he would go third overall, but with Philly picking, they might pass up on him for a guard. They already have who appears to be their small forward of the future in Ben Simmons, barring injuries, so taking Jackson wouldn't be ideal. Unless they end up moving Simmons to the point, and then the Sixers can have the chance to become almost as tall as the Bucks.
Shaw:
My favorite part of the Draft Lottery was seeing the Lakers grab the No. 2 pick. I realize there are a large chunk of people around the league who were hoping for the opposite, but I for one would love to see Lonzo Ball in a Lakers uniform. Acquiring the second overall pick could enable us to see a long anticipated and expected narrative… story… saga… whichever you would like to call it, of California kid Lonzo Ball playing for his L.A. Lakers. Because L.A. grabbed the second pick, Lonzo was likely affected the most out of the prospects… I believe he would've fallen in the draft to a lower spot if a team like Phoenix or Philadelphia had second choosing.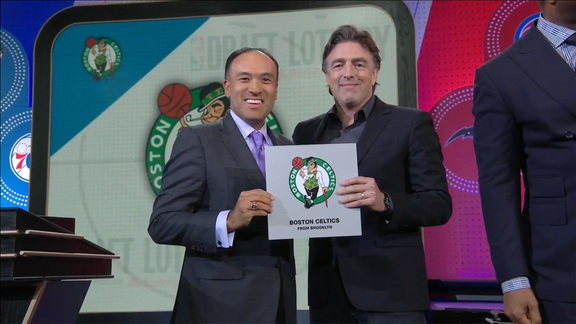 Kondoleon:
The best part about the NBA Lottery was watching the Sixers-Kings pick swap occur. The Sixers moving up a spot into the top three was crucial for their rebuild, and now they can draft what may be the final piece to their young, talented core. The Lakers getting the second pick definitely impacts Lonzo Ball. Although there are no certainties when it comes to draft night, the consensus is that the Lakers won't pass up on the hometown boy even if Josh Jackson may be a superior prospect.
Hutchinson:
My favorite part of the night: Any facial expression Joel Embiid made was pure gold. Especially when it was explained to him how Philadelphia was to receive the third overall pick and the implications that went into it, his incredulous look was every student in a Calculus class on any given day. Also, watching team representatives try not to react angrily when they received the bad news live on ESPN was pretty hilarious.
Of course, the Boston Celtics and Los Angeles Lakers going 1/2 is just typical. Anyone not living under a rock knows that Boston will likely take Markelle Fultz and that Los Angeles will likely take Lonzo Ball. What really piques my interest is that 3rd overall pick, owned by the Philadelphia 76ers. They are in desperate need of backcourt guys who can shoot and contribute to the offensive flow. Ball would've been perfect in that spot. Alas, now Philadelphia is stuck between a rock and a hard place. Do they reach and take Malik Monk or Jayson Tatum? Neither Josh Jackson nor De'Aaron Fox brings the spot-up shooting that the Sixers need. Or do they trade back with the Sacramento Kings (who own the 5th and 10th overall picks) and acquire an asset so that reach is justified. Or, do they go best player available? OR, do they trade that pick for a guy who could fit their need at the two-guard. Bryan Colangelo will have quite a decision to make on draft night.
2.) Scenario: Lavar Ball would like to know your thoughts on the Big Baller Brand and his son Lonzo's chances on being the next Michael Jordan. You get five words to respond. Also, do you think Lavar's actions of late will hurt Lonzo on draft night?
Graham:
Dream big, keep it realistic.
Considering the Lakers kept their pick at number two, I don't believe it will. The Lakers will always be the most talked about franchise in the NBA, and I don't think that Lavar's antics are going to change the front office's decision on Lonzo. Also, this is the NBA, so if Magic and company want to quiet down Lavar, they will quiet him down, by any means necessary.
Shaw:
Sorry, I have no comment.
Yeah, that's five words. That's all it'll ever be with me when it comes to Lonzo's father.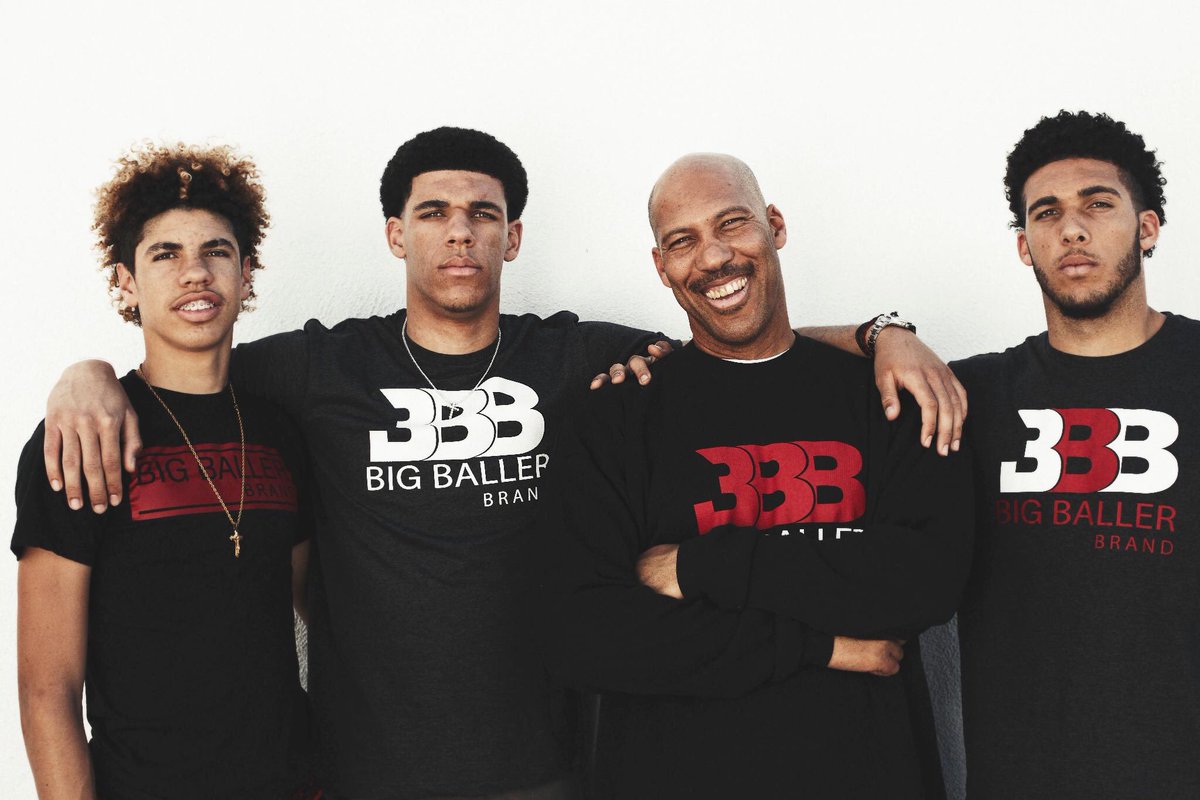 Kondoleon:
Stop doing what you're doing.
LaVar Ball has done a great job of building HIS brand, but he took away the luxury of allowing Lonzo to do the same. Lonzo Ball would have been a commonly heard name with or without his father's antics, but now the "Ball" last name carries some controversial weight. The Jordan comparisons, the daily TV appearances, the creation of the BBB. All of this hasn't necessarily helped Lonzo more than it has LaVar. I think if the Lakers don't take Lonzo Ball, then he could drop a few spots because of the unattractiveness of his father's persona.
Hutchinson:
It's time to let go.
I'm sure LaVar Ball is a very loving father and just wants to see his sons succeed. He isn't a nutcase, á la Tiger Woods' father. But when your son has gone through a year of college and is about to become a top draft pick and spend his life playing professional basketball, isn't there a point where you step back and let your son become himself? Lonzo could be losing millions of dollars because of the Big Baller Brand. Vocal support doesn't bother me. What does is majorly affecting someone's future. LaVar Ball, it's time to let go.
3.) All-NBA Teams. Who got snubbed?
Graham:
I was perfectly fine with all of the guard selections. The only question is: who didn't give Russ a first team vote?
As for the frontcourt picks, I had some issues. I would've loved to see Marc Gasol make the team over DeAndre, who had a typical DJ year. Great defense, rebounding and not much else. He doesn't have the impact on both ends that Gasol does, even if he is slightly better defensively. Gasol is one of the best passing bigs of the decade, a great rim protector and consistently leads his team to the playoffs. Yet he seems to never get recognized for it.
I also think that Anthony Davis should not have made the first team. For him to make the first team but Cousins or KAT to be snubbed entirely is contradictory. If you're going to choose winners, choose winners. If you're going to ignore record, then ignore record. Don't make AD a special case, it's very unfair to KAT and Cousins who I believe both had great cases over Davis when ignoring record. If it was my way, I would have had Gobert on the First Team, Gasol on the Second Team, and that third slot could go to any of KAT/AD/Cousins/Jokic. There just shouldn't have been a huge disparity between them.
Shaw:
DeMarcus Cousins! Are you kidding me? How the best center in the association gets left off all three teams befuddled me. You have Rudy Gobert, excellent. Anthony Davis certainly belongs on a team, but he's more of a forward than a center. I would've liked to see Cousins or Gobert (two centers that play that position nearly 100 percent of the time) grab the first team center spot. I agree with most of everything else, although you can certainly make cases for a Klay Thompson, Paul George or Gordon Hayward instead of DeMar DeRozan.
Kondoleon:
No one got snubbed. There were cases for many other players, but all those selected were deserving. This season was incredible in that the league saw an insane amount of production from the top two tiers of players. It was impossible for someone to not get left off despite having a great year. If I had to pick, probably Gordon Hayward. It also stinks to see Paul George lose out on some huge money because of this.
Hutchinson:
The two issues I had with the All-NBA picks were Chris Paul not making it and Demar DeRozan making it. DeMar DeRozan is a one-trick pony and I don't even think that he's the best player on his own team. Chris Paul is one of the best point guards of all time. Personally, I'd rather see one of the league's best point guards make it over DeRozan. Other than that, maybe Karl-Anthony Towns or Nikola Jokic missing Third Team All-NBA over DeAndre Jordan was a little bit upsetting, but their time will come.
4.) LeBron James and company have a combined seven guys shooting 40 percent plus from deep in the playoffs. That leaves out their point guard, Kyrie Irving, who as of last Thursday was shooting under 40 percent from the field and 26 percent from three. Is #PlayoffKyrie no more? How much could this be a factor in the Finals?
Graham:
I think we should cut Kyrie a little slack before we say that he's not a great playoff performer anymore. This is the man who averaged 27 in the Finals and outplayed every point guard he matched up against last year. Obviously, he's been less than spectacular these playoffs, but he's still making an impact with his improved playmaking.
However, there's nothing to even belabor here: if Kyrie does not perform (scoring and efficiency-wise), the Cavs have no chance of winning the championship. Period. End of discussion.
If you're doubting that statement, just look at last years Finals. It took:
a. LeBron having the greatest three game stretch in NBA history
b. Kyrie completely outplaying Curry
c. Draymond getting suspended
d. Bogut being injured
e. Curry not being 100 percent
f. Barnes being historically terrible
just to beat the Warriors by four points. Kyrie needs to be fantastic for the Cavs to have any chance. Oh yeah, and the Warriors now have Kevin Durant.
Shaw:
Kyrie Irving is fine — He hasn't been great in the first 10 games, but you're kidding yourself if you don't think he'll come around eventually… Especially in the Finals (assuming they make it), where they'll need him the most. If he struggles in that series, the Cavs' chances at winning will be reduced significantly. The last time LeBron James' teammates failed to effectively produce in a Finals, the end result was as expected: The Spurs won four games to one. You're facing a team with four All-Stars — It cannot be one against four. For the Cavs, it must be a collective effort.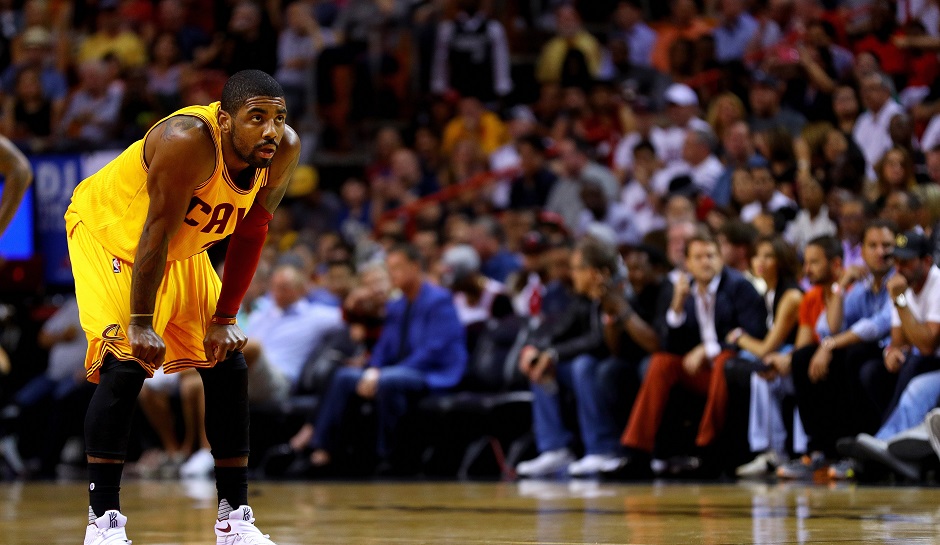 Kondoleon:
Kyrie Irving will be back to form come the Finals. It's weird to see this poor shooting, however. His knack for making key shots is more of a mental factor than a physical one, and once it hits June and the league's two juggernauts square off, we'll see #PlayoffKyrie once again.
Hutchinson:
I'm not worried about Kyrie Irving. Through the playoffs, he has still had a true shooting percentage (albeit including his great free throw percentage) of over 60 percent. He will have time to rest up before the Finals start, and we shall see the Kyrie Irving who gives it his all when it really counts.
5.) This is one the worst playoffs in recent memory. What can the NBA do to fix it? Can they even? Will mediocre playoff basketball be worth a Warriors/Cavaliers rematch for years to come?
Graham:
I think the NBA should eliminate conferences. This ensures that the best 16 teams make the playoffs each year, and that there will be no weaker conference.
Other than that, there's not much the NBA can do. You can't restrict a free agent from going to a team he chooses, so there's really nothing else to do. Make LeBron sit out for the first three rounds? Make the Warriors pay Steph the max in the middle of his contract? The only other thing that could happen would be for another superteam or two to form so that we have a four-team league instead of a two-team league. Players like IT, Wall, Westbrook, Harden and Kawhi are all stellar and have carried their teams to where they are. But with the exception of Wall, none have a true running mate, and with respect to Bradley Beal, he's not as good of a second option as… Kevin Durant.
With that being said, I believe that these playoffs were an anomaly. Sure, we knew Cleveland and Golden State would cruise through the first two rounds, but who could have predicted Kawhi's injury ruining the Conference Finals? Even the close matchups – like Houston vs. San Antonio or Boston vs. Washington – featured several blowouts on both sides. How rare is it to have four blowouts by one team and three by the other without any close games? The teams are clearly close to each other in terms of how good they are, it's just bad luck.
Shaw:
Nothing….. Nothing. There's nothing that the NBA can logically do at the moment to help improve the competitiveness of the game, and Adam Silver has twice admitted so over the course of the season. Bad luck for the rest of the league contributed to what's happened in Cleveland: When you sign the best player in the world AND acquire the No. 1 pick (1.7 percent chance at doing so), it's a problem for the other 29 teams. Period. For Golden State, that franchise has three All-Stars who are playing under bargain contracts because of their sudden and unexpected rapid improvement.
Whether you want to express your displeasure with Kevin Durant for signing with them is your choice, but the fact remains: Durant had the right as a free agent to decide which team he wished to sign with, just as the Warriors did for choosing to sign him. If he signed on a below-max deal, the story would be much different. Again on the other side, it just so happens that Cleveland managed to get lucky and acquire a No. 1 pick — to turn it into Kevin Love — and Golden State has three players who unexpectedly improved under bargain contracts. What must be noted, however, is this: LeBron James, as good as he is, will not be this good forever. Father Time remains undefeated. The Warriors, as good as they are, will not be this good forever. The financial issues will eventually catch up, and the seemingly unbreakable core they have constructed will no longer be. Of course, they could attempt to develop a plan to keep all four on the roster, but it wouldn't leave any additional money to develop a bench around them… which is crucial in today's league.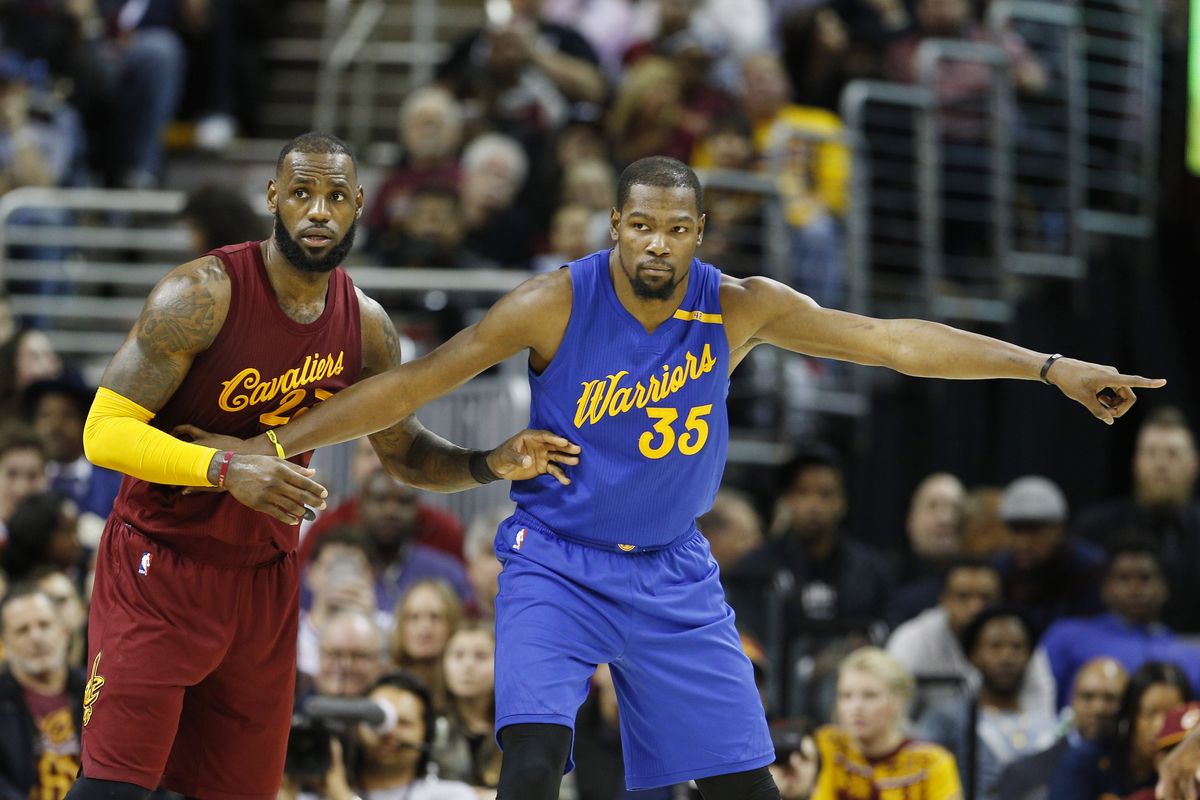 Kondoleon:
The NBA can't fix this for now. And they shouldn't step in. This is a historic time of dominance where two teams seem to be four levels above the rest of the league. Sure, it may not be "fun" to watch. But it won't last for much longer. The Warriors will hit a financial wall thanks to the flattening cap, and LeBron will eventually have to face Father Time. Playing the waiting game is far from ideal, but the league has had fun teams that went down in the playoffs because of injury. You'll also see exciting young teams like the Nuggets, Bucks and Timberwolves eventually take the playoffs by storm. Until then, let the league play out as is.
Hutchinson:
Eh, I'm not really worried. The NBA has always had dominant teams and dynasties in each and every decade. Not every year are the playoffs an amazing, nail-biting kind of close. The talent disparity between Golden State/Cleveland and the rest of the NBA is quite large. However, when a perfect storm of a team like Golden State gets put together, shouldn't we as fans appreciate the greatness instead of complaining? Stars emerge, teams shift and players regress. Circumstances don't last forever. Two years ago I didn't see the NBA becoming what it is now – what's to say that the same won't happen again?
Thanks for reading the second edition of the Half Court Heave! Have a question you'd like to submit? Tweet at myself or Def Pen Hoops. Come back next week for the third edition of our panel!