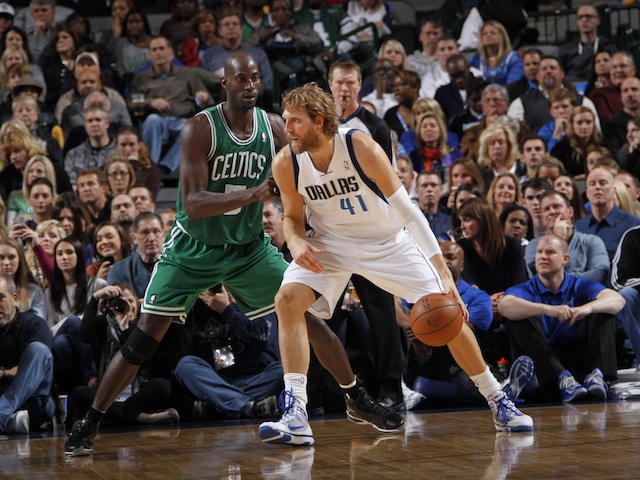 In what was arguably the golden age for power forwards in the NBA, Tim Duncan, Kevin Garnett and Dirk Nowitzki reigned supreme as some of the greatest players of the new millennium. While only the incredibly ambitious (or biased) will argue Garnett or Nowitzki over Duncan, the more common argument has been The Big Ticket vs. Nowitzki. Both helped pioneer the modern image of bigs in the league: guys who could use their outside shooting to spread the court and were versatile enough to fill multiple roles for a team. While the two are inarguably some of the best to ever step on a court, Nowitzki is vastly superior.
Many will disagree, but this stems from a fundamental method of judging players, not necessarily from disagreeing on quality of performance. People who believe Garnett to be the better player will usually use arguments to his advantage like claiming he was a better "overall" player.  While Garnett was more versatile than Nowitzki, having more overall skills than another player does not make him the better player. It can be argued that Draymond Green is a top-five "overall" player in the league, since he is a triple-double threat with DPOY-worthy defense. However, I doubt there are many people who would try to argue him as a top-five player in the league today. Meanwhile, his teammate Stephen Curry, who is often considered a one-trick pony, is a more impactful player for the Warriors, and is the reigning back-to-back MVP.
Another invalid criterion some like to use to justify having Garnett over Nowitzki is his stats. Again, this is not a good way of determining who was the better player. There is a huge difference between stats and impact. It's the reason guys like Duncan and Olajuwon are considered as some of the greatest ever, while Demarcus Cousins has never been to the playoffs, despite his similar numbers. Stats can give us an idea of how a player performed, but only tell a part of the story.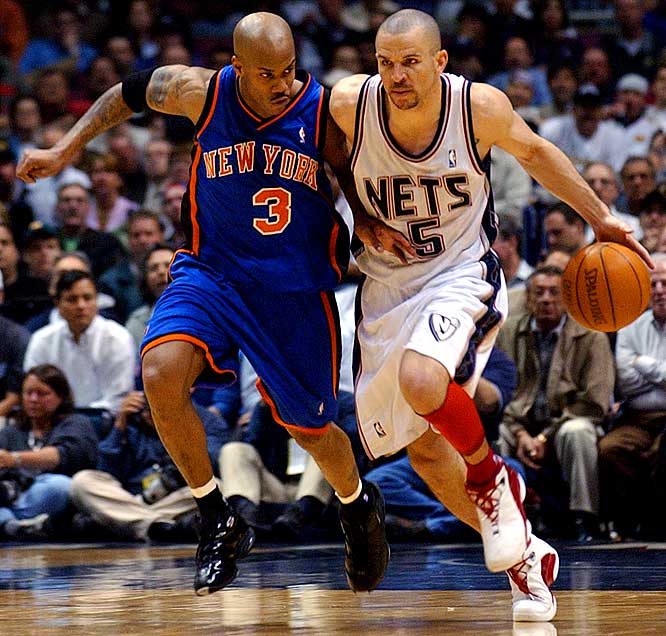 Simply reading box scores can be incredibly misleading. As an example, let's look at a player like Stephon Marbury. As the point guard for the Nets in 2001, he averaged 24-3-8, but the Nets were a terrible 26-56. The following season, the Nets replaced him with Jason Kidd, who averaged a less-eye-popping 15-7-10. Yet the Nets improved tremendously to 52-30 and made the NBA Finals.
Why couldn't Marbury carry the Nets to a winning record despite putting up better stats than Kidd? Simple: Kidd's impact was far greater. Whether due to his ability to make his teammates better, run the offense more effectively, play better defense or a combination of those factors, Kidd's impact went beyond the box score. Let's take a look at how Garnett and Nowitzki fare in the postseason in each of their primes.

Garnett leads Nowitzki slightly in rebounds and also in assists (this doesn't necessarily mean Garnett was a better offensive playmaker – more on that later). Even looking at just the counting numbers, when put into context, Dirk Nowitzki's numbers overall are more impressive. Not only does Dirk have superior production, but he produced against better team competition and defensive competition while sustaining his numbers for longer runs and for almost twice as many games overall. With five of his seven playoff runs ending in the first round, Garnett was seemingly bound to have higher stats, as he did not have to sustain his numbers for elongated runs. Even with this advantage, Dirk still scored at a higher clip and much more efficiently. For example, let's look at another star who can't make consistently deep playoff runs.
Carmelo Anthony's playoff prime ('07-'13) in 52 games played:
27.5 PPG on 52.7% TS
7.4 RPG
2.8 APG
1.4 SPG
0.4 BPG
2.8 TOPG
8/10 series came against opponents with 50+ wins (80 percent)
9/10 series came against opponents with a top-10 defense (90 percent)
5/10 series came against opponents with top-five defense (50 percent)
Anthony isn't considered a top-five small forward of all time, but due to first-round inflation, his stats are comparable to some all-time great small forwards, even when factoring in the level of competition he faced.
As another example, John Stockton's highest PPG and APG playoff runs both ended in the first round, with only three and five games played in those respective series. When he had to maintain his numbers for longer runs, his production – while still great – was inferior.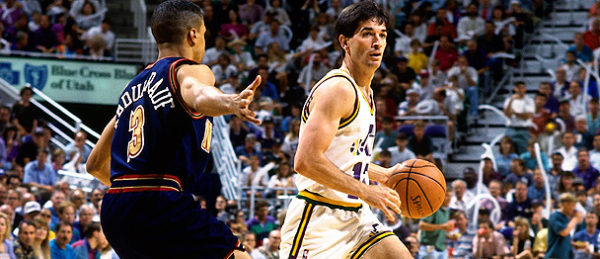 The main difference between the two is that Nowitzki was far superior as a teammate and was much more impactful than Garnett. Though Garnett was a better defender, Dirk was able to lead his teams to more success. The narrative always seems to have been that Garnett's Timberwolves teams were terrible which is why he had so much trouble in the playoffs. While this is partially true, there are several times when playoff failure rested on the shoulders of Garnett.
1999 Round 1, Game 4:
With a chance to tie the series at 2 and send it to a decisive game 5, Garnett shoots 6/20 for 20 points and the Wolves lose by 7. Garnett finished with a very inefficient 49% TS for the series.
2000 Round 1:
Garnett gets outplayed by teammate Terrell Brandon who had 20-6-9 on 57.5% TS for the series while Garnett had 19-11-9 on 44% TS. This worked against the "he was the only capable player on the team" narrative. He played terribly in some very winnable games:
Game 1: Garnett had a triple-double, but posted just 12 points on 20 shots, and the Wolves lost by three.

Game 4: Garnett has another inefficient game with 17 points on 20 attempts and the Wolves lose by eight.
2002 Round 1:
Garnett gets completely outplayed by Dirk Nowitzki this series (33-16 on 69% TS for Dirk compared to 24-19-5 on 51% TS for KG).
Dirks teammates score 79.4 points per game on 54% TS.
Garnett's teammates score 78 points per game on 53.5% TS.
No excuses about not having help. Garnett also had more than double the turnovers than Dirk but people still blame Garnett's teammates when this was a very winnable series. Minnesota got swept that series.
2003 Round 1, Game 6:
In a win-or-go-home game for the Timberwolves, Garnett drops 18 points on 21 shots and the Wolves lose again.
Of course, Dirk has definitely had his share of playoff failures, most if not all coming between 2007 and 2010. The difference is that Dirk still had incredible playoff runs in which he carried mediocre supporting casts in one of the best conferences of all time, so the lowlights don't matter quite as much. If we compare their best playoff runs, Dirk wins in a landslide.
Despite a letdown in the Finals, Dirk's 2006 playoff run is superior to any run that Garnett had in his career. The Mavs played the 49-33 Grizzlies in the first round with the second-best defense in the league, and he lit them up, averaging 31-8 on 63% TS for the series in a sweep. Then, the Mavericks faced the Spurs, in between San Antonio championship years. Though it was a long seven-game series, Dirk ultimately prevailed over Duncan and the Spurs.
Dirk Nowitzki averaged 27-13-3 on 65% TS to Duncan's 32-12-4 on 61.5% TS and won the series over the champs. Duncan also had better offensive help this series, as Manu Ginobili and Tony Parker averaged 21.3 PPG on 64% TS and 20.1 PPG on 48.8% TS respectively. Nowitzki, on the other hand, didn't have any teammates averaging 20 or more PPG. Dirk also came up huge when his back was against the wall; on the brink of blowing a 3-1 lead, he dropped 37-15-3-1-1 on 11/20 from the field and 15/16 on free throws in game 7.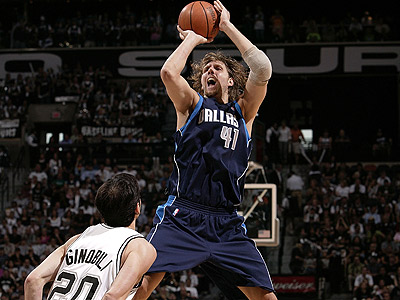 In the Conference Finals, Nowitzki faced an undermanned but still elite Suns team which won 54 games, had the league's second-best offense (Dirk's Mavs being the best), and back-to-back MVP Steve Nash. Though Amar'e Stoudemire was out for the series, the Suns had been missing him for the entire season and had made up for his absence due to their elite depth; six Suns players averaged 13+ PPG in the postseason. Dirk had another great series, averaging 28-13-4 on 57% TS to advance to his first NBA Finals. His teammates were mediocre on both ends in the series, shooting 52.5% TS and allowing Phoenix to match their offensive rating from the regular season. The Suns shot a much more efficient 56.6% TS. This shows the load Dirk had to carry offensively while going against one of the greatest offenses of all time.
In the 2006 Finals, Dirk Nowitzki did have a below-average performance by his standards, but it wasn't terrible. The Mavericks went up 2-0 against Dwyane Wade and the Miami Heat, with Dirk coming up huge in game 2, posting 26-16-4 on 8/16 shooting. The Mavs then had a chance to go up 3-0 and nearly end the series at the end of game 3 when Dirk infamously missed a free throw that would have tied the game with three seconds left. The series went downhill from there for Nowitzki and his Mavericks. They would go on to drop the next three games and lose the finals. However, that missed free throw in game 3 distracted a lot of people from the otherwise great game by Nowitzki, who put up 30 points and seven rebounds on 9/20 shooting.
Despite his relatively lackluster performance in the finals, his Western Conference playoffs were great overall. His finals numbers were 23-11-3 on 53% TS, which certainly isn't as bad as most make it out to be. In fact, it a better offensive output than Garnett's 2008 finals, when he put up 18-13-3 on 47% TS. Of course, Garnett was better defensively, but he also had much more help, with two teammates outscoring him and Paul Pierce winning Finals MVP. Dirk Nowitzki had no such luxury, and if the Mavericks had won, he definitely would have been awarded MVP of the series.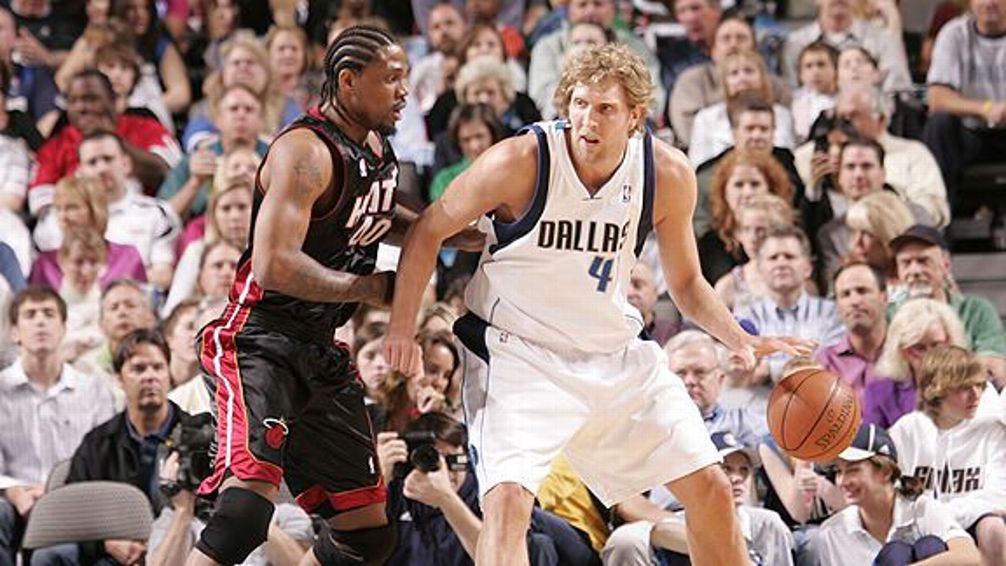 KG's 2004 Western Conference Finals run, often considered one of the all-time great non-championship postseason runs, pales in comparison to Dirk's 2006 Finals run. First off, he played two teams with 50+ wins to Dirk's three, and only eliminated one. Dirk eliminated two teams with 50+ wins plus a 49-win team with the league's best defense. Garnett was also inefficient, shooting just 51.3% TS despite facing weaker competition. The 2004 Timberwolves were an underrated team, as Garnett had good supporting pieces in Sam Cassell and Latrell Sprewell, who averaged 17-3-4 on 58% TS and 20-4-4 on 52% TS, respectively. Furthermore, Sprewell was an elite defender. Cassell got injured in the Western Conference Finals against the Lakers, but Garnett had a few opportunities to tilt the series in Minnesota's favor even without him.
Game 1:– Garnett has 16 points on 15 shots, four turnovers, and is outscored by Sprewell and matched by Cassell who plays 13 fewer minutes. The Timberwolves lose by nine.
Game 6: Garnett commits eight turnovers that directly lead to 11 Laker points, and fouls out. He was outscored by Sprewell, and the Timberwolves lose by six points.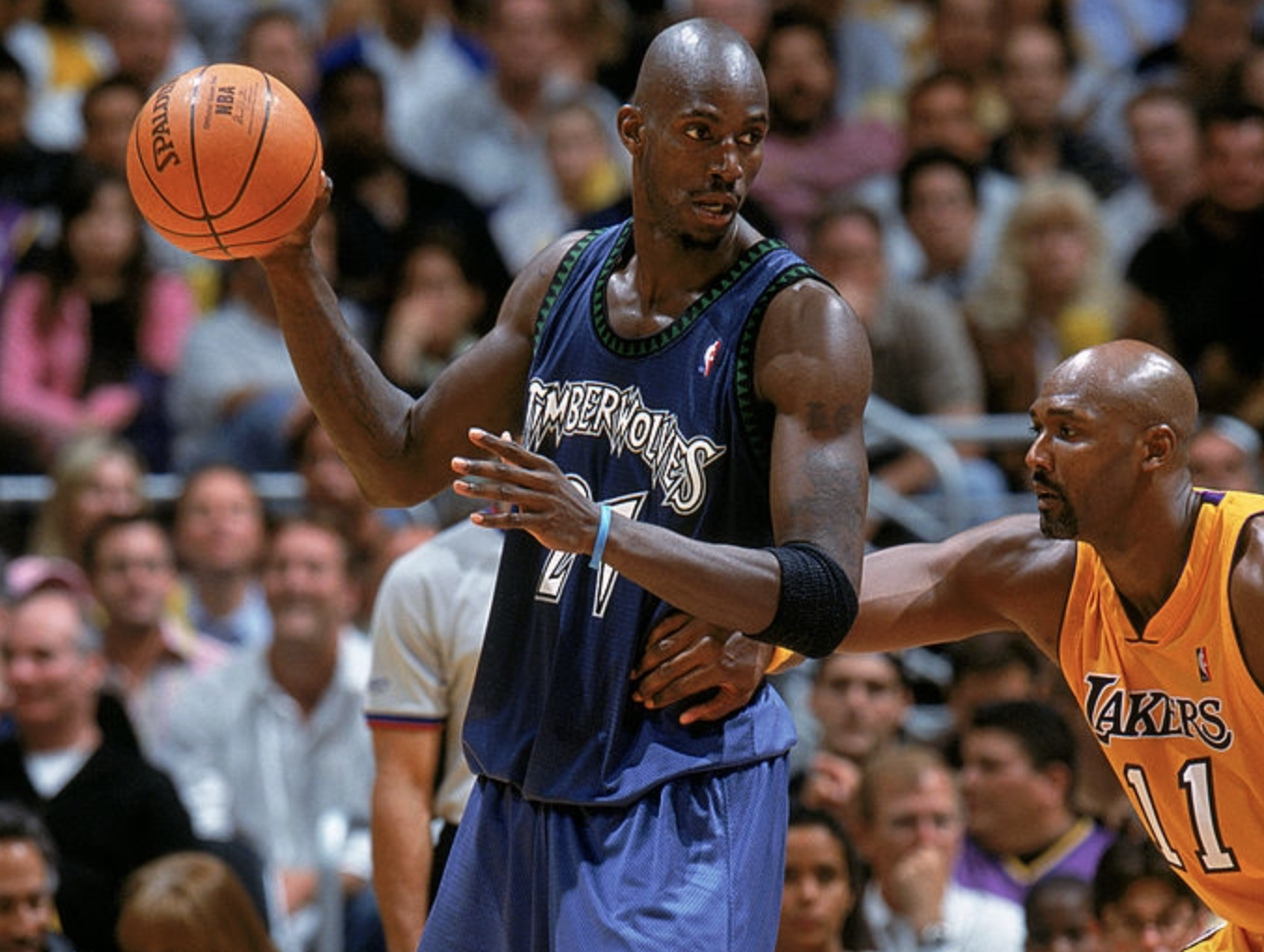 Furthermore, Sprewell did a great job of limiting Kobe Bryant, who had 24-4-6 on 52% TS. He didn't completely lock him down, but he did slow him down a good amount. Shaq was also not his normal dominant self in this series, posting a below average 21 ppg on 55% TS for his standards. And no, Garnett was not responsible for slowing down Shaq, as he primarily guarded Karl Malone in this series. This was a very winnable series for Garnett and the Wolves, but his low efficiency (51.8% TS) and untimely bad performances costed him his shot at a Finals run.
No playoff run of Garnett's even comes close to Dirk's 2011 title run, where he faced elite competition (3 55+ win teams) and carried a team with no other all stars/HOFers on the roster. Garnett's only title run, in 2008, came with more help, against worse competition, and with less impressive offensive production. Garnett averaged 20-11-3 on 54% TS, which isn't terrible by any stretch, but when considering the favorable circumstances Garnett had, it is far less impressive than Dirk's title run. Dirk averaged 28-8-3 on 61% TS, while having to carry a much bigger offensive load than Garnett.
Dirk's teammates throughout the playoffs averaged a combined 70.5 ppg on 55.7% TS, while Garnett's teammates in his title run averaged a combined 73.6 ppg on 54% TS. While at first glance that might look about even, it doesn't quite tell the full story when it comes to offensive help from teammates. Garnett's two HOF teammates (Allen and Pierce) both averaged 25+ ppg the previous year, and both of their scoring declined. This is commonplace when superstars are on the same team, such as Stephen Curry's scoring decreasing from 2016 to 2017, and Kevin Love's decreasing from 2014 to 2015. Considering if one of them was slumping they had two more threats to rely on was huge, while Dirk Nowitzki had no such luxury.
Second, while having a deep team might be ideal for the regular season, it is historically more difficult to win without a true second option in the playoffs. The only other times a team has won the championship with only one HOF level player were 1975 with Barry, 1977 with Walton, 1994 with Hakeem, and 2003 with Duncan. Dirk faced better competition than any of those playoff runs with the exception of Hakeem, which has a strong case for being the greatest individual playoff run of all time.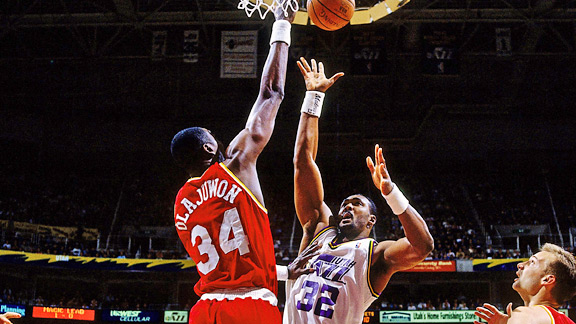 Dirk eliminated three of the greatest teams of his era in the 2x champion Lakers, the big 3 in Miami (when LeBron, Wade and Bosh were all in their primes), and a young Thunder team with Durant, Westbrook, Ibaka, and Harden. This is much better competition than LeBron's Cavs (45-37), and the post-Larry Brown/Ben Wallace Pistons, even with the same Laker dynasty. Dirk Nowitzki was also very clutch in in 2011 as exampled by his late dominance in game 4 of the WCF, and his game winner in game 2 of the Finals. Dirk's 2011 run has an argument for a top 5 playoff run of all time, given his statistical dominance, clutch play, great competition and mediocre teammates relative to a championship winning team.
Even Dirk's 2003 WCF run is close to Garnett's revered 2004 conference finals run. He averaged 25-12-2 on 60% TS, and eliminated 2 50+ win teams. Dirk also maintained these averages in the WCF, but went down with an ankle injury in game 3. He did this all against two of the top 3
defensive teams. He had more help than Garnett with Nash, Finley, and Van Exel, and wasn't as good defensively, but also was much more efficient and played better competition overall. He even dropped 38-15 on 10/19 shooting in the game 1 WCF victory, so had he been healthy, the Mavericks had a good chance of beating the Spurs. Duncan did a better job limiting Dirk Nowitzki in games 2 and 3, but Dirk proved he could still have a big game and lead the Mavs to victory against a top 5 defender of all time. Garnett's 2004 WCF run is superior, but the fact that it is comparable with the third best playoff run of Dirk's career shows how much better Dirk was come playoff time.
In terms of the regular season, it means less in terms of ranking players, but Dirk edges out Garnett again. In his prime from 2002-2011, his teams never had less than 50 wins in a season, while Garnett only anchored 5 50+ win teams in his prime (1999-2008), with one of them coming on one of the most stacked teams of all time. While Dirk has had several seasons of sub par postseason play, Garnett has had several seasons of not even making the playoffs. From 2005-2007, Garnett's Timberwolves missed the postseason three consecutive times, eventually resulting in him being traded to the Celtics in a rebuilding effort. Some may claim that Garnett's teams those years were so poor they can't be expected to be playoff teams, but when you consider the fact that Dirk and Garnett have lifted worse teams (2003 Timberwolves, 2008/2009 Mavericks) to the playoffs, it is a clear stain on his resume.
Each player has won one MVP award, and each was an incredibly dominant year by both players. In 2004, Garnett won the award in near unanimous fashion, getting 120/123 possible first place votes. Garnett led a 58-24 Timberwolves team with top options in Sam Cassell and Latrell Sprewell. He averaged a great 24-14-5-2-2 on 54.7% TS, and earned the top seed in the West. Garnett's team was underrated though, as explained before, with Sprewell and Cassell being great supporting pieces. Though Garnett's MVP season was very impressive, Nowitzki's is superior.
The 2007 Maverick's record was 9 wins better than the Timberwolves' during Garnett's campaign, and there was little disparity in quality of teammates:
Garnett (2004 Timberwolves) best teammates:
Sprewell: 17-4-4 on 49% TS
Cassell: 20 ppg 7 apg on 57% TS
Nowitzki (2007 Mavericks) best teammates:
Howard: 19-7 on 55%TS
Terry: 17 ppg on 59% TS
Offensively, their two best teammates were about even, but Sprewell was a much more impactful defender than any of Nowitzki's teammates. In fact, despite Garnett being an all time great defender, the Timberwolves went from 16th defensively in 2003, to 6th in 2004 upon his acquisition. Dirk had a great statistical season as well, averaging 25-9 on 60.5% TS, with a near career high in assists at 3.4 per game. He also became the only big man to join the 50/40/90 club. Even with less assists, Dirk was actually superior at improving his teammates. He wasn't an outstanding playmaker, but had intangibles that made his teammates flourish around him.
Here we have an example of how Dirk Nowitzki can impact an offense without even touching the ball. Since Dirk is such a threat from three point range, when the double forces a kick out, Turkoglu cannot help off of him even though the rest of the team rotated.
In this clip, when Dirk Nowitzki drives, he demands the entire lane to collapse on him, which he recognizes and kicks out the ball to an open man. Though he doesn't get an assist he still creates opportunities for his team offensively with his presence.
Here we see why Dirk Nowitzki was lethal as the roll man in pick and roll situations. Defenders must respect his range on the screen in case he decides to pop out for an easy bucket. Here, he slips the screen but the way he's able to draw the defense to him allows Terry to convert with the lane more open.
This can be very useful, as players without Dirk Nowitzki's range aren't as usable in these plays. Here, Gortat screens for Wall, but since Howard knows that Gortat isn't a threat to score from the perimeter, he can sag off and be in position to grab the rebound.
Having an impact on his teammates through ways other than through his passing is evident statistically as well. For example, Jason Terry, at ages 31-33 shot a 9% higher eFG% compared to his two prime seasons in Atlanta (48.8%). On the other hand, Sprewell actually saw a decrease in his eFG% in his first season with Garnett. This was coming off of a year on a poor Knicks team, so it should have been easier for him to shoot more efficiently from the field with a more competent team, but this wasn't the case.
Garnett overall had the statistical advantage, but when looking deeper, Dirk Nowitzki made his teammates better, and his team saw the benefits of it. The Maverick's 67 wins was good enough to be tied for 8th all time for a regular season team, and all of the RS teams tied or more successful had multiple Hall of Fame level teammates, a true testament to the insane impact Nowitzki had this season for the Mavs.
Nowitzki even had a strong case for the 2006 MVP award. Even with stacked MVP competition including Kobe and LeBron's best scoring seasons, and Nash's (18.8 ppg – 10.5 apg on 63.2% TS) overall great season, Dirk Nowitzki had an incredible year himself. In the 2005-06 season, he averaged 27-9-3 on 59% TS while leading the Mavs to a 60-22 record. He also anchored the best offense in the league, even with D'Antoni's innovative 7 seconds or less offense lead by prime Steve Nash on the Suns.