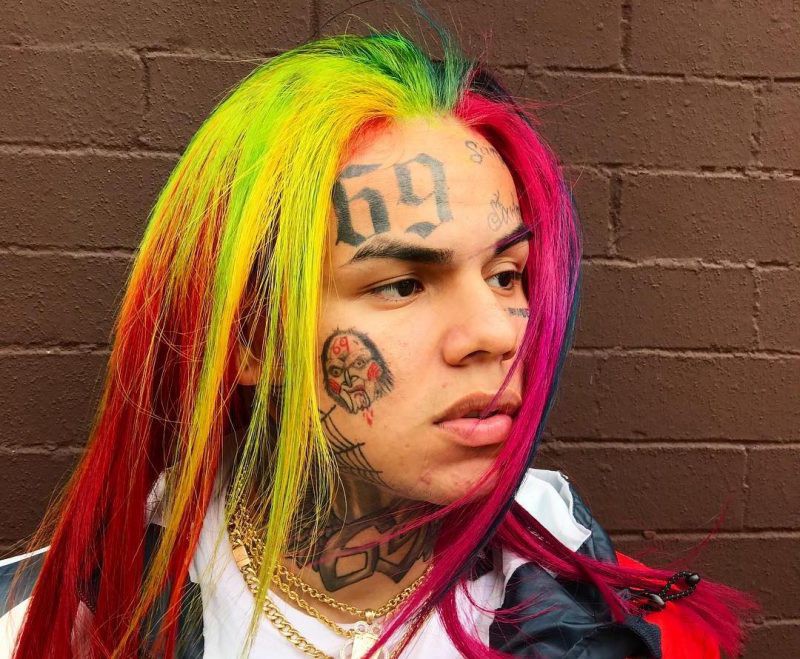 From Trippie Redd, to the LAX fight, internal feuding within Nine Trey, Daniel Hernandez, better known by his stage name Tekashi 6ix9ine didn't leave any rock unturned in today's testimony. Today was a continuance from his revealing testimony early Tuesday morning.
Tekashi's testimony picked up discussing how the money was sent to the higher ranks of Nine Trey that was incarcerated. When another defendant in the case was released from prison, Roland "Ro Murda" Martin, Tekashi says Kifano "Shotti" Jordan told him it's important to take care of the crew because they take care of us. Tekashi recalls a time where he had to pay James "Frank White" Baxton wife $2000.
Further into his testimony, the government began showing him photos in which he identified the two defendants Anthony "Harv" Ellison and Aljermiah "Nuke" Mack, as well as Jamel "Mel Murda" Jones, Seqo Billy, and another alleged Nine Trey member, Billy Ado. Tekashi discussed his feud with Trippie Redd that he says stemmed from jealousy. He then begins to detail the attack he and his crew allegedly planned for Redd. Tekaski says there was supposed to be a truce between the feuding rappers that was initiated through Trippie Redd's manager. At this time, Tekashi was still upset at Redd for exposing his sexual misconduct case. Seeing this as an opportunity to get even, Tekashi told Jordan that "he wanted something done about Trippie." Jordan allegedly responded "say less, well get on top of it."
Tekashi states the crew did surveillance on Trippie Redd and his team which led them to a hotel. Tekashi then explains it's him, Kifano "Shotti" Jordan, Anthony "Harv" Ellison and some other guys. Tekashi says he was told to stay in the car by Jordan. The rest of the crew proceeds to go inside the hotel. Tekashi stated moments later Jordan came back screaming "its' f*cking Treyway, we got that ni**a".
Snow Billy
The testimony then transitioned to an individual known as Snow Billy. Shane "Snow Billy" Hardy first came up on most people's radar when Jack Frost of the BBN Network conducted an interview with him. Tekashi says Snow Billy did a podcast in which he voiced "he's not down with that rainbow head piece of sh*t". Tekashi relayed the message Shotti and at some point, Tekashi and Snow Billy were together in which Tekashi put Snow Billy on facetime with Shotti. Tekashi says Shotti told Snow "love him like I love him." Tekashi says things escalated in which he says Jamel "Mel Murda" Jones got involved. Tekashi said Jones told Snow Billy "don't touch him, don't look his way." AUSA Longyear asked Tekashi if he knew of anything happening to Snow Billy in which Tekashi responded: "a month later he got shot in the head."
ASAP Yams Incident
The government brought up the brawl that took place at ASAP Yams' annual tribute concert. Tekashi states the security was not aware that Kifano Jordan was apart of his entourage and jumped him. Tekashi and other members of his entourage went to the rescue of Jordan.
LAX Fight
Tekashi explained to jurors that the fight started when Seqo Billy and Billy Ado began flirting with two women by offering if they needed help with their luggage. The women were with two guys expressed that the women "didn't need any help." Words were exchanged and Tekashi says Anthony Ellison threw the first punch setting off the brawl. Tekashi himself was involved in the fight but expressed in court he doesn't know why he got involved.
Incident on Graham Ave.
Tekashi described the shootings that took place on April 21st involving Kifano "Shotti" Jordan. The first shooting stemmed from two individuals mocking Tekashi while he was out eating and shopping. Tekaski says Jordan pulled them out of their car and began pistol-whipping them. As Tekashi and company drove off, the two individuals followed Tekashi's car. At this point, Tekashi says Shotti got out of the car and headed towards the two individuals. As Shotti is running towards the men, they put their car in reverse. Tekashi proceeded to say Shotti got on one knee and let off shots.
Casanova shooting
Tekaski and Brooklyn rapper Casanova was in a subliminal feud for months leading up to the Barclays shooting. Tekashi was set to perform at the Barclays for the Adrien Broner/Jessie Vargas fight. Unfortunately, that didn't take place as things came to a head between Tekaski and Casanova's crew. Tekashi says while walking through a corridor in the Barclays they bumped into Casanova and his crew. Tekaski further states that Casanova's crew rushed his entourage in an attempt to get to him. Tekashi goes on to say Shotti told another Nine Trey member Fuguan "Fu Banga" Lovick to shoot in the air. Lovick has already pleaded guilty to this charge.
Kidnapping and Robbery
Tekashi takes the jurors back to the night of the kidnapping and robbery. He tells the court, he was headed to his friend's house Andrew Green, who is known as Trife Drew to make an edit for the upcoming video release FeFe featuring Nicki Minaj. Tekashi says while driving to Green's house, they were bumped by another car from behind. His driver at the time Jorge told Tekashi "I'm just going to let them go on their way." Tekashi then realized something was wrong once he saw a man come from behind on the side of the car with a gun in his hand.
Tekashi alleged Anthony Ellison as being one of the kidnappers. Tekashi was then forced out of his vehicle and forced into the kidnappers' vehicle. During this time Tekashi says he was pleading with Ellison. "Bro I put money in your pocket, I did right by you" Tekashi stated. Once inside the kidnappers' vehicle, Tekashi said they asked him "what would you exchange for your life." The rapper suggested that they stay with him for the night and when the bank opened he would give them $100,000.
Declining the offer, the kidnappers agreed if Tekashi gave them his jewelry they would let him go. A call to his home to his girlfriend Sara Molina telling her to bring down the jewelry. After the exchange was made, according to Tekashi he remained in the car. He goes on to say after driving for a few, Ellison told Tekashi to get out of the car. Tekashi says he was hesitant and felt Ellison would shoot him Ellison told him once again to exit the car. After getting let out of the kidnappers' car, Tekashi jumped in the backseat of another car he seen on the street. Tekashi asked the driver to drive him to the closest precinct.
When reaching the precinct Tekashi says he asked for medical attention. Shortly after being taken to Kings County Hosptial, Tekashi says Shotti got him discharged and took him to a hospital for a CAT scan. Later on, Tekashi explains that both he and Shotti met up with Mel Murda to explain what happened. Shotti allegedly brought a big assault rifle to Tekashi's home and said he was going to "spin the block" to look for Ellison and retaliate.
It was expected that Tekashi would finish his testimony in two days but he is due back in court tomorrow to finish testifying.