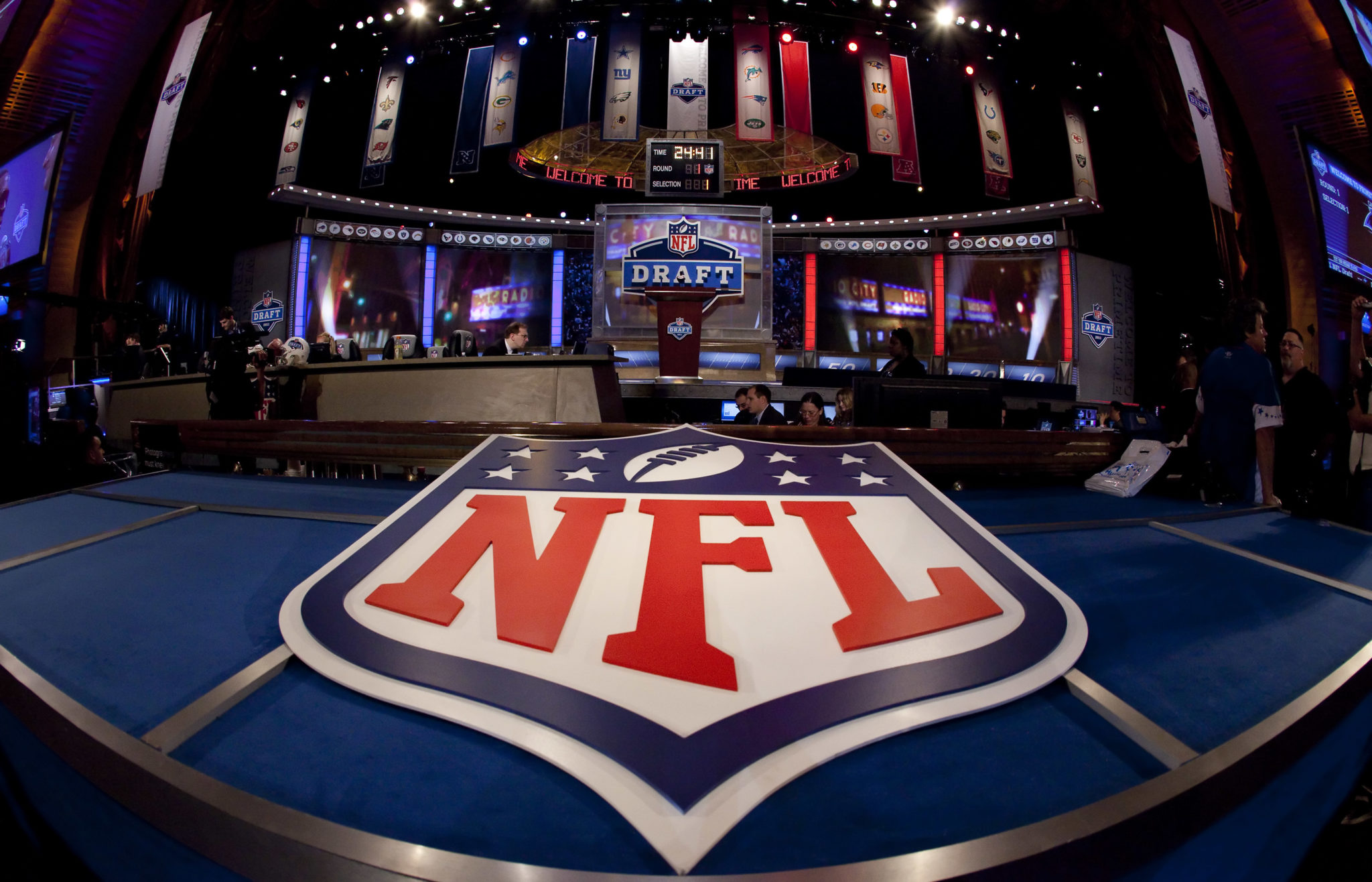 Let's face it, every NFL team needs help. That's what the NFL Draft is here for (along with being an unexpectedly fascinating television experience). Even in areas where it doesn't seem like your favorite team needs help, the Green Bay Packers and New York Giants (among others) proved last year that in many cases, you're only as good as your superstar's backup. Adding depth is always nice, but the NFL Draft is largely about finding the superstars of tomorrow. Let's take a look at the positions teams could use those potential future superstars the most going into the 2018 NFL Draft.
AFC East
Buffalo Bills: QB, OG, MLB, OLB, DE
The Bills filled some holes so far this offseason, but they also created some – namely by trading away starting QB Tyrod Taylor. Buffalo needs to find their quarterback of the future, and find better players to protect whoever is under center. Other than that, pretty much every team could use more players to pressure the opposing QB, and the Bills are no exception.
Miami Dolphins: Everything
Miami traded away top receiver Jarvis Landry in order to avoid paying him (which the Browns did handsomely). It may seem like a cop out to cast such a wide net, but the Dolphins are clearly hitting the reset button, and virtually no player should feel like their spot on the roster is guaranteed. Miami isn't the only team with needs across the board, as you'll see. Although it's not exactly a good sign for your team, there is a luxury (for lack of a better team) in being able to draft players in the 2018 NFL Draft regardless of position without reservation.
New England Patriots: QB, WR, TE, OT, DT, DE, CB
This might look like an exaggeration regarding the needs of a team fresh off a Super Bowl appearance. But the Patriots have been the best at planning for the future, and in the 2018 NFL Draft, they need to balance drafting players that can help right away and players that can be groomed for down the line production. They need to find another backup/future starting QB after trading Jimmy Garoppolo. And even though Rob Gronkowski is coming back, the fact that he's thinking about retirement has to make New England wary of assuming they have the league's best TE.
New York Jets: Everything
The Jets need playmakers. Many people though New York was the worst team in the league last year and they disproved that. But this is still a team that lacks playmakers. All indications point to the Jets taking a quarterback with their first pick. If there's a team that should swing for the fences and maybe take some high risk/high reward prospects, it's this team.
AFC North
Baltimore Ravens: QB, WR, TE, C, DT, DE
Count Baltimore amongst the teams that should be looking for a quarterback to take them into their next era at some point during the 2018 NFL Draft. If Joe Flacco was ever really a game-breaker, he certainly isn't anymore. This team is in pretty good shape defensively but could use more pass rush up front. But the top priority should be finding pass catchers for Flacco and beyond.
Cincinnati Bengals: Everything except WR
Cincinnati is pretty clearly trailing Pittsburgh and (to a lesser extent) Baltimore from a talent standpoint in their division. The more Andy Dalton plays, the more it looks like he's not the answer to the Bengals' most important position. It still wouldn't hurt them to take a flier or two on receivers later on, but they have A.J. Green and can make do at that position, they have way too many other needs for that to be a priority though.
Cleveland Browns: Everything
Another year, another top pick coming for the Browns. They've struggled to find answers in the draft (or anywhere else, for that matter). There's not a ton to say about Cleveland: they could use at least one more of everything. All indications are the Browns will use one of their two top-four picks in the 2018 NFL Draft on a quarterback. Regardless, their work is only just beginning with those two high selections.
It's my feeling, barring any unexpected new info or proposals surfacing & based off multiple conversations I've had on & off the record up through the crack of dawn this am, that the #Browns have settled on Okla QB Baker Mayfield for the #1 pick in the #NFL Draft tonight at 8pm.

— Josina Anderson (@JosinaAnderson) April 26, 2018
Pittsburgh Steelers: QB, TE, DE, CB, S
From a roster construction standpoint, the Steelers are kind of weird, but not in a bad way necessarily. Their offense is loaded with talented veterans. They have All-Pro-caliber players at the three most important offensive – QB, RB, and WR. On the other hand, the defense is largely young and unproven, even though they played pretty well last season. It's not really about bridging the experience gap for Pittsburgh as much as it is about finding incoming rookies who can contribute right away while the team solidly in win-now mode. Finding a potential replacement for Ben Roethlisberger in the mid-to-late rounds should be the Steelers only real offensive concern other than adding a tight end.
AFC South
Houston Texans: Offensive line, TE, MLB, S
If the only thing that comes out of the 2018 NFL Draft for the Houston Texans is they find some answers along the offensive line (at all spots), it will be a gigantic success. Of course, building depth and guarding against injury is enough to make them draft plenty of other positions. But Houston had the league's worst offensive line last year, per Pro Football Focus, and that failing to improve on that could sabotage a team that has talent on talent on talent.
Indianapolis Colts: Everything except QB
Even though there are still questions about Andrew Luck's health (which seems ridiculous at this point, but here we are), the quarterback spot is the one position the Colts can feel decent about, at least from the draft's standpoint. Should Luck still need time to make a full recovery, Jacoby Brissett is a more-than-capable backup.
Jacksonville Jaguars: QB, WR, OT, DE
Jacksonville should look to add some depth on defense, but finding a potential upgrade at quarterback (now or down the road) and replacing Allen Robinson and Allen Hurns at wide receiver in the 2018 NFL Draft is clearly a top priority. A lack of talent at the offensive skill positions outside of Leonard Fournette could keep this team from rounding into a true contender.
Tennessee Titans: RB, WR, DT, MLB, OLB, CB, S
Besides Marcus Mariota, the Titans have a need for high-impact players at pretty all the skill positions. Even though Mariota is a dual-threat, they lack players capable of making big plays. Defensively they need to focus on pass defense, whether that be in the pass rush or secondary. The 2018 NFL Draft is hugely important to the future of this team. Tennessee made the playoffs last season, but could easily fall out of postseason contention if they're not aggressive in adding to the roster.
AFC West
Denver Broncos: QB, TE, OG, CB, S,
Denver might be the NFL's most talented team that doesn't really have a chance to contend … at least until they get their quarterback situation straightened out. They need to replace players lost (namely Aqib Talib), but the defense should be good going forward as long as they can surround Von Miller with capable players. They just need the offense to catch up. They could make up some ground in that area over the course of the 2018 NFL Draft if they make the right decisions.
Kansas City Chiefs: OG, C, DT, DE, CB
After trading away Alex Smith, this team has put its full support behind Patrick Mahomes. Around him, they might lead the league in impact playmakers on offense. Their offensive line was merely mediocre last season, so they should look to improve that in the 2018 NFL Draft. Otherwise, continuing to find players that can produce a pass rush and replacing the departed Marcus Peters at cornerback are areas Kansas City should look to in the draft.
Los Angeles Chargers: QB, WR, Offensive line, DT, OLB, MLB
Quarterback appears on the Chargers' need list, although the Chargers might have a come-to-Jesus moment and realize their in a position to win the NFL's most competitive division next year and developing a QB of the future might not be of importance right now. Regardless of what they do at quarterback, they absolutely need to find better ways to protect their signal-caller and pass catchers for him besides Keenan Allen.
Oakland Raiders: OT, DT, DE, OLB, MLB, CB, S
The Raiders are pretty set on offense. It's not so much that they don't need help there as much as it is that – if they're going to be competitive – they must improve on defense. And on that side, of the ball, there are needs all over to compliment Khalil Mack. Besides just talent on the football field, this is also an organization that could use the 2018 NFL Draft to add some fresh faces to sell to fans while the team is on the verge of moving to Las Vegas.
NFC East
Dallas Cowboys: WR, TE, DT, OLB, MLB, CB, S
Replacing Dez Bryant now and Jason Witten later(ish) are the only glaring needs for Dallas' offense. But defensively they need to find more players to establish a pass rush and defend the pass on the back end. Becoming bigger and more physical up front on defense against the run might not hurt, either.
New York Giants: Everything
Whether they use this draft to take Eli Manning's eventual replacement or not, the Giants' disastrous 2017 should scare them into realizing that positions of strength can turn into positions of need in the blink of an eye. The G-Men went from bolstering one of the league's premier receiving corps to barely being able to field enough wide receivers in a flash. Plus, the defense was one of 2017's most disappointing units in the NFL.
Philadelphia Eagles: RB, WR, TE, CB
There's a couple of players the reigning Super Bowl Champions could stand to replace. Other than that, there's not a bunch of holes to fill. But the Eagles need to make sure they don't get burned by standing pat. Their needs stem from areas that virtually every team could use more of, that being high-impact pass catchers and secondary.
Washington Football Team: RB, WR, Defensive front seven
Although Washington's offense doesn't project to be anything to write home about, they should focus more on the defense, particularly up front. Their secondary is far from perfect, but they've put enough money and resources there (particularly in Josh Norman), that they should find other areas to improve upon.
NFC North
Chicago Bears: Everything except QB and RB
Whether Mitchell Trubisky is the answer at quarterback for the long term is something the Bears need to let play out, for better or worse. They're also lucky in that they probably have one of the best backfield combos in the NFL in Jordan Howard and Tarik Cohen. They went out and spent on WR Allen Robinson in free agency, but Robinson is hardly enough to single-handedly make life easy for Trubisky, so there's room for depth at receiver, tight end, and offensive line (a unit that played well in 2017). The defense is young and kind of intriguing, but Chicago should readily take any defensive player they feel is the best available at any point during the draft. Even if there are highly capable players on the roster, drafting those positions can create positional competition and make the whole team better for it.
Detroit Lions: WR, TE, Defense
The back end on defense in Detroit is good. Darius Slay is an elite cornerback. But they could build around him a little better in the secondary. But they desperately need a better pass rush up front. Besides that, some depth at receiver and replacing Eric Ebron at tight end rank as the Lions' primary offensive needs.
Green Bay Packers: WR, TE, OLB, CB, S
There was some speculation that Clay Matthews might be a cap casualty in Green Bay. He wasn't, but Jordy Nelson was. Although Matthews' time hasn't come to an end yet, he's been an injury liability the past few seasons. Finding more edge pass rushers should be something the Packers look for at some point. However, their biggest need is clearly in the secondary. That unit was injury-prone in 2017 and dramatically underperformed expectations. Finding a wide receiver to add depth down the roster after Davante Adams and Randall Cobb, along with a tight end that can stretch the field should also be on the Packers' board.
Minnesota Vikings: RB, Offensive line, DE, OLB
Minnesota drafted Dalvin Cook last year at running back. After tearing his ACL in his rookie campaign, he should bounce back to become something of a game-breaker – something which he showed flashes of before getting hurt. But adding a backup there could help. Otherwise, keeping newly acquired Kirk Cousins upright – a task that falls on the offensive line – is the only glaring need on the roster. Finding another dynamic edge pass rusher in the draft could also take the Vikings' defense to a new, crazy scary level.
NFC South
Atlanta Falcons: WR, TE, DT, DE, OLB, MLB, CB, S
While it's always nice to have Julio Jones on the roster, it feels like the Falcons haven't ever gotten their WR2 spot right, doesn't it? But that's a little nit-picky. More importantly, this is a team that could use help at all level of their defense. While Atlanta did play well defensively for much of 2017, that unit is still a ways behind their offense. So balancing out a lopsided roster should be the goal for the Falcons' 2018 draft.
Carolina Panthers: WR, Offensive line, DE, OLB, MLB, CB, S
In Cam Newton's tenure with the Panthers, they've done a pretty bad job of putting playmakers around him, particularly at wide receiver. That continues to be a need.  The defense is largely dependent on the health of Luke Kuechly. If he's not in the lineup, it's night and day difference in performance on the whole. Finding someone who could at least spell Kuechly at times or at best replace him down the line is something Carolina should look into during the 2018 NFL Draft. But they also have more glaring needs in the secondary.
New Orleans Saints: TE, Offensive line, Defensive front seven
The Saints offense was among the most dynamic in 2017. Their offensive line performed well, but they could manage to find a little more depth there. New Orleans has also built one of the better secondaries in the league, but they lack high-end pass rushers for the most part. Finding a player or two who can get to the opposing quarterback quickly will only make their cornerbacks and safeties' lives easier.
Tampa Bay Buccaneers: Everything except QB, WR
Though Jameis Winston has been a disappointment in the eyes of many, the Bucs need to focus their attention elsewhere. With Mike Evans and DeSean Jackson on board, they've spent enough resources on the wide receiver position. But defensively, they're a mess. Adding to the offensive line would be a good idea, but just getting more overall talent on defense will do this team wonders.
NFC West
Arizona Cardinals: Everything except RB
Arizona has the league's most versatile running back in David Johnson. But Johnson is coming back from a knee injury. But running is the NFL's primary plug-and-play position. It seems like there are always capable RBs available. This team needs a big 2018 NFL Draft. Their kind of stuck with a lot of win-now talent, but overall the Cardinals don't move the Super Bowl contender needle at all. But surprising things happen every season, and should Arizona be competitive in 2018, they'll need young players to make major contributions.
Los Angeles Rams: TE, OLB, S
The way the Rams have built their roster is a thing of wonder. They've used the draft to add key players to meaningful positions. And they've used free agency and trades to add high-impact players along the defensive line and secondary. Plus, they've got perhaps the most desirable thing in the NFL: A capable quarterback on a rookie contract. While they've got Jared Goff locked up for relative peanuts, the Rams have made the most of the opportunity to spend elsewhere. That's created a situation where they've formed one of the scariest defensive lines in recent memory. They could use an athletic pass rusher though to compliment the raw power up front. Finding a new toy for Goff at tight end and versatile safety would also be welcome additions in L.A.
San Francisco 49ers: Everything except QB
Once Jimmy Garoppolo came on late last season, the 49ers really played some good, sound football. However, the core of the team is still much the same as the win-deficient Niners teams of recent past. They desperately need high-impact players on offense and defense. Don't be fooled by the Garoppolo bump, this is still a team with plenty of holes on the roster. The 2018 NFL Draft could prove a pivotal point for this franchise going forward.
Seattle Seahawks: RB, TE, Offensive line, OLB, CB
Seattle is another team that has to balance the fine line between putting together a competitive roster while going through something of a rebuild. They've never gotten the offensive line combination right as long as they've had Russell Wilson, although he's a difficult QB to block for because he moves around so much, they can certainly improve his protection. They can also make Wilson's job easier by adding a capable running back and tight end. On defense, finding an edge pass rusher and cornerback will go a long way towards replacing talented players they've lost that made the Seahawks perennial Super Bowl contenders.