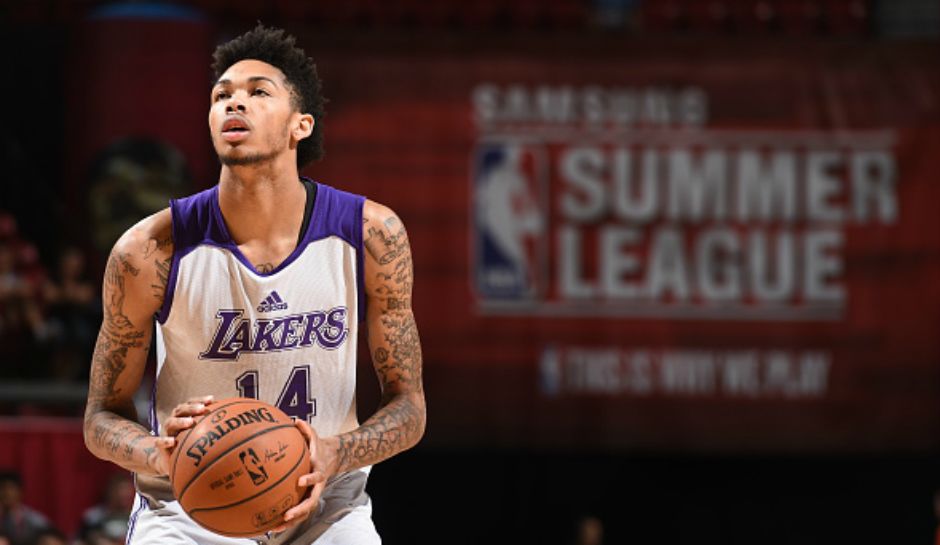 Summer League is a time for media members to slowly resent their professional career decisions while fringe NBA players try to prove they are worthy of theirs. It's also a chance for NBA fans to see their favorite teams' new young prospect(s) in an NBA setting. Even with far inferior talent compared to regular season play, it is an obvious step up from an ordinary college game. Per usual, rookies shined, rookies flopped, and everyone overreacted. If you missed any of the play over the last 10 days, here are some takeaways.
Veteran Player Disappointments & Successes
Brandon Ingram fell short of most people's unusually high expectations last season but succeeded immensely in his brief time on the court in Summer League. Confidence glowed off of him as if it were the inadequate super power of that one character from Sky High. He flowed through the game with ease and continued to show his ever-improving passing ability that began to grow at the end of last season. He didn't see much time on the court – just enough for Magic Johnson to happily shut him down after an apparent calf cramp – but he keeps showing signs of turning into a legitimate player. Don't be surprised if his production spikes next season.
Some may think that second- or third-year players are bound to succeed in Summer League on experience alone. This was not the case for Brooklyn Nets swingman Rondae Hollis-Jefferson. He averaged just 10 points per game while hurling himself at the basket without giving much thought to what he was going to do with the ball. He had some nice defensive moments, but offensively, he was afraid of the three-point line and rarely ran the offense. Not a great showing for the second-year forward.
Dante Exum is another guy who struggled in his first few seasons but looked far superior to his Summer League counterparts. Exum orchestrated the offense like one of those guys that waves the stick at the orchestra – but much more impressive. He displayed his speed, his hesitation move and an unrelenting desire to attack the basket. Appearing in only three games, Exum averaged 20 points while shooting over 50 percent from the field and 40 percent from three-point land. Although he likely won't achieve this level of success next season, he has a chance to be a top backup point guard – a position vital to a good NBA team, and one the Jazz now need desperately with the oft-injured Ricky Rubio taking the reins.
Super Skill Sets
Lonzo Ball shot the ball about as well as I'd imagine Jaime Lannister would, but his passing revealed itself to be the most dominant trait of any lottery pick. Initially, his tendency to hurl the ball down-court the first chance he got was worrisome. He should, in theory, be the best ball handler and curator of the offense. Giving it up nearly every possession cedes the ball to an inferior player, wasting shot clock and precise ball movement. Then, the Lakers' Summer League squad got used to this quirk from their young star. Kyle Kuzma began streaking down the court immediately after an opponent's shot was fired and Ball seemed to hit him every time. This is just one way that Lonzo Ball's vision not only showed off his excellent style of play, but also rewarded positive changes in his teammates' play. Ball shot poorly, but unlike Jaime, he still has both hands to work with.
Lonzo Ball passing highlights. 11pts 11asts 11rebs!! #Lakers pic.twitter.com/vygDpz4poT

— Justin Jett (@JustinJett_) July 9, 2017
Caleb Swanigan dropped in the draft because of his lack of athleticism and the poor rim protecting ability that comes with it. While showing that he can play defense without swatting the ball 10 feet backward like Hassan Whiteside, Swanigan grabbed a ton of rebounds, becoming just the fourth rookie ever to average a double-double in Summer League. By establishing good position and being more mobile than he gets credit for, he was able to snatch a slew of rebounds. Swanigan proved a lot to those that doubted him and even outplayed the Trail Blazers' other young rookie in the process.
De'Aaron Fox's personality perfectly describes his demeanor on the court: Confident and smooth (talking). He is the fastest player on the court most of the time, and the most in control all of the time. Everything seemed easy to him. Fox ran the pick and roll, chased down steals and even showed off a mid-range fadeaway game that is needed for a player with such low perceived shooting ability. De'Aaron Fox's speed translates effortlessly to the NBA game, and that was on full display in Summer League.
Jayson Tatum is going to be a polarizing figure in the years to come, especially since the Celtics traded the number one overall draft pick to eventually draft him. He also plays a style that is often criticized; isolation-heavy offense and a lack of defense. He performed adequately in Summer League and one shot he really leaned on was his fadeaway. Tatum often ran off screens instead of running them and would pull the ball back and dribble a few times before making a move. Oftentimes, that move was a fadeaway J that became a classic "No, no, yes!" shot. His shot selection is suspect and he holds onto the ball for too long but there is no doubt he knows how to score. Fading away isn't the best shot type but Tatum proved it can work.
Summer League Overreactions
Summer League exaggerations run rampant in the small league filled with mostly non-NBA talent. It's important to look at the players' skill sets instead of their stats. Average-to-bad NBA players can put up huge numbers in Summer League; it's how they go about getting their stats, not the total they accumulate. The league universally fell in love with Donovan Mitchell as he put up big numbers and averaged the second-most points per game in Summer League history among rookies, but there is a reason he fell in the draft. He scored lots of points, but also was inefficient, shooting under 40 percent. Scoring seemed to be his most redeeming quality, and even that was suspect. Remember, Kris Dunn had a similar MO last year and then flopped when the year began. I am not declaring Mitchell a flop, just leaning on the side of caution. They both scored by being quicker than their opponents, were known for their intense defense, neither shot particularly well, and both were late lottery picks. Mitchell has repeatedly said how surprised he is that he was even drafted. He has only played basketball full time for one year! He may have wowed enough to gain attention,  but is it because he is actually that good or because he was playing in a system designed for guards to succeed?
Guard Excellence or Something Else?
Watching Summer League is like witnessing completely positionless basketball, except the centers are still actually on the court. Guards rule in the desert while centers' roles are diminished to setting screens and grabbing rebounds. It is no secret t this draft class is packed with talented guards, many of whom shined in their "debuts," but maybe that was due to the style of play promoted in this small league. Guards hold on to the ball because there is incentive to do so. The more they hold on to it, the more they prove that they can control an offense. Bigs attempt to get passes down low or on the elbow but find little success. Small guards keep the ball in their hands in what feels like a constant fast break. This is how unknown guards rise to prominence in this short time span while those selected in the lottery become overhyped. The play is fast, it never falls into the post and it often ends with an isolation jumper rather than a pass leading to a slam from a big man. The lottery-pick guards did perform far above average, but they were playing in a structure in which they were meant to excel.