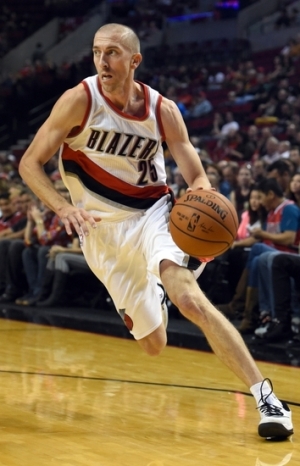 Portland Trail Blazers' guard Steve Blake will change his number from 25 to 5 in honor of former Blazer Jerome Kersey who died this past week. Kersey wore number 25 when he was a member of the Blazers.
Blake had to get special permission from the NBA to make the switch, which the league granted.
"Jerome Kersey meant a lot to this team and to this city," Blake said. "I've known Jerome for a long time now and wanted to honor him and his vast contributions both on and off the court. I consider it an honor to wear the number 25, but this just seemed like the right thing to do."
Kersey passed away on Wednesday after a blood clot moved from his leg into his lungs.
Kersey was a starter on the Blazers 1990 and 1992 NBA Finals teams and served a role as a team ambassador, making a public appearance on behalf of the organization as recently as Tuesday. He played 11 seasons in Portland.
Blake was in the new number Friday night, when the Blazers played the Utah Jazz in both teams first game since the All Star Break.