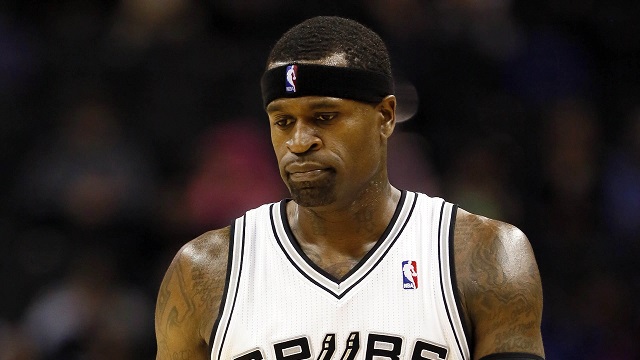 Stephen Jackson is a player that has experienced so many ups and downs in his career, and did so with the attitude of he doesn't care what you think.
Jackson announced that on Instagram that his 14 year NBA career was coming to an end in the only way you can imagine Stephen Jackson going out.
Sadly Stephen Jackson will always be connected to the infamous Malace At The Palace in his time with the Pacers, but Jackson did quite a few good things in his career.
Stephen Jackson's greatest feat was apart of the 2003 championship San Antonio Spurs team after being benched most of the 2001-2002 season due to injury and the Spurs expectations of him weren't up to par yet.
Jackson's next big step in his career was with the underdog, but exciting Golden State Warriors. A roster that was an offensive juggernaut with Baron Davis, Stephen Jackson, Monta Ellis, Al Harrington, and Jason Richardson. Stephen Jackson played a big part as a veteran that helped knock off the top seeded Dallas Mavericks which made it the first time in the a seven game series a 8 seed knocked off the number one seed in the playoffs (The Denver Nuggets in 1994 and New York Knicks in 1999 did it under the old playoff format).
After 2009 the team split and Jackson floated around the league a little bit to land back in familiar territory with the San Antonio Spurs once again. This time things were different with the emergence of rookie Kawhi Leonard, Stephen Jackson was forced to play a reserve role which he clearly didn't have in mind.
The Spurs and Jackson split late in the season in 2013 which they did lose in the NBA Finals that year against an excellent Miami Heat team.
Stephen Jackson was a one of a kind player, and his personality certainly showed us that. His swagger and care-free spirit made him fun to watch, but it's a shame he couldn't keep his emotions in check sometimes his career may have been that much better if he did.