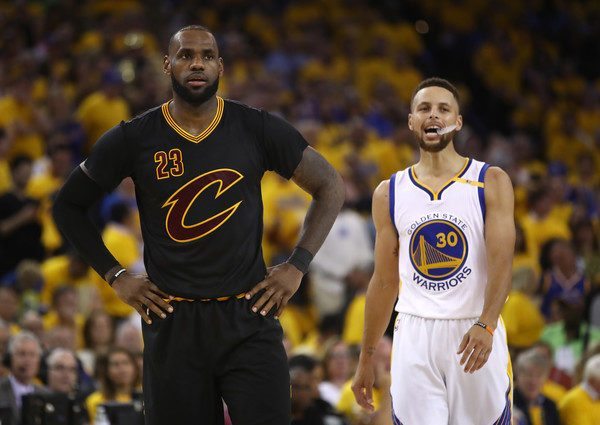 Controversy sparks on Twitter after President Trump declined Stephen Curry an invite to the White House. Trump's tweet pertaining Curry came months after the 2x league MVP refused to attend in the first place.
LeBron James called out Trump on Twitter after he declined Stephen Curry an invitation to the White House, acknowledging that Curry already refused to attend. King James was immediately followed by the support of notable contemporaries after his tweet targeting Trump, including Kobe Bryant and Chris Paul. James' tweet came hours after Trump said Curry was being hesitant about his decision in celebrating the championship at the White House.
Going to the White House is considered a great honor for a championship team.Stephen Curry is hesitating,therefore invitation is withdrawn!

— Donald J. Trump (@realDonaldTrump) September 23, 2017
U bum @StephenCurry30 already said he ain't going! So therefore ain't no invite. Going to White House was a great honor until you showed up!

— LeBron James (@KingJames) September 23, 2017
A #POTUS whose name alone creates division and anger. Whose words inspire dissension and hatred can't possibly "Make America Great Again"

— Kobe Bryant (@kobebryant) September 23, 2017
With everything that's going on in our country, why are YOU focused on who's kneeling and visiting the White House??? #StayInYoLane

— Chris Paul (@CP3) September 23, 2017
Still wondering how this guy is running our country…. ???

— Draymond Green (@Money23Green) September 23, 2017
No. An imbecile like trump could never understand https://t.co/PPwbLPQOy1

— CJ McCollum (@CJMcCollum) September 23, 2017
How you gonna withdraw an invite that somebody already said they weren't attending? ??

— Bradley Beal (@RealDealBeal23) September 23, 2017
Steph: consider this withdrawal a badge of honor! #stephcurry @StephenCurry30 https://t.co/DRWndDDc7V

— Michele Roberts (@MRobertsNBPA) September 23, 2017
Your a Clown ?. @realDonaldTrump – and yo dumbass fired !! @StephenCurry30

For President !!!

— Baron Davis (@BaronDavis) September 23, 2017
@BarackObama we need you back ASAP

— JR Smith (@TheRealJRSmith) September 23, 2017
Clearly @StephenCurry30 @warriors wasn't going ???? https://t.co/qCIUGBuJsW

— Caron Butler (@realtuffjuice) September 23, 2017
???????? https://t.co/Vw8JUw2Xsk

— Jared Dudley (@JaredDudley619) September 23, 2017
It's ok @warriors, in a few months @realDonaldTrump probably won't be able to visit the White House either

— Robin Lopez (@rolopez42) September 23, 2017
We have the best NBA player in the world calling 45 a "bum" & one of the best NFL RBs calling him an a-hole. What. A. Time.

— Jemele Hill (@jemelehill) September 23, 2017
"It's not about dividing. We as American people need to come together even stronger." — @KingJames responds to @realDonaldTrump's comments. pic.twitter.com/UHpzXpb42K

— UNINTERRUPTED (@uninterrupted) September 23, 2017
Warriors head coach Steve Kerr – who was greatly outspoken of Trump in the past – was recently asked about a potential White House visit in an effort to celebrate their 2017 NBA title.
"We will meet as a team to discuss it and make a decision," Kerr said, per Washington Post. "The league isn't going to tell us what to do. They know it's our decision and that, for me, really, it's the players' decision."
2017 NBA Finals MVP Kevin Durant – who propelled the Warriors to their fifth title as a franchise – also weighed in on a possible White House invitation, and was not mincing words when asked about a hypothetical visit to the White House.
"I don't agree with what he does, so my voice is going to be heard by not doing that," Durant told ESPN. "That's just me personally, but if I know my guys well enough, they'll all agree with me."
"I don't respect who's in office right now."
Curry stated days after winning his second NBA title that he was not going to attend the White House, raising questions on Trump's decline for the 2x MVP's White House invite.
"Somebody asked me about it a couple months ago, a hypothetical, if a championship were to happen: 'What would I do?'", said Curry. "I think I answered that I wouldn't go. I still feel like that today."
The Warriors would be the first team since 1963 to not visit the White House, saying they "accept that President Trump has made it clear that we are not invited."
Statement from the Golden State Warriors: pic.twitter.com/6kk6ofdu9X

— Warriors PR (@WarriorsPR) September 23, 2017
NBA teams generally visit the White House during the offseason in celebratory efforts after winning an NBA title. This tradition dates back to 1963, when the Boston Celtics were welcomed by former President John F. Kennedy after their sixth NBA title. Since then, NBA teams have regularly visited the White House after winning a championship the season prior.