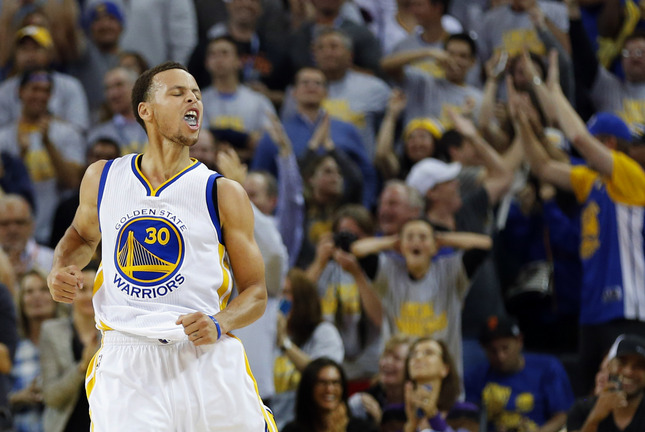 For the second straight year, NBA players voted on season awards for themselves. This time, the voting did not culminate in an award show. However, it did include the NBPA posting each award to social media.
For the most part, the NBPA Players' Voice Awards followed those voted on by the media. But there were trophies to hand out for some other awards as well.
The biggest news of the night was the MVP award. Following Stephen Curry's unanimous win of the actual MVP trophy, the players elected to give their votes to him as well. In 2014-15, Curry's NBA MVP did not mean a win in the players' eyes as James Harden was the recipient of the NBPA Award.
MVP
MVP
MVP

2016 #PlayersVoice Awards Most Valuable Player goes to @StephenCurry30.https://t.co/a9MxBQzTvJ

— NBPA (@TheNBPA) August 4, 2016
The players also voted for "Best Defender," an award paralleling the NBA's Defensive Player of the Year award, won by Kawhi Leonard once again last season. Leonard was the best defender in the eyes of the players he often locks down, as well.
Nothing easy. Best Defender goes to @KawhiLeonard. #PlayersVoicehttps://t.co/2arIdS9e9y

— NBPA (@TheNBPA) August 4, 2016
The "Best Rookie" award was handed to Minnesota Timberwolves center Karl-Anthony Towns Towns was also the unanimous winner of the NBA's Rookie of the Year award this year.
Little time in the league. Huge impact. The #PlayersVoice Award Best Rookie goes to @KarlTowns.https://t.co/pRvhBcICrf

— NBPA (@TheNBPA) August 4, 2016
Finally, the NBPA also awarded Jamal Crawford for the "Best off the Bench Award." Crawford was the winner of the NBA equivalent once again, for the NBA record third time.
Bench to ?. The Best Off the Bench goes to @JCrossover. #PlayersVoicehttps://t.co/busb8X5ks1

— NBPA (@TheNBPA) August 4, 2016
Other awards included the following: