Ciera Payton is a walking embodiment of the city of New Orleans. Vibrant, thoughtful, and artistic, Payton is much more than what you see on screen. She's both the founder of a non-profit called the Michael's Daughter Project and a former art teacher. Not to mention, she's an avid martial arts enthusiast as well. More recently, the accomplished actress appeared in season two of Spike Lee's She's Gotta Have It. Luckily, Ciera Payton took some time out of her schedule to chop it up about She's Gotta Have It, Spike Lee, and the art of putting purpose in your creativity.
During our conversation, she also spoke at length about what drives her to be creative and how her upbringing motivates her to give back to the youth. She noted, "Teaching young people how to tell their story through a play, movie, or creative writing is, is such a blessing and such a huge gift to give anybody." Also, she touched on how she perceives the character of Nola Darling and what she symbolizes for Black women. Payton gives us her thoughts, feelings, and emotions in a way that is unique. Check out our full conversation with the New Orleans thespian below.
Editor's note: This interview was conducted prior to the cancellation of She's Gotta Have It at Netflix.
Ryan Shepard: As an actor, I was wondering has there been a time where you've had to balance your professional commitments with wanting to do what's best for yourself and those around you?
Ciera Payton: No, I can't really think of one specific moment. However, I feel that's kind of what the name of the game is in the industry that we're in. I thought it was pretty cool to see that displayed in the corporate side because I'm sure that people in corporate America are always going through that. For me, I've had things in the past where I've had to turn work down or opportunities down because instinctively it just didn't feel right. It didn't sit well on my gut. Then, I've [also] learned hard in the past as well when I didn't listen to my gut. I didn't listen to that voice.
I ended up being in a situation where I was like, 'Oh my gosh, what have I gotten myself into?' More so as an artist and as an actress, I really do take note of what that feeling is now. I've learned so many lessons working on this character, working with Spike, and reading the scripts. I not only thought that it was cool to have that character come in, but also be able to play her to where she's not trying to get over on Nola. I'm trying to look out for her. Unfortunately, that's the end of it. She ends up actually getting kind of pushed over.
How do you think this conflict of professional and moral responsibility manifests itself between your character and Nola?
There are little nuances that I found that are so easy to overlook. When she first meets Nola face to face, none of her coworkers joined her during the meeting. She's the only black woman that works at this corporation and she's bringing in a black artist to do their campaign and no one wants to meet her. There was one other thing that didn't make it into the final episode, which was unfortunate because I wish everybody could see this, but I understand it's a 30-minute episode. My character ends up getting fired because I tried to fight for Nola. It's just interesting to see those dynamics at display. This happens in everyday life, the art world, and in corporate America.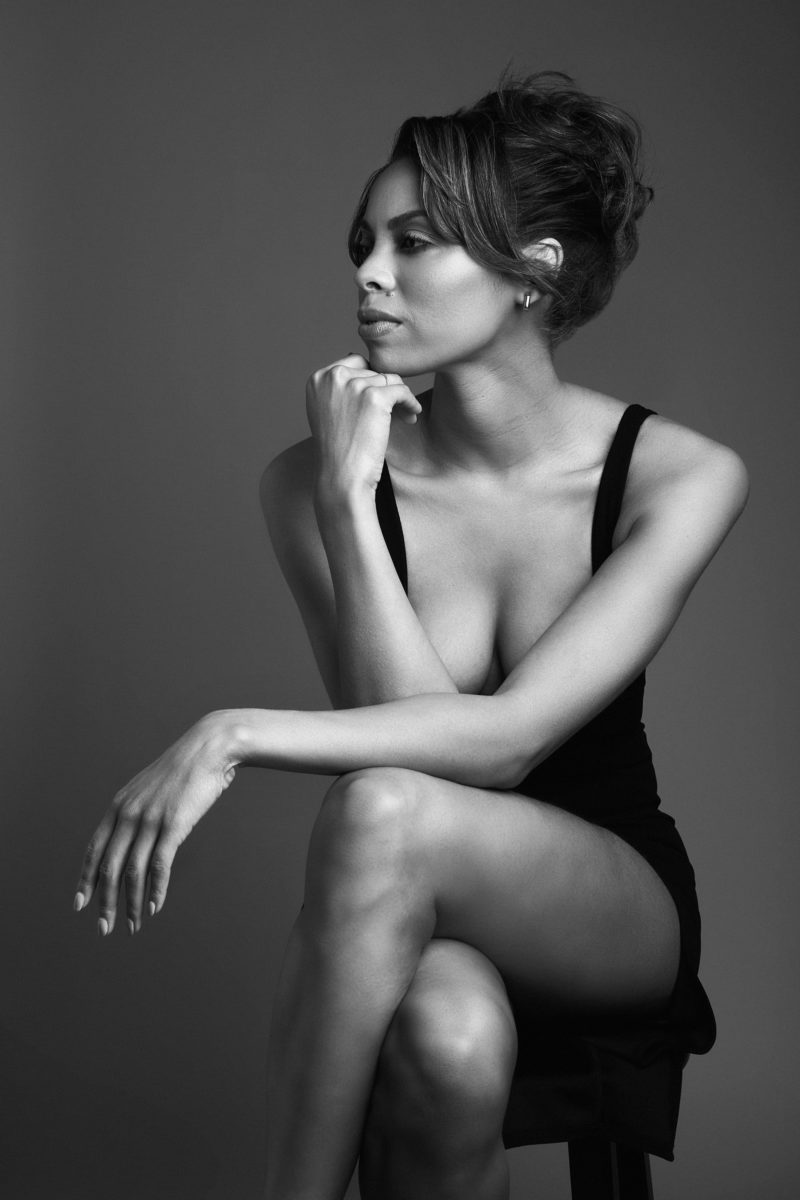 Going back to those lessons you've learned along the way. What have you learned along the way and what led you to working with Spike Lee again?
I worked with Spike back on the movie Oldboy. I think it came out in 2013 or 2014. I definitely learned a lot from that experience working with Spike. He's such a genius in his vision, how he writes, and how he chooses his actors. It was really cool to be in Oldboy and have that be my first time working with him. I had a scene with Josh Brolin and that really allowed me to see how Spike works. He really does know how to push you to get the best out of you.
One of the things that I really do appreciate about working with Spike is the freedom he gives his actors to try new stuff. Spike allows you to try new lines, add little things here or whatever. When I got the audition to play Jameelah in She's Gotta Have It, I was crunched for time. I had two hours to record this audition, edit it, and hand it over. It was also ten pages of dialogue I had to learn. I asked myself, "How am I going to do this?" I was trying to memorize the lines and I said, "You know what? Screw this. I've worked with Spike. I know he wants you to make it your own. He wants you to put your own little flavor on it."
I just threw the sides on the floor. My friend and I were recording and I said, "I'm just going to do what I think this character would do. I'm just going to be me. I'm going to be a version of me that's trying to acquire somebody's artwork. I just improvised half of the scene, recorded it, and said, "I'm going to send this to casting and see what they think, you know?" A couple of days later, I got a personal call from Spike Lee and he said, "You did a really good job on the audition and you got the role." At that moment, I was out of here. It was so cool having that experience of working with him on Oldboy because if I didn't have that experience and didn't really know how he worked, I don't think I would have given myself the freedom to explore doing the audition my way.
Were you able to carry that method and approach to the role into the series?
My approach carried over to when I was working with him on She's Gotta Have It. On the spot, I made up the line where I pointed to my arm and said, "I'm the only one here." He liked it and he came over to give me some more lines to play with or say differently. Throughout, he would tell me, "Keep that. Do This." I thought that was really cool.
I feel like as actors, especially when you're starting out in this business, we're so afraid to, try different things and put our own little spin on things. Often times, it's because you want to do the job correctly. You want to be liked and you want the writers to appreciate what you're doing. However, I've learned every time that I've really been authentic, explore different things, and brought my own uniqueness to a role, it has always paid off. As cliche as it sounds, I try to be true to myself and bring that into the room, on set, and be grounded in it.
What inspires you to give back to different communities through creative writing and theater performances?
That's just something that's always been taught to me. I think it's really important for us to give a platform to people whose stories aren't always heard or aren't always honored or even disregarded. The Michael's Daughter Project came about because I have had my arts education background since I was 16. I always worked as either a theater teacher or an assistant to a theater teacher. I would work with students that lived in the inner city of New Orleans because that's where I come from. There were students there that were impoverished, which is one thing I also relate to. There were students that came from foster care or had parents that are incarcerated or parents that were drug-addicted.
I learned really early on how important the arts were. Teaching young people how to tell their story through a play, movie, or creative writing is, is such a blessing and such a huge gift to give anybody. This is especially important to a lot of the students that I work with whose only outlets are doing drugs, picking up a gun, or joining a gang. I feel like giving them a platform to tell their stories just empowers and then gives them confidence.
I created the Michael's Daughter Project back in 2013 and have been funded by the Los Angeles Department of Cultural Affairs ever since then. Actually, I just signed my contract with them to start again this year.
Where did the name Michael's Daughter come from and what significance does it hold in your life?
I wrote a one-woman show called Michael's Daughter. It chronicled and highlighted my life while having an incarcerated father and how that shapes me. That's where the idea for the program came from. I had been working with kids and knew a lot of people that were going through the same thing. I just found beauty in being able to be on stage and share my story. Not only did I get to share my story, but I also got to grow and heal from it as well. The show allowed me to exercise unconditional love and compassion towards my parents and family members. This work that I do is not all about just getting on stage and just doing a movie to say "I'm angry," "I hate the world," "I hate that my neighborhood is like this," etc. It is not about that. It really is about creating something that's going to help you heal and also help you forgive. That's what the work has always been about.
If She's Gotta Have It is picked up by another outlet, where do you see the show heading?
In the first season, we see a lot of Nola's sexuality explored. This season is about womanhood and what it means to be a woman, creative, and artist. In a new season, I think we can enter into the next level and explore who this character is and who everyone else in this world is. Perhaps we can explore more of that family dynamic and the realities of aging. I know that sounds funny, but we're stepping into this next level of womanhood. We're exploring what it's like to be a woman in your mid 30's as an artist.
Does Nola want to find stability? Does Nola have a baby next season? Is she thinking about that? Shemekka has a daughter. Opal has a daughter. She's feeling out what works for her. What does it mean to age as a woman that is an artist? What does it mean to age as a Black woman in Brooklyn? How is Brooklyn going to evolve over the next couple of years? We see the challenges of gentrification. I just think just going even deeper and exploring more and more of those themes will be really cool.
We could maybe bring Nola out to L.A. see what's happening out there and bring Jameelah in. She could now be her artistic self as opposed to messing around with corporate America.