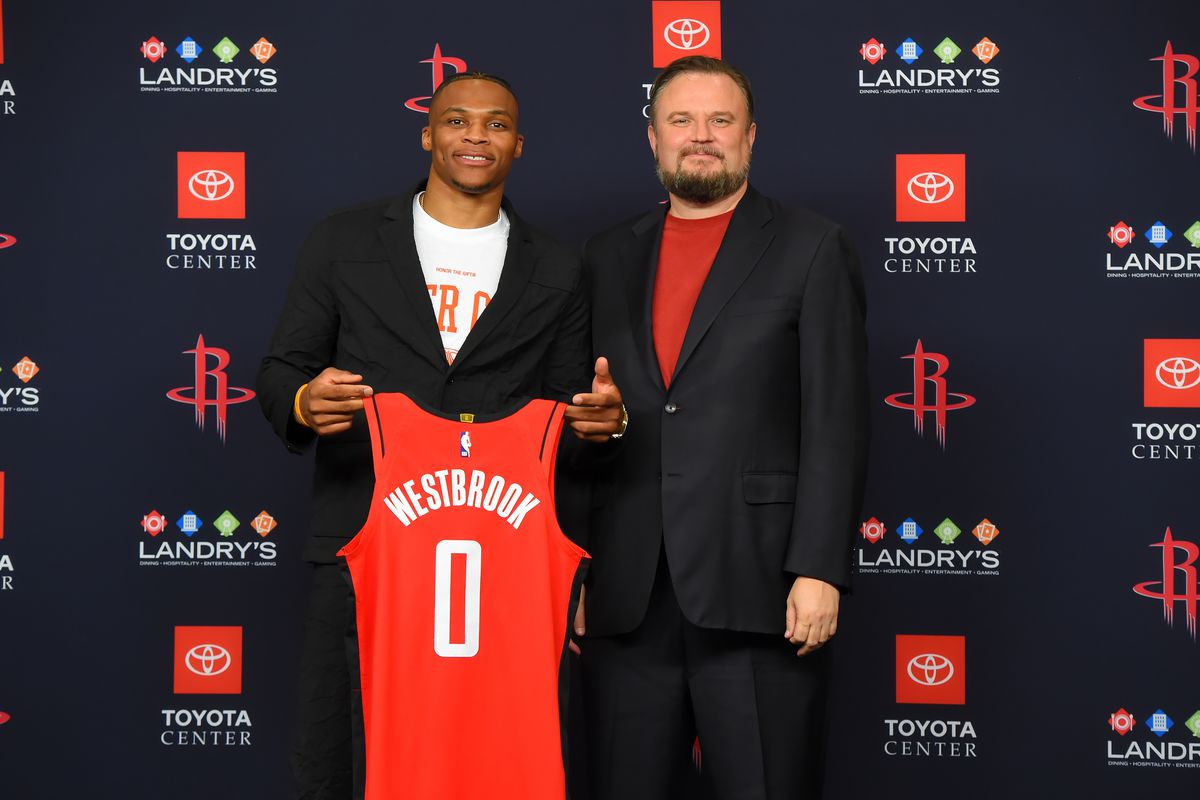 When the Houston Rockets made the gutsy decision to go all-in on a Russell Westbrook-James Harden duo, many questioned whether the two ball-dominant guards could coexist. Since the trade, the former teammates have been open about their excitement towards reuniting and during yesterday's introductory press conference, Westbrook says he will have no problems fitting in alongside Harden.
Westbrook discussed his relationship with Harden off the floor and said basketball-wise, he won't need the ball in his hands to be effective for Houston next season. Following from ESPN's Royce Young.
"We've been friends for many, many years," Westbrook said of Harden. "Since I was 10, actually. So we've played with each other in Oklahoma City, and to be able to win something, you've got to be willing to sacrifice some parts of your game, and we both understand that.

"We both understand that we have one common goal and that's to win a championship. We understand what we have to do. I'm not worried about it, and I know James isn't worried about it. I can play off the ball; I don't have to touch the ball to impact the game. That's the best way for me to come in and impact this team. I can do other things on the floor to make sure we have a better chance to win."
Russell Westbrook's heavy reliance on isolation plays have been a knock against him his entire career, and there's no doubt his mentality will have to evolve if he hopes to fit in in Houston. While Westbrook says he can be effective off the ball, his inconsistent jump shot, especially from three-point range, could make it more difficult. There's no doubt Westbrook does so much outside of just scoring the basketball, but he is still most electric when running the show.
Westbrook thriving with the ball in his hands could be an issue because the Harden is largely the same way. That's why many have questioned the fit, but at this point in both of their respective careers, they have one unifying goal and that's to win a championship. Someone will certainly have to take a bit of a backseat and that seems unlikely from James Harden considering the historic scoring success he has enjoyed in recent years.
Their previously built chemistry from their days in OKC could be huge for Houston down the stretch. Just from a sheer talent perspective, Harden and Westbrook have the ability to do something incredibly special next season, but one of the two will certainly have to alter their playstyle to an extent when they share the floor.