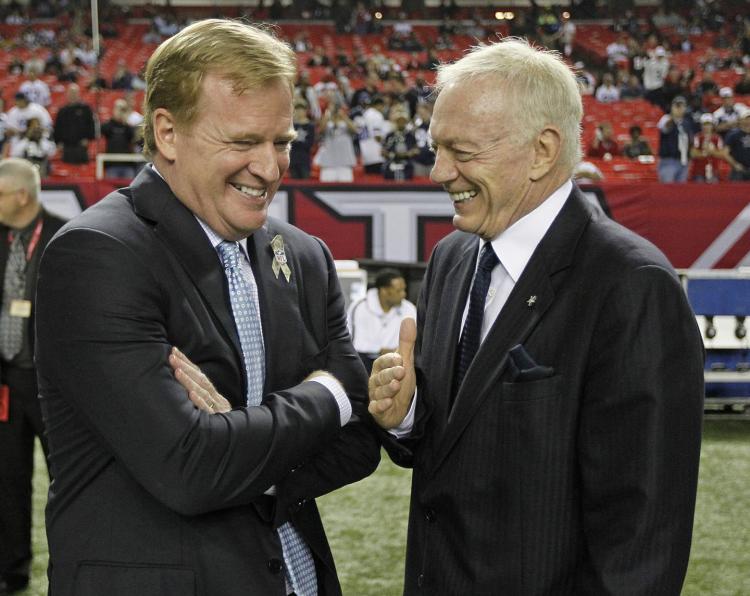 Roger Goodell has officially signed on to remain as the commissioner of the NFL. After a long time of uncertainty, the league has finally committed to a face for the future.
This was first reported by Pro Football Focus
Compensation Committee has informed owners that a new contract for Roger Goodell has been signed, per source.

— ProFootballTalk (@ProFootballTalk) December 6, 2017
Some details of the contract were reported by ESPN's Darrel Rovell
Goodell's new deal reportedly worth as much as DOUBLE his compensation from first 10 years as commissioner when he made $212.5M from 2006-2015. https://t.co/jbF8UqrsbH

— Darren Rovell (@darrenrovell) December 6, 2017
Goodell has been commissioner since 2006, the league has hit significant milestones during his tenure but has also been surrounded by controversy.  The NFL has seen a significant increase in revenue since installing Goodell, they have also ventured overseas with games in London reaching a whole new fan base.
The league has also dealt with its fair share of controversy as well. Goodell has come under intense scrutiny over how he's handled a number of issues the NFL faced such as discipline over domestic violence and concussions. There have also been a number of scandals throughout his time as commission ellgoodeller.
Bountygate and Deflategate both turned into wars with the NFLPA over Goodell's power to hand out suspensions and oversee appeals. Jerry Jones has been very publicly critical of Ezekiel Elliot's suspension and Goodell's extension even going as far as threating legal action against the league.
Even with the strained relationships with owners such as Jones and Patriots owner Robert Craft, the NFL seemed to think Goodell was as fit as any for the job and decided to trust him for the foreseeable future. The Goodell era is not over and who knows what he will lead the NFL through next.