James Harden plays basketball methodically. It is the reason for his immense success and profound infamy. Each possession is accompanied by a frigid pace that bewilders defenders and freezes their feet into the metaphorical ice beneath them. Chris Paul doubled down on this strategy over the last two seasons making the Rockets the most predictable yet efficient team in the league.
That philosophical choice produced excellent results but their ceiling laid somewhere in close proximity to their extremely high floor. When you go all-in on the one thing you are great at, it makes success a certainty, however, it also makes the lack of greatness just as guaranteed. This line of thinking is essentially why the Houston Rockets traded for Russell Westbrook and over the last seven games, the results are beginning to bloom.
Over the first few months of the season, Russell Westbrook was a disastrous basketball player. In November, he managed only 22 points per game on 41% shooting and 21% from three. It was apparent what was occurring, he was settling for far too many jumpers and failing to convert when he finally made it to the rim.
Over his last seven games, Westbrook has appeared as a player reborn. This is happening for a few reasons. The most impactful of which is that he is finally allowing himself to be the fire to Harden's ice. As teams have progressively sent two players in Harden's direction, Westbrook has been utilizing the open space to grab the ball and blowtorch his way to the rim. His incredible passing and finishing ability allow for this chaotic bull rush to result in successful possessions.
Fans have become desensitized to Harden scoring 38 points per game but it has forced opposing teams to abandon philosophies, make large scale adjustments, and has pulled the focus of all five defending players. The player that has benefitted the most from this by far is Westbrook. He is typically the recipient of the initial pass out of the double team thus allowing him to work half-court four on threes.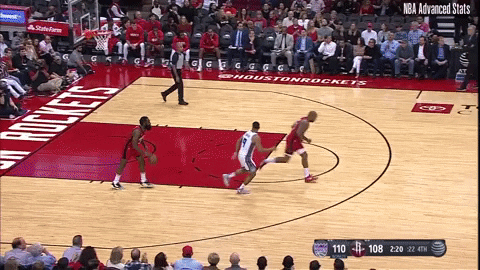 Russell Westbrook's decision to fire himself towards the rim with an increased frequency has shown in the numbers. Over his last seven games, he has attempted 10.7 field goals at the rim versus just 7.9 field goal attempts at the rim in November. It isn't just the frequency, it is the efficiency as he is converting 7.2% more shots than he was in November.
Before Saturday's game against the Suns, Westbrook was also attempting far fewer mid-range jumpers. In those six games, he averaged just 3.66 shots from mid-range compared to the excessive 4.85 he was jacking up in November. This refusal to settle will be crucial for the Rockets to succeed as he does not shoot well enough from mid-range to justify the number of attempts.
The Rockets deciding to recognize their own flaws has not only shown up in the last seven games but in their own glaring flaw from last season; rebounding. With the addition of Westbrook, the Rockets are now a top 11 team in rebounding percentage. Last season they were the third-worst team in the league in this category. His active presence has significantly contributed to their growth in this area.
On offense, teams can no longer settle in with one gameplan for two stars. Instead, teams must now ensure they defend both MVP guards in vastly different ways. Doing this quickly and consistently throughout an NBA game has proven to be difficult for many teams.

Harden freezes defenders into a long winter's nap while Russ fuels his outbursts with oil and a spark. Mikal Bridges, guarding both in the same game, has to not only ensure he is prepared to stop MVP caliber talent but talent that moves through the game in far different ways. As has been shown, this Vegas-like gamble clearly lowers their floor, as Westbrook continues to shoot poorly from three. But their ceiling has risen significantly as teams can no longer rely on defending just one play style.
Doc Rivers had just one thing to say when asked what Russell Westbrook brings to the Rockets, "speed". That speed has allowed the Rockets to utilize both methodical isolations and rapid scoring to manufacture wins. They no longer have to operate in one gear, they now slowly bulldoze over teams just as often as they careen past them. This creates an offense that can only be described as the forces that fuel both players; Fire and Iso.