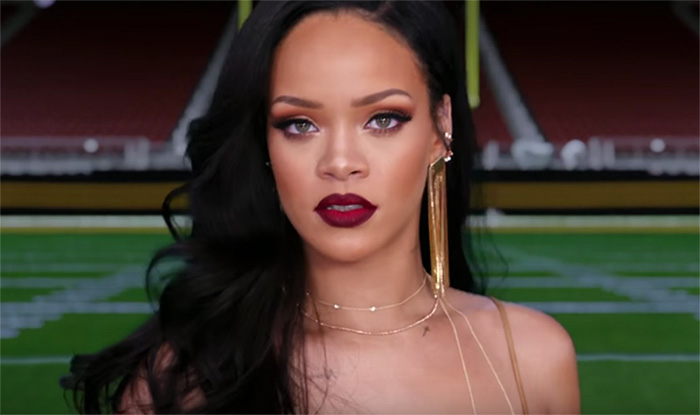 Rihanna appeared in a commercial last night to promote the networks two upcoming events, the Super Bowl and GRAMMYs.
Last night, CBS ran an ad that saw a stunning Rihanna walk across the field towards Superbowl sportscaster Jim Nantz. They face off in a coin toss commenced by Stephen Colbert. The advert finishes with Nantz winning the coin toss and Rihanna letting him know that she's worth the wait.
The Superbowl airs on Sunday Feb 7th and the GRAMMYs follow up a week later on Monday Feb 15th. With Coldplay being announced as the half time show performers and the ad having a focus on the GRAMMYs, it's a safe bet that Rihanna has involvement in both of these in some form.
Rihanna is gearing up to release her highly anticipated 8th studio album ANTi and keeping the hype alive with her $25M deal Samsung campaign titled ANTiDiary. With one door left to open on the app, the release becomes less of a dream and more of a reality and with the GRAMMYs coming up, let's hope she has a few surprises in store for us.