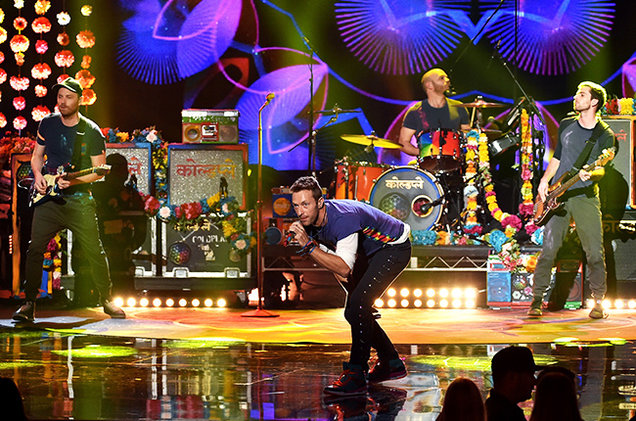 Last year for the halftime show of Super Bowl 49, Katy Perry rode in on a large robotic lion and brought out Missy Elliot, which sparked a comeback for the rap star.
For Super Bowl 50, don't expect Chris Martin and Coldplay to ride out on any animals but you can expect them to possibly bring out some big name guests. The British alternative rock group has been named the headline act for the Super Bowl 50 halftime show and it appears that they will be bringing Beyonce and Bruno Mars to help them perform.
Following from Hannah Karp of the Wall Street Journal.
British rock band Coldplay will headline the halftime show at the National Football League's Super Bowl 50 in February, according to people familiar with the matter.

Coldplay's halftime-show debut at Levi's Stadium in Santa Clara, Calif., follows the release its seventh album, "A Head Full of Dreams," due Friday, Dec. 4.

The Super Bowl is to take place Feb. 7.

Coldplay is likely to put tickets on sale for its North American tour soon after the show, given the big ticket-sales bump that the halftime appearance has given touring artists in the past.

The album won't be immediately available on Spotify, according to people familiar with the matter, since the service requires all of its music be available to its nearly 80 million free users as well as to its 20 million-plus paying subscribers. Major artists including Taylor Swift have previously withheld music from Spotify because they believe making it available free will erode sales of CDs and downloads.

The new Coldplay album is expected to be available on streaming services that don't offer a free option, including Apple Inc.'s Apple Music, these people added.

Pop star Bruno Mars is also slated to perform at the show, sponsored by PepsiCo Inc., and Beyoncé is in talks to make a guest appearance, according to people familiar with the matter. Beyoncé is one of the guest artists on Coldplay's new album.