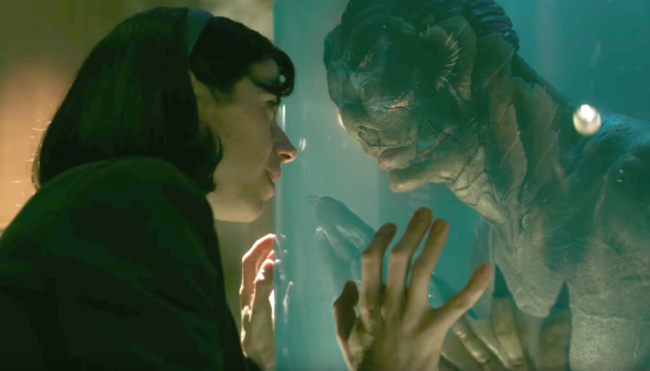 There's really no filmmaker working today quite like
Guillermo del Toro
. From 
Blade 2 
to 
Pan's Labyrinth
, every film of his is one that should be of interest to any cinephile. 
The Shape of Water
 is another home run from him and stands as one of his finest yet.
Baltimore 1962. Elisa (Sally Hawkins) works as a janitor at a government research facility. While friendly with her neighbor Giles (Richard Jenkins) and co-worker Zelda (Octavia Spencer), she feels isolated and stifled, longing for a more meaningful connection. She's also mute and communicates only through sign language.
One day, the lab receives a special delivery. A fishman creature (Doug Jones) arrives and is placed in a tank area that Elisa has access to. Day by day, they strike up a strong bond, with her even teaching him sign language to communicate. But when the unhinged Colonel Strickland (Michael Shannon) begins torturing the creature and then plans to kill him for experimentation, she makes plans of her own for rescue. Possibly complicating matters is Dr. Hoffstetler (Michael Stuhlbarg), a scientist with a hidden agenda.
But as gross or lurid that this whole premise may sound, it really isn't. Maybe in a lesser writer/director's hands, it could easily slip to being so, but del Toro and co-writer Vanessa Taylor make it a thing of beauty. 
It is however shockingly violent in places, but not gratuitously and not without purpose. Throughout it all, the direction is striking and powerful, fully deserving of all the accolades gathered so far and then some.
Back to the story, the camaraderie between misfits and finding their place in the world around them (plus comfort in the fantastical) has been a recurring theme in del Toro's work for a while and this is probably where it's at its sharpest. Some of that comes from the oppressive time period, but mostly it's from just how well these characters and their environment are crafted. For instance, the apartments of Elisa and Giles are above a movie theater and the two are shown to take refuge in television. Such touches really add to give the proceedings more depth.
All of the actors are fantastic, with Hawkins and Spencer as the standouts. The former is remarkable, even more so when considering that her character's complexities are delivered entirely through facial expressions and physical gestures. Spencer steals her scenes with great skill. Special note too should go to Jenkins, whose role is a little different than what he typically is given and succeeds, as well as Jones, who is really in his element here.
However Oscar night unfolds, The Shape of Water is already a winner. One of the best films of the year, it's unusual but extraordinarily so. The monster movie has been elevated.