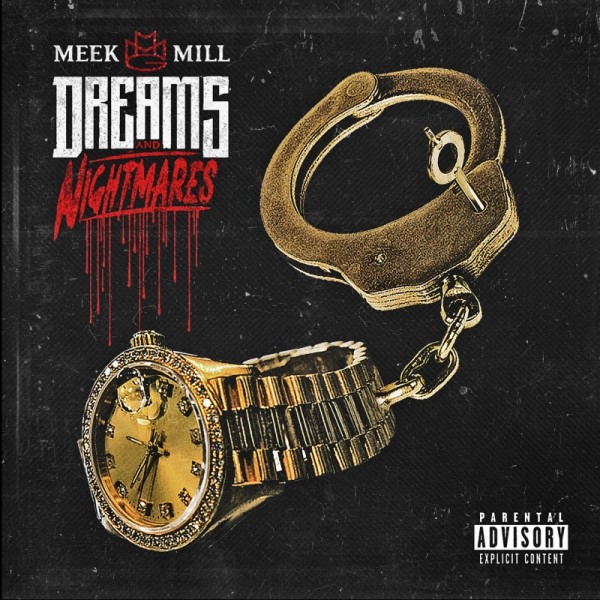 Meek Mill entered the scene back in 2008. Nine mixtapes later, the Philly emcee finds himself signed to Rick Ross' Maybach Music Group record label. The question is, when you release acclaimed mixtape after acclaimed mixtape, can you release an album that's even better? That was the test that Meek Mill faced with his debut album, Dreams & Nightmares.
Dreams & Nightmares is an album formed by a collection of stories told by Meek Mill. The LP takes you on an audible journey from the dark street-life of a young, aspiring rapper to the luxurious lifestyle that only a successful hip-hop artist could experience. Each track falls into one of these two categories. Of course, even while living a nightmare, Meek spits about the dreams that he had. Even when living out his dream, the nightmares that he tried leaving in the hood still manage to haunt him.
Some familiar tracks make their commercial debut after appearing previously via the DJ Drama-hosted "Dreamchasers 2" mixtape. Back again on the standard version's tracklist is "Amen". Appearing once again on the deluxe version is "Burn". While some fans may be happy to see these songs again, it's hard to get excited to pay for something that we've already been presented within the form of a free download. This is one of the project's setbacks.
That being said, the new offerings on Dreams & Nightmares are impressive. Meek (whose real name is Robert Williams) has found a way to take a gritty street flow and apply it to rich production and appeal to a commercial audience. On songs like "Dreams & Nightmares (Intro)" and "Tony Story (Pt. 2)", the 25 year-old spits raw emotion in an unforgiving fashion. The emotions shed on these tracks can pull at the strings of any listener's heart.
The list of producers on Dreams & Nightmares is enough to strike curiosity in even the most skeptical hip-hop head. Amongst many other notable names, Jahlil Beats and Boi-1da both make multiple appearances. Boi-1da's sample work is flawless once again on "Traumatized". Jahlil's "Young & Gettin' It" served as the album's lead single and quickly caused an upset amongst some due to the use of auto-tune on the vocals by Meek. Regardless, the track made an impact on radio.
Bottom line: Meek Mill has made a smooth transition from mixtape rapper to commercial recording artist. While I would have liked to have seen the "dreamchaser" dabble in more material that contrasted his previous mixtape work, the new music on Dreams & Nightmares is still a step-up from everything else he has put out. I hope that the next album we receive from Mr. Williams has even more of the vivid storytelling that makes him such a strong writer and rapper.
Dreams & Nightmares is available now on iTunes.