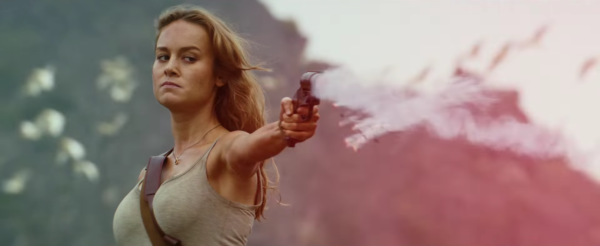 As excellent as Logan is, one can't help but think about the lost opportunities and what will never be. In pondering these, one part of X-Men lore stood out above others: the Savage Land. So if like me you're in the mood for some adventure movie fun with wild monsters, Kong: Skull Island will scratch that itch.
Not only does this have nothing to do with the recentish Peter Jackson King Kong, it scraps those traditional events and human characters entirely. So Ann Darrow, Carl Denham, and the others never set foot, maybe never even existed at all in this universe.
Instead, it's 1973 and Bill Randa (John Goodman) convinces the U.S. government to fund the expedition to "map out" Skull Island. The other members of the team consist of Randa's right-hand man (Corey Hawkins), a colonel fresh out of Vietnam (Samuel L. Jackson), his men (Toby Kebbell, Jason Mitchell, Shea Whigham, Thomas Mann), a loner mercenary (Tom Hiddleston), an "anti"-war photographer (Brie Larson), a biologist (Jing Tian), and a Landsat official (John Ortiz).
Like the characters in the other films before them, they get to the island and – big shocker – run into giant ape King Kong (Terry Notary). But there's of course plenty of other monsters there too, and some of them are much more dangerous and bloodthirsty.
Though not nearly as ambitious (some might say "pretentious") as the P. Jackson film, Skull Island is certainly still enjoyable. The creatures are pretty inventive and some more detail is given to the backstory of Kong himself. In one particular scene, just the images are incredibly effective in getting across his current state of being. That context gives more power to the fight scenes with the other monsters, which are good on their own, but knowing about him adds more dimension.
The cast helps quite a bit as well. Goodman is a highlight like he usually is, but here his casting works on another level. There's just something pretty neat in seeing the trip to the prehistoric land spearheaded by Fred Flintstone himself. Larson continues to be an absolute marvel (pun could not be resisted). Her part isn't really the Fay Wray/Jessica Lange/Naomi Watts one; the character is anything but a damsel in distress. But she does become the picture's emotional center, albeit mostly due to the pacifist personality.
Then there's John C. Reilly who shows up later as a military officer marooned on the island since World War II. An obvious subversion of the Kurtz archetype, he's a guy that's still jolly and personable despite the inherent sadness of his situation. And of course, he nails it.
Unfortunately, most of the other characters fall by the wayside and get no chance to make any real impression (hint: the ones minimally described above). A couple of them I forgot were even in the movie until I rechecked a cast listing. Granted, in a film like this there's going to be redshirts, but with some pretty notable talents rounded up, it's a shame that they're relegated to the sidelines.
There's hints as to what's ahead (after credits scene and all), but Kong: Skull Island works splendidly on its own. As adventure-monster movies of this kind go, it stands as one of the better efforts of the decade.