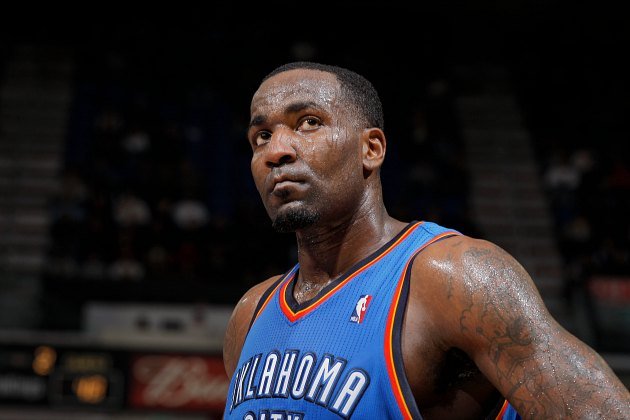 Now that the trade deadline has passed buyout season is upon us, and it looks like Kendrick Perkins will be the first to step up to the plate after the 3PM trade deadline passed.  The Jazz understand Perkins wants to play for a contender which he already has three teams in The Clippers, Bulls, and Cavs already rumored to be interested in him.  The only issue I see is a few things with two out of the three teams.
The Cleveland Cavaliers already have a rotation of Timofey Mozgov, Kevin Love, Tristan Thompson, and Brendan Haywood if need be we saw in Chicago though the depth at that position was exploited with Love out due to an eye injury and Timofey Mozgov getting into foul trouble Cleveland looked lost.  Love's injury doesn't seem to be lingering, but come playoff time you like to be prepared for any situation.  The only thing is does signing Perkins really help this team?  Brendan Haywood and Kendrick Perkins offset each other both slower and near the end of their careers both players have won championships and played in meaningful playoff games.
The Chicago Bulls were oddly linked to Perkins as soon as the rumors of the buyout were mentioned.  Another team with a front court heavy rotation with Center Joakim Noah, Pau Gasol, Taj Gibson, and Nazr Mohammed.  Signing Perkins would create another log jam for minutes for Chicago.
The Los Angeles Clippers would be the team that makes the most sense. Obviously the reunion with Head Coach Doc Rivers is one reason, but The Clippers big off season signing of Spencer Hawes has not worked out for the team.  There's still time to work things out adding Perkins to the mix a guy who knows Doc Rivers offense and someone who will add depth that Ekpe Udoh may not be able to bring certain things that Perkins does to the table.  My only concern with Perkins joining The Clippers is overall age of the roster with players like Matt Barnes, Jamal Crawford, Glen Davis, and Hedo Turkoglu can they produce? Barnes and Crawford I have no doubt they will.  The rest I'm not so sure adding Perkins to the mix may help them, but can it help them reach the ultimate goal of an NBA championship?  I think this is where Perkins ends up for playing time purposes and familiarity with Doc Rivers.  This team could make an exciting playoff series though with Matt Barnes and Kendrick Perkins I envision a lot of scowling and feistiness in The Clippers near future if this does happen.
Center Kendrick Perkins was traded to The Utah Jazz in a three team deal that sent former teammate Reggie Jackson to The Pistons.  The Jazz did end up sending Center Enes Kanter to Oklahoma City in the deal while gaining a protected first round pick and a second round pick from Detroit, but the haul for Kanter could've and should've been a little bit better.  Perkins will be bought out I'd say within the next couple days, and be on his way to a contender.  One dark horse team I can see getting into the running for Perkins is Dallas they'd still like to add another Center I think that's why they kept in contact with Jermaine O'Neal.
This may be the most interesting time period for bought out contracts that I can remember, and it could be a game changer for some teams come playoff time.