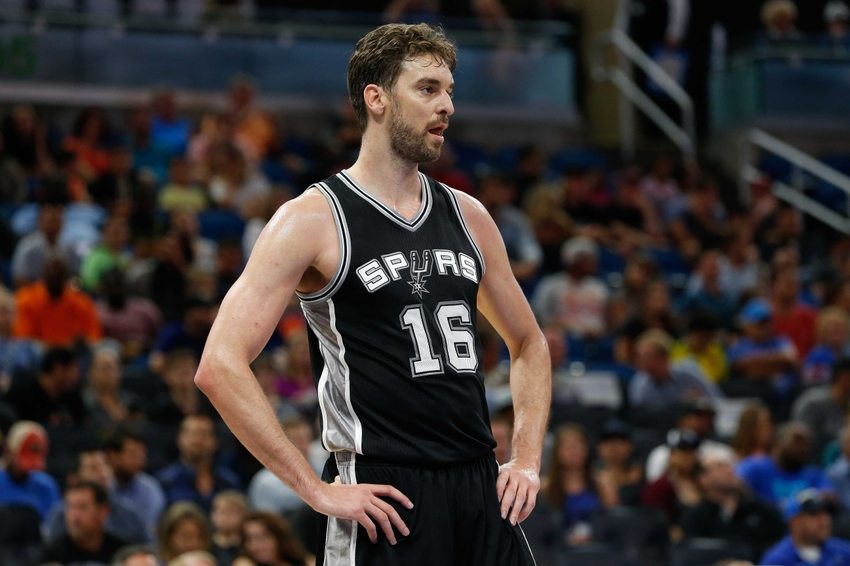 In one of the more bizarre injuries you'll ever see, Pau Gasol suffered a fractured finger on Thursday. On Friday, the Spurs big man underwent surgery.
San Antonio's Pau Gasol undergoing surgery to repair fracture of fourth metacarpal in his left hand today, league sources tell @TheVertical.

— Adrian Wojnarowski (@WojVerticalNBA) January 20, 2017
For Gasol, there's no definitive timeline on return to floor yet, league sources tell @TheVertical. Timeframe will be based on healing.

— Adrian Wojnarowski (@WojVerticalNBA) January 20, 2017
As Wojnarowski reports, there does not appear to be a definitive timeline for Gasol's return. ESPN's Ramona Shelburne has a more specific answer:
Hard to gauge how long Pau Gasol will be out. Heard it could be a month or two. Question is whether Spurs add depth as he heals.

— Ramona Shelburne (@ramonashelburne) January 20, 2017
The Spurs do not necessarily need to add a major piece to take over for Gasol. They are 33-9 and have Dewayne Dedmon waiting to step up in his absence. Dedmon is a better defender and at least serviceable on the other end.
That said, with about a month remaining until the trade deadline, the Spurs have plenty of time to gauge the need for backup. There are reports that Jusuf Nurkic is available if the Spurs choose to trade for a younger and potentially more expensive piece. If Pau Gasol's injury has a major effect on the team, then they could look to add a low-maintenance big man to take his spot in the rotation.