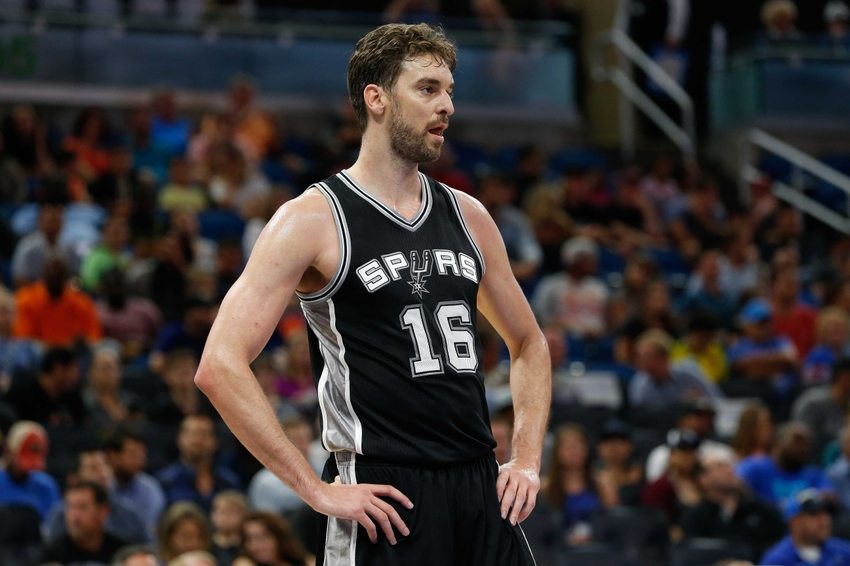 The San Antonio Spurs are a perennial powerhouse out in the Western Conference and this year has proved no different. Even after the retirement of all-time great Tim Duncan, head coach Greg Popovich has made sure the Spurs remain a well-oiled machine. Despite rostering two-way superstar Kawhi Leonard, their efficient offense is often the result of their active and unselfish bigs. Future Hall-of-Famer Pau Gasol has fit the mold perfectly since joining San Antonio.
No surprise the Spurs have a tremendous record again as the midway point of the season comes and goes but today, the team took a big hit on the injury front. Following from the Spurs Twitter account:
Pau Gasol suffered an injury during the warm-up period prior to tonight's game. X-rays taken show a fracture of his left fourth metacarpal.

— San Antonio Spurs (@spurs) January 20, 2017
A timeline for Gasol's return will be determined at a later date.

— San Antonio Spurs (@spurs) January 20, 2017
The loss of Gasol is obviously a huge blow to this San Antonio Spurs team, and what an unfortunate way to lose him in warmups. Though Gasol may not be a franchise centerpiece any longer, he still played a vital role in the team's success. His ability to stretch the floor and dominate the glass is certainly going to be missed.
This news came on the same day as the report that the veteran 7-footer intended on opting in with the club next season. Following from Jabari Young of San Antonio Express-News:
The question was simple: With half the season complete, is Pau Gasol satisfied with the decision to sign with the Spurs last summer?

The answer was just as simple: yes.

"It was a great decision," Gasol told the Express-News. "I came here to have a chance to win a title and we're second in the league right now, second best record, so that puts you in a position to win a title. That was a priority, and it still is."

Gasol signed a two-year deal worth roughly $30 million with the Spurs. The second year of the deal is a player option worth $16 million. Asked if he intended to opt-in Year 2 of his contract, Gasol agreed it's a safe bet.

"My intention is to continue here, and to be here as long as I can," said Gasol, who will turn 37 before the start of the 2017-18 season.
With the news of Gasol's injury, we should expect a heavier offensive burden on stud LaMarcus Aldridge and for backup DeWayne Dedmon to take on the brunt of the minutes at center moving forward. If everything works out, hopefully, we see Gasol back in action as the postseason draws near, a time where the San Antonio Spurs will once again be more formidable than ever.