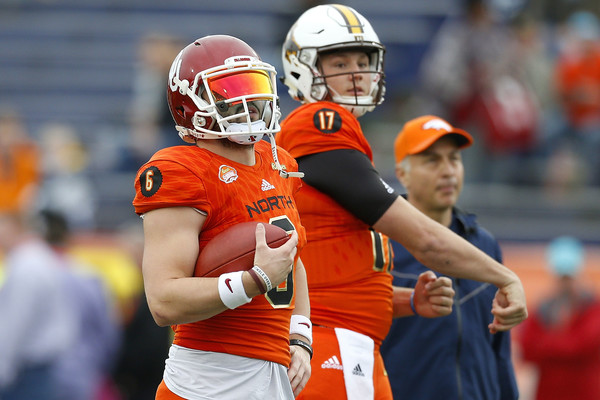 From the very start, the 2018 NFL Draft was as suspenseful as any in recent memory. For starters, most years there's a clear-cut top pick. This year the number of possibilities for that spot seemed to approach double-digits, including the chance that the Cleveland Browns would trade either of their two top-four picks.
Ultimately, the Browns ended up taking Oklahoma quarterback Baker Mayfield number one (something few thought would happen until word got out right before the draft). But essentially, the first round was all about the signal callers.
The Quarterbacks of Round One in the 2018 NFL Draft
Oklahoma's Baker Mayfield, Top Overall Pick, Cleveland Browns
USC's Sam Darnold, 3rd Pick, New York Jets
Wyoming's Josh Allen, 7th Pick, Buffalo Bills
UCLA's Josh Rosen, 10th Pick, Arizona Cardinals
Louisville's Lamar Jackson, 32nd Pick, Baltimore Ravens
The 2018 NFL Draft tied the second-highest mark in league history in terms of the number of quarterbacks taken in the first round. (The historic 1983 draft had six and the 1999 draft also had five.) Obviously, QB-needy teams were more than willing to take these prospects in the opening round. The order in which they were taken was a bit surprising. But again, the depth and relative lack of one (or two) standouts among the rest created a situation where the unexpected probably should have been the only expectation.
While it was once common practice to let a quarterback sit their first year, lately teams have opted to play their rookie quarterbacks right away. The Browns traded for Tyrod Taylor this offseason, so Cleveland may revert back to the old way and have Mayfield on the sideline when the season begins.
Darnold and Allen might have the best chance(s) to be Week 1 starters, respectively. While Rosen would have to beat out proven veterans Sam Bradford and Mike Glennon for the starting nod. Unless Jackson were to really wow the Ravens, he looks to be solidly behind Joe Flacco on the depth chart. At least for the 2018 season.
Other Round One Notables
Your 2018 #NFLDraft First Round Picks! ? pic.twitter.com/4cs5clJqrf

— NFL (@NFL) April 27, 2018
Penn St. Running Back Saquon Barkley, 2nd Overall, New York Giants
There was plenty of speculation that Barkley may go number one and the Browns would opt to get their quarterback with their fourth overall pick. As for the Giants, many thought they'd use this opportunity to take Eli Manning's eventual replacement. Instead, they sought to aid Manning by giving him an upgraded running attack.
Ohio St. Cornerback Denzel Ward, 4th Overall, Cleveland Browns
After the Browns went QB number one, that left fans wondering what they would do at four. Some might have seen this as a bit of a reach, but getting the top cornerback in the draft may prove to be the prudent move.
NC St. Defensive End Bradley Chubb, 5th Overall, Denver Broncos
Count the Broncos as another team many thought would grab a quarterback give the chance. They had their opportunity but instead added another option to boost their pass rush opposite Von Miller.
Alabama Safety Minkah Fitzpatrick, 11th Overall, Miami Dolphins
At ten, the Cardinals traded up to take Rosen. Did they believe the Dolphins would have nabbed him if they didn't trade up to get ahead of Miami? Probably. That left the Dolphins to take Fitzpatrick, which may end up a very good consolation prize.
Florida St. Safety Derwin James, 17th Overall, Los Angeles Chargers
The Chargers had one of the NFL's best secondaries last season, and they got even better with James, a defensive Swiss Army Knife. He can play back as a safety, or closer to the line of scrimmage as more of a linebacker. James was one of the non-quarterbacks that left many saying "I can't believe he was on the board as long as he was."
Chargers incredible secondary:
CB Casey Hayward
CB Jason Verrett
CB Trevor Williams
CB Desmond King
S Jahleel Addae
S Derwin James

— Mike Clay (@MikeClayNFL) April 27, 2018
Maryland Wide Receiver D.J. Moore, 24th Overall, Carolina Panthers
Most years see a wide receiver get taken before 24th. It was a relatively weak class for that position. Moore lands in a place that can definitely use him.
Round Two Notables
Georgia Running Back Nick Chubb, 35th Overall, Cleveland Browns
The highly productive collegiate running back fully expected to be taken sooner than 35th. But his loss was the Browns gain.
Baylor Outside Linebacker Harold Landry, 41st Overall, Tennessee Titans
Landry not only appeared in the first round in many mock drafts prior to the 2018 NFL Draft but in the top half of those mocks. Tennessee should have felt giddy to see him available when they took him.
Iowa Cornerback Josh Jackson, 45th Overall, Green Bay Packers
It tends to be hard to quantify cornerbacks' play because the best ones rarely get thrown at. But Jackson was as productive as any in the nation last season as a Hawkeye. He was a bit of an enigma. Jackson was a bit of a one-year wonder – he played wide receiver early in his college career; his combine was seen as a disappointment (he ran a slower-than-expected 4.56 40 yard dash; still, Jackson provided Iowa with eight interceptions (two of which he returned for touchdowns) and 24 pass deflections.
LSU Running Back, Derrius Guice, 59th Overall, Washington Football Team
Washington found good value here as Guice was seen by some as the second-best RB in this draft behind second overall pick Barkley. He should enter the season as the team's go-to starting running back. This pick could prove important as they acclimate Alex Smith to the offense in their post-Kirk Cousins era.
Other Notables from Round 3 and Beyond
Oklahoma St. Quarterback Mason Rudolph, 76th Overall, Pittsburgh Steelers
Many wondered how big the dropoff would be after the first five QBs were taken before the next came off the board in the 2018 NFL Draft. The Steelers answered that question. But now the questions may revolve around how long it is before (or if) Rudolph eventually takes over for Ben Roethlisberger.
Florida Wide Reciever Antonio Callaway, 105th Overall, Cleveland Browns
Callaway's talent was evident while he was on the field at Florida. Thing is, his off-the-field trouble (of which there are many incidents) made that less frequently than expected. In fact, he was dismissed from the team and didn't play competitive football at all in 2017. Rather than try and get the Gators to take him back or transfer, he entered the draft. Some think there's equal chance he'll be a starter in two years as there is he out of the league altogether. Cleveland poses an interesting fit for him (say hello to your new teammate, Josh Gordon).
Wisconsin Cornerback Nick Nelson, 110th Overall, Oakland Raiders
Nelson tore his meniscus during a pro day workout, otherwise, he probably would've gone higher. Once healthy, he could push to be a starter for the silver and black. That's some mighty fine upside for a fourth-round pick, but a little patience will be needed.
Central Florida Outside Linebacker Shaquem Griffin, 141st Overall, Seattle Seahawks
Griffin has been one of the most-publicized players in this class over the last year. For good reason: he was a highly productive college player despite the fact that he had to have his left hand amputated when he was a kid. Seattle should provide the optimum chance and place for him to succeed, in part because his brother, Shaquill, is already on the roster there.
? Make em Believe Quem !!! pic.twitter.com/6lbReOp2hs

— IamTrayvonBromell (@TrayvonBromell) April 28, 2018
Notre Dame Wide Receiver Equanimeous St. Brown, 207th Overall, Green Bay Packers
Here's a case of a wide receiver's production being directly related to who's throwing him the ball. St. Brown was a prolific pass catcher while Deshone Kizer (who he's now reunited with in Green Bay) was playing for the Golden Domers. But after Kizer went pro, St. Brown's production fell off the proverbial cliff. There's plenty of upside here, but if there wasn't some risk of him not realizing that potential, he would have been taken much earlier in the 2018 NFL Draft.
SMU Wide Receiver Trey Quinn, 256th Overall, Washington Football Team
The so-called "Mr. Irrelevant" is always noteworthy, right?