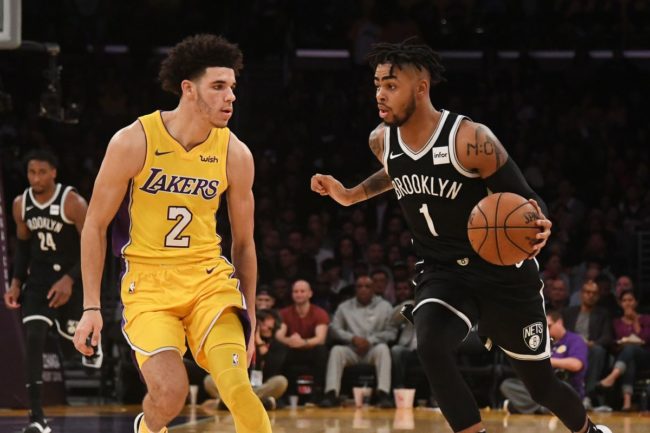 The NBA Twitter world has been in disarray since the Finals ended. From Dennis Rodman making diplomatic visits to North Korea to free agency chaos, who knows where tomorrow's arguments will come from. I thought I'd do my part to soothe tensions by making a completely pointless list of the best young players in the game. Kicking off the guards is the LA Lakers' Lonzo Ball.
Ranking the Top Young Guards In the NBA. At Number Five, The Los Angeles Lakers' Lonzo Ball.
A few notes to consider:
The NBA landscape has changed dramatically in recent years. Positional fluidity, as well as a glut of the best guys growing up with the ball in their hands playing point guard, has led to a dearth of classic off-guards. Even guys who are classified as twos, Donovan Mitchell and Devin Booker for example, spend a tonne of time with the ball in their hands running the offense. For the purposes of livelier debate, I decided to roll with young guards as a group.
Playoff potential (or performance) is weighted heavily. Players who have a major weakness to be exploited will be docked accordingly, at least until it's somewhat rectified.
The list is a ranking based on projecting the players going forward, not a ranking of how good the players are right now.
I haven't included anyone from the upcoming draft class. Trae Young may very well be the next Steph Curry, but we won't know for sure until he's dropping in 30-footers at the highest level.
This is a list of the best talent under-23. The best. All of these guys are really good. If I happen to put one guy over your favorite player, it's not that I hate your favorite player or team. Please try to remember this before you set fire to my Twitter mentions calling me an idiot (though you certainly might be right in a more general sense).
Without further ado, here's the list:
Number 5: Lonzo Ball
Strengths: Passing, defense, culture-setter
Weaknesses: Shooting, finishing
Nothing tickles me more than the excitement a professional basketball player can generate by knocking down open jump shots in an empty gym:
In the ZOne pic.twitter.com/5VIcrw1Y3v

— Los Angeles Lakers (@Lakers) September 8, 2018
Rejoice, city of Los Angeles. The sound of clanking jumpers is but a thing of the past.
Lonzo Ball, the second pick in the 2017 NBA draft had an up-and-down rookie season. For every glowing positive, there seemed to be a negative. Injuries plagued 'Zo, limiting him to 52 games. Lonzo is a difficult player to value correctly. Let's start with the positives.
Ball is a hound on defense. Blessed with impeccable instincts and quick hands, opposing players can never get comfortable. Defending the pick-and-roll, whether in traditional coverage or switching, is one of the most valuable skills in the NBA. Lonzo's combination of elite size (for his position) and excellent lateral movement allow him to switch comfortably one through three. Here's a great video from DraftExpress breaking down the impact Lonzo had on defense in year one:
Lonzo was a crucial part of the Lakers' surprising jump from 30th in defensive efficiency in 2016–17, to 12th this past season. ESPN's real defensive plus-minus is a noisy stat, but Lonzo's positional rank (third in the league at plus 2.31) backs up the eye-test. Rookies are mostly bad on defense. It's reasonable to assume Ball can get even better on that end, particularly as his slight frame fills out.
Moving the Ball
The real jewel in his crown, though, is his passing. Lonzo understands the value of the simple pass, moving the ball exactly when and where it needs to go. High-level reads are made in a fraction of a second. Outlet passes are floated in with breath-taking accuracy. Check out this beautiful lob to Kyle Kuzma:
Lonzo's rebounding is an incredible asset. He finished the season with a defensive-rebounding percentage of 17.3 percent, third in the league among starting guards behind only Russell Westbrook and Dejounte Murray. The Lakers played at the second-fastest pace in the league in 2017–18 (per ESPN ). Lonzo's ability to grab a defensive board, turn and immediately hit streaking finishers will be crucial to his value going forward.
It's easy to mock the cheesiness of Lonzo's "infectious unselfisness", but there's probably a kernel of truth to the claim.
LeBron micro-manages games to a degree that would make Chris Paul blush. Quite how he, Ball, Rajon Rondo and the rest of the Lakers newly acquired misfits will gel on offense is an open question. There will be no shortage of basketball IQ, but spacing will remain a concern until we see all the pieces together.
In the Shadow of the King
It's hard to write anything on Lonzo without mentioning the TMZ-side. Unlike his all too visible father, Lonzo doesn't appear too keen on courting publicity. Enviable team-cultures are built around players in his mould. But, that doesn't mean the spectre of Big Baller Inc isn't a real thing to keep in consideration when projecting his future.
The Lakers and the LeBron appear content to keep Lonzo on board for the moment. LA is big, but not quite big enough to house the LeBron circus AND LaVar, should the latter feel the need to start coaching from interview rooms:
Need Lavar telling Lebron his trash defense is sullying Lonzo's title chances

— sam esfandiari (@samesfandiari) September 4, 2018
Clearly, this tweet is in jest. But the fact remains, LeBron won't countenance nonsense. If Lonzo were moved to the wrong situation, things could get ugly for him in a hurry.
Laker fans might curse my name, but I consider Ball an inferior prospect to the rest of the names on this list. Lonzo's lack of a jump-shot is worrisome enough. Throw in terrible finishing at the rim (49.4 percent inside three-feet), a historically low free-throw rate (12.6 percent) AND historically bad free-throw shooting (45.1 percent), and it seems like there are too many obstacles to overcome. Ball is already an impactful player, but it seems like he's more likely to top-out as a Marcus Smart/Ricky Rubio type (two players I adore, by the way).
I'm certainly not low on Lonzo. A Player with his mix of talents will always have a place in the NBA. If he could somehow overcome his deficiencies in terms of shooting and finishing, his ceiling would be on a superstar-level.