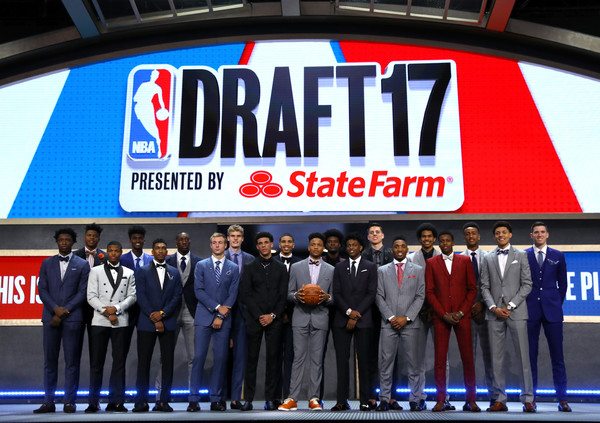 The much anticipated 2017 NBA Draft has come and gone. The night started with a bang as Jimmy Butler was sent to the Minnesota Timberwolves. There was a lot of anticipation for the night with Paul George and Kristaps Porzingis rumors flying around for the last couple of days, but neither were traded. Besides the Butler trade, there weren't a whole lot of surprises in the draft. With all the picks in, here is a breakdown of what happened.
1) Philadelphia 76ers – Markelle Fultz (Washington) PG
The 76ers traded up from the third overall pick in order to draft their point guard of the future. Fultz is clearly the top talent in the draft and should mesh with last year's number one overall pick, Ben Simmons, and Joel Embiid perfectly. His ability to play off of the ball allows him and Simmons to play together. Trusting the process is starting to pay off for Philadelphia.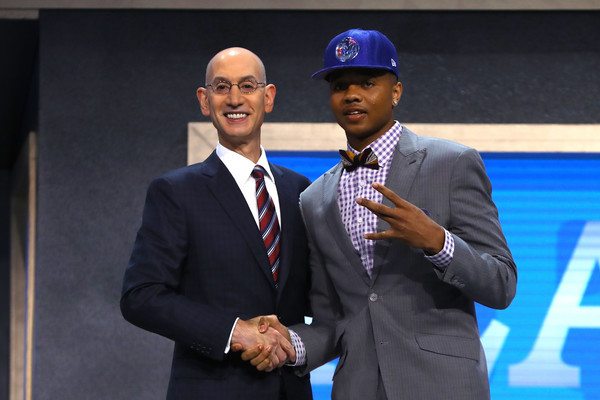 2) Los Angeles Lakers – Lonzo Ball (UCLA) PG
There was a lot of talk about whether or not this pick would be traded for Paul George. Since the Lakers got lucky and landed the number two pick, it was inevitable that Lonzo Ball would stay in LA with the Lakers. Forget about his dad and Big Baller Brand, Ball can play. With D'Angelo Russell being shipped out, the Lakers have their point guard of the future, who happens to be one of the best passers in recent memory.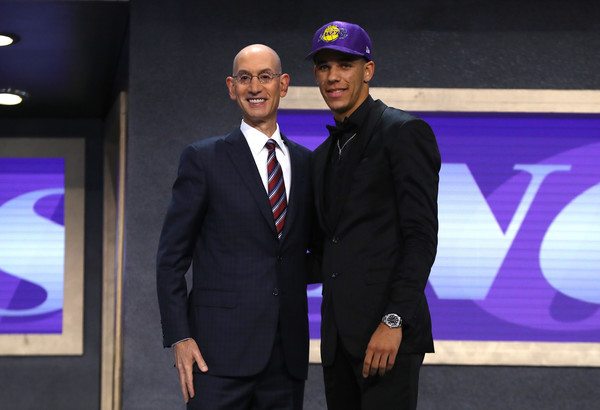 3) Boston Celtics – Jayson Tatum (Duke) SF
After trading down from number one overall, the Celtics said they didn't see much of a difference between the top pick and third overall. Instead of drafting Fultz, they take another forward just a year after drafting Jaylen Brown. Tatum shot just over 34 percent from three in his lone season at Duke, and projects to be a solid scorer in the NBA.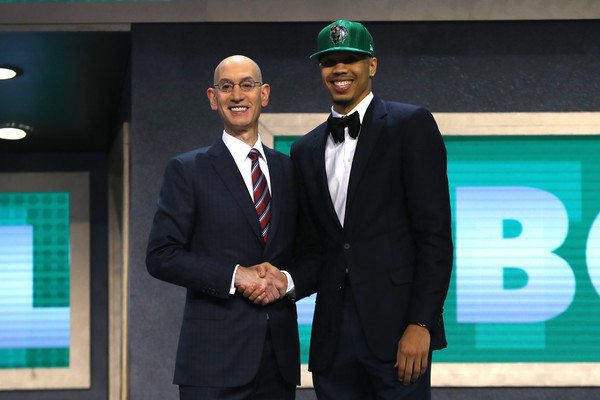 4) Phoenix Suns – Josh Jackson (Kansas) SF
Despite plenty of trade talk about the Suns trading this pick, they end up selecting the small forward out of Kansas. Jackson is an athletic wing who has the chance to be a good defender in the league. With the pick, this allows Jackson to take the better offensive player on defense, so Devin Booker won't get torched every night, and allows him to focus more on the offensive side of the ball. If he can get his three point shot down, the Booker and Jackson tandem could be scary for the league.
5) Sacramento Kings – De'Aaron Fox (Kentucky) PG
This pick has also been in the works for a long time. Fox projects to be an athletic point guard who can lock in on the defensive side of the ball. He's skinny, but he's extremely quick and can pass at a high level. The ceiling for him is John Wall, however, he needs to bulk up and work on his outside shooting in order to reach his ceiling. The Kings are set up to have a solid youth core with Fox, Buddy Hield, Willie Cauley-Stein, Skal Labissiere and the 15th and 20th picks.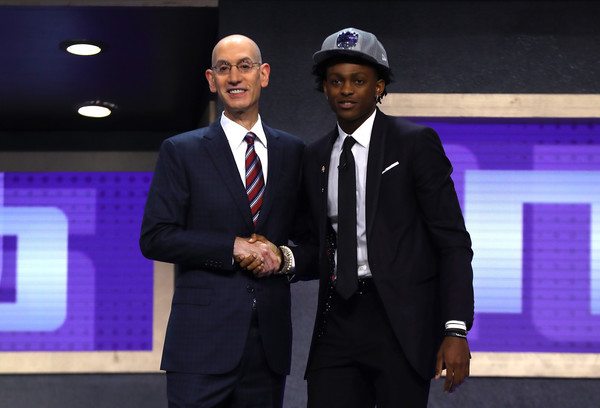 6) Orlando Magic – Jonathan Isaac (Florida State) SF
The Orlando Magic desperately need young players who can actually play basketball. At this point, Aaron Gordon is really the only solid, young option on the roster. This pick, however, was the best player available because Gordon and Isaac both fit in at the four. Isaac best projects to be a really good role player with his really high potential on defense and his blossoming outside shot. The fit with Gordon and Isaac will be interesting.
7) Chicago Bulls (via trade with the Minnesota Timberwolves) – Lauri Markkanen (Arizona) PF
Before the first pick was even announced, the Bulls agreed to trade Jimmy Butler and the 16th pick to Minnesota for Kris Dunn, Zach LaVine, and the 7th pick. With their new influx of young guards, they decided to choose one of the best shooting big men prospects ever in Markkanen. In his one year at Arizona, he shot 42.3 percent from three on 4.4 attempts per game. The knocks on him, however, are that he is not a defensive presence whatsoever, and he isn't a great rebounder.
8) New York Knicks – Frank Ntilikina (Strasbourg) PG
The Knicks were the Knicks in that they were all over the place in trade rumors the past couple of days for the wrong reasons. There was talk that they could move up in the draft, or they would be dealing Kristaps Porzingis. However, they stuck with what they had and came away with a guard they have had their eyes on for a long time. The guard out of France has a massive wingspan at 7'0 and could become a very good perimeter defender. If his shooting continues to improve, the Knicks may have found their triangle point guard of the future to pair with Porzingis.
9) Dallas Mavericks – Dennis Smith, Jr. (NC State) PG
After signing Harrison Barnes to a huge contract this past summer, the Mavericks still found themselves with a top ten pick. DSJ has as much upside as anyone in the entire draft. With explosive athleticism, the sky is the limit for Smith, Jr. In his one year at NC State, DSJ shot almost 36 percent from three, giving hope that he will be able to shoot it at the next level. The big knocks on the newest Maverick are his playmaking ability, and what he will bring on the defensive end of the floor. He's going to the right coach in Rick Carlisle.
10) Portland Trailblazers (via Sacramento) – Zach Collins
The Kings traded the 10th pick for Portland's 15th and 20th picks. After adding Jusuf Nurkic at midseason, they pick up another big man. Collins didn't get a ton of playing time at Gonzaga with Przemek Karnowski ahead of him on the depth chart, but when he played, Collins was really, really good. He brings in a potential shooting big man who can also play some defense. He's still raw, but Collins should become at worst a solid big man off of the bench.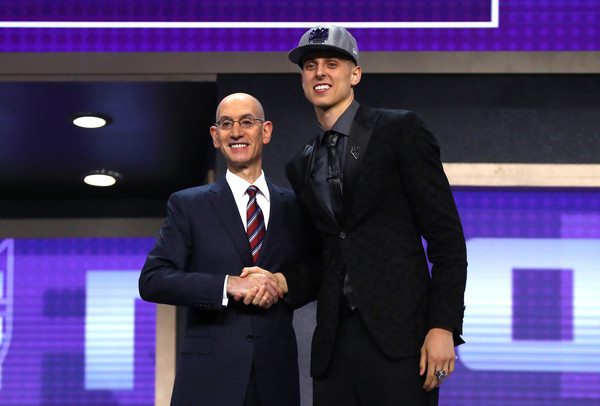 11) Charlotte Hornets – Malik Monk (Kentucky) SG
Monk saw his stock fall a bit as he was widely projected as a top ten pick. Charlotte was also rumored to have their eyes on Donovan Mitchell, but they couldn't pass up the freshman out of Kentucky. Monk is arguably the best shooter and scorer in the draft. Monk's could fit on the Hornets with Kemba Walker at point guard and Nicolas Batum at small forward. He may not become a difference maker on the defensive end, but he can certainly shoot lights out. He could be the next Lou Williams.
12) Detroit Pistons – Luke Kennard (Duke) SG
If Monk isn't the best shooter, Kennard would be one of the few who could take that crown from him. In his second season at Duke, he shot almost 44 percent from three on 5.5 attempts per game. In Stan Van Gundy's offense, Kennard should see his fair share of three-pointers, but the Pistons haven't had a great track record recently with their rookies in Stanley Johnson and Henry Ellenson. If the Pistons hang onto Kentavious Caldwell-Pope, he could provide a spark off of the bench.
13) Utah Jazz (via Denver Nuggets) – Donovan Mitchell 
The Jazz traded Trey Lyles and the 24th pick to move up to grab Mitchell. George Hill is going to be a free agent this summer, and he's probably going to command a huge contract. It will be hard for them to pay both Hill and Gordon Hayward — if they can re-sign Hayward. The Jazz have Dante Exum waiting in case Hill leaves, but Mitchell gives them even more depth at the guard spot with his versatility. He can shoot a bit, is really athletic, can play defense, and handle the ball.
14) Miami Heat – Bam Adebayo (Kentucky) C
The Heat may have reached a bit with this pick. He's an athletic center, who can prove to be a good backup to Hassan Whiteside. If he plays up to his potential, Adebayo can be a solid defensive big man, who can rebound well, and has the ability to knock down a mid-range jumper. His fit next to Whiteside is questionable because he can't step out on his shot much, so they likely won't be able to be on the court a whole lot together.
15) Sacramento Kings (via Portland Trailblazers) – Justin Jackson (UNC) SF
After trading out of the 10th pick to get 15 and 20, the Kings grab a potential 3&D player to go along with Fox and Hield on the perimeter. Jackson is on the older side after playing three seasons in college, but he can call himself the best player in the ACC after winning ACC Player of the Year in his last year at North Carolina. Jackson showed the ability to hit an outside shot, and he could become a decent defender as well.
16) Minnesota Timberwolves (via Chicago Bulls) – Justin Patton (Creighton) C
Not only did the Timberwolves trade for Jimmy Butler, but they also were able to draft Justin Patton as a cherry on the top. Patton gives the Wolves some depth in the frontcourt. He's a project, but he could become a solid player. He only shot 0.4 threes in his time at Creighton, but he still flashed the ability to shoot the ball. His strength in the pick-and-roll could prove to be a good fit with Ricky Rubio.
17) Milwaukee Bucks – DJ Wilson (Michigan) PF 
DJ Wilson shot up draft boards after March Madness, and his stock continued to rise in the draft process. Wilson brings outside shooting for a big man and could become a solid backup for Jabari Parker. This is a typical Bucks pick give his athleticism, length, and shooting.
18) Indiana Pacers – TJ Leaf (UCLA) PF
This may not be the Pacers only pick in the first round with all of the Paul George rumors. However, Leaf can bring some shooting to the Pacers frontcourt alongside Myles Turner. With Lonzo Ball running the offense at UCLA, Leaf shot over 46 percent from downtown and grabbed about eight rebounds per game in less than 30 minutes.
19) Atlanta Hawks – John Collins (Wake Forest) C
The big men continue to fall off of the board with the Hawks taking Collins. After trading away Dwight Howard, Atlanta could use another big man and get him with the sophomore out of Wake Forest. Collins averaged over 19 points and 9 rebounds in under 30 minutes in his second season in college despite being about 6'10. He's got a solid offensive game but has a lot to work on on the other side of the ball.
20) Sacramento Kings (via Portland Trailblazers) – Harry Giles (Duke) C
The Kings had quite the interesting draft. After nabbing Fox and Jackson, Giles is a high risk, high reward pick. After having various knee surgeries, Giles didn't see much court time in his one year at Duke. With such little knowledge on how much Giles can do after his surgeries, teams are unsure of how his game will look and if he will ever be fully healthy. His fit on the Kings is also weird with Skal, Cauley-Stein and Georges Papagiannis already on the roster.
21) Oklahoma City Thunder – Terrance Ferguson (Adelaide) SG
The Thunder were rumored to have promised Frank Jackson; however, they go with a risky pick in Terrance Ferguson. Ferguson decided to forgo college and play overseas for a year. While he didn't get much playing time, Ferguson could become a nice 3&D player for the Thunder alongside Russell Westbrook.
22) Brooklyn Nets – Jarrett Allen (Texas) C
The Nets already were winners before the draft in trading Brook Lopez and the 27th pick for D'Angelo Russell and Timofey Mozgoz. Last year, they went with an upside pick in Caris LeVert, and they did it again this year. Allen measured in at little over 6'10, but with a massive wingspan of 7'5. He clearly has the size, but it will take awhile for Allen to reach his potential — if he ever does.
23) Toronto Raptors – OG Anunoby (Indiana) SF
This could become the biggest steal of the draft. Anunoby underwent knee surgery in his second season at Indiana, but if he is fully healthy, he could become one of the best defenders in the entire league. Toronto is a great spot for Anunoby because he will be able to take his time in recovering from his injury. If he can improve his jumper, Anunoby could be one of the best players in this draft class.
24) Denver Nuggets (via Utah Jazz) – Tyler Lydon (Syracuse) PF
After trading down from the 13th pick in the draft, the Nuggets were able to obtain Trey Lyles, they grab another forward with Tyler Lydon. Lydon can shoot the lights out for a guy his size, and if paired with Jokic, that's a deadly shooting frontcourt. After playing two years in Syracuse's zone defense, we don't really know how Lydon will perform against NBA offenses, so a pairing of Jokic and Lydon could be very bad on defense. It's an odd pick given Lyles and Juancho Hernangomez already being on the roster.
25) Philadelphia 76ers – Anzejs Pasecniks (Gran Canaria) C
The 76ers traded for this pick courtesy of the Orlando Magic. Pasecniks can run the floor and shoot the ball well for a guy of his size. The 76ers traded Nerlens Noel this past season, they're going add to their frontcourt depth. It remains to be seen whether or not this is a draft-and-stash pick or not.
26) Portland Trailblazers – Caleb Swanigan (Purdue) PF
With their second pick of the draft, the Trailblazers go with another big man. Swanigan was one of the most productive players in the NCAA this past year. He posted impressive averages of 18.5 points and 12.5 rebounds, while also shooting almost 45 percent from three and over 52 percent from the field. The reason he wasn't drafted higher is because he is extremely slow on the defensive end.
27) Los Angeles Lakers (via Brooklyn Nets) – Kyle Kuzma (Utah) PF
The Lakers received this pick as part of the D'Angelo Russel trade, and they picked up a stretch-four. Kuzma is a weird pick since the Lakers already have Julius Randle and Larry Nance, Jr. at the four spot. While he's a good rebounder, he's going to really need his jump shot to improve in order to be a useful player in the NBA. If the Lakers end up trading Randle or Nance in a trade, this makes a lot more sense for the Lakers.
28) Utah Jazz (via Los Angeles Lakers) – Tony Bradley (UNC) C
The Jazz traded picks number 30 and 42 in order to move up two spots to grab the product out of North Carolina. The hope is that Tony Bradley can come in and become Rudy Gobert's backup. He only played 14.5 minutes per game as he was sitting behind Kennedy Meeks, but when he played, he proved to be a great rebounder with his 7'5 wingspan. He doesn't have much of an offensive game, so he will rely on offensive rebounds to score the ball.
29) San Antonio Spurs – Derrick White (Colorado) SG
The Spurs did it again. A year after drafting Dejounte Murray with a late first round pick, San Antonio gets another solid player at the end of the first round. White is an athletic wing who shot 40 percent from three his last season in college. With Manu Ginobili on the way out, Derrick White can learn the ropes for a year and then hope to fill the vacant guard spot Ginobili will leave.
30) Los Angeles Lakers (via Utah Jazz) – Josh Hart (Villanova) SG
The Lakers traded down from 28 to grab the 30th pick and the 42nd pick. With the last pick in the first round, Los Angeles grabbed a national championship winner in Josh Hart. The senior out of Villanova can do a lot of things well on the court. In his senior year, Hart averaged 18.7 points, 6.4 rebounds, 2.9 assists, 1.5 steals, and shot 51 percent from the field, including 40 percent from beyond the arc. Hart will give the Lakers depth at the guard spot behind Ball and Jordan Clarkson.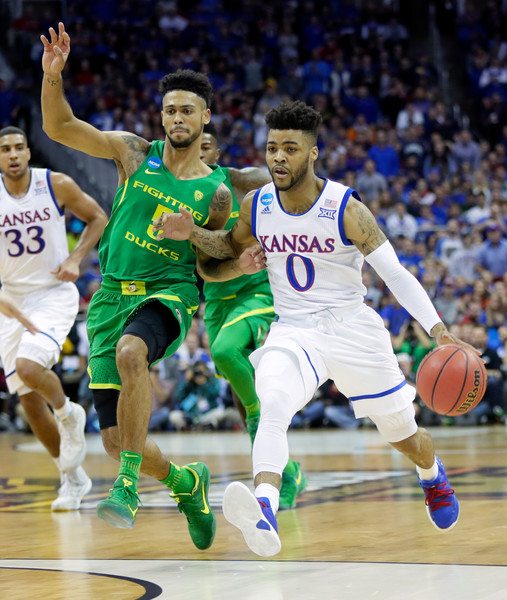 Second Round 
31) New Orleans Pelicans (via Charlotte Hornets) – Frank Jackson (Duke) PG
32) Phoenix Suns – Davon Reed (Miami) SG
33) Orlando Magic – Wesley Iwundu (Kansas State) PG
34) Sacramento Kings – Frank Mason lll (Kansas) PG
35) Memphis Grizzlies (via Orlando Magic) – Ivan Rabb (Cal) PF
36) Philadelphia 76ers – Jonah Bolden (Radnicki Basket) PF
37) Boston Celtics – Semi Ojeleye (SMU) SF
38) Golden State Warriors (via Chicago Bulls) – Jordan Bell (Oregon) PF
39) Los Angeles Clippers (via Philadelphia 76ers) – Juwan Evans (Oklahoma State) PG
40) Charlotte Hornets – Dwayne Bacon (FSU) SG 
41) Atlanta Hawks – Tyler Dorsey (Oregon) SG
42) Los Angeles Lakers – Thomas Bryant (Indiana) C
43) Houston Rockets – Isaiah Hartenstein (Zalgiris) PF
44) New York Knicks – Daymean Dotson (Houston) SG
45) Memphis Grizzlies (via Houston Rockets) – Dillon Brooks (Oregon) SF
46) Milwaukee Bucks (via Philadelphia 76ers) – Sterling Brown (SMU) SG
47) Indiana Pacers – Ike Anigbogu (UCLA) C
48) Los Angeles Clippers (via Milwaukee Bucks) – Sindarius Thornwell (South Carolina) SG
49) Denver Nuggets – Vlatko Cancar (Mega Bemax) PF
50) Philadelphia 76ers – Mathias Lessort (Nanterre) PF
51) Denver Nuggets – Monte Morris (Iowa State) PG
52) Indiana Pacer – Edmond Sumner (Xavier) PG
53) Boston Celtics – Kadeem Allen (Arizona) SG
54) Phoenix Suns – Alec Peters (Valparaiso) PF
55) Utah Jazz – Nigel Williams-Goss (Gonzaga) PG
56) Boston Celtics – Jabari Bird (Cal) SG
57) Brooklyn Nets – Alexander Vezenkov (Barcelona) PF
58) New York Knicks – Ognjen Jaramaz (Mega Bemax) PG
59) San Antonio Spurs – Jaron Blossomgame (Clemson) SF
60) Atlanta Hawks – Alpha Kaba (Mega Bemax) C