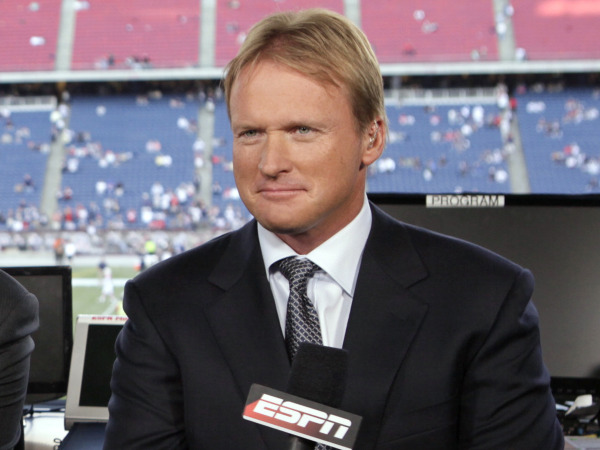 For all the Jon Gruden rumors that have been floating around the past few years, one rumor has become a reality. The Oakland Raiders and Gruden have agreed to a 10-year, $100 million contract that makes Gruden the new head coach of the Raiders. Ian Rapoport reported the news on Twitter.
Sources: The #Raiders seek a long-term commitment from new coach Jon Gruden and they are preparing a 10-year contract for Gruden. The expectation is that it eclipses $100M. ? ?

— Ian Rapoport (@RapSheet) January 5, 2018
The #Raiders are planning for a Tuesday press conference to introduce soon-to-be-new coach Jon Gruden, source confirms (as @CorkOnTheNFL said). He'll arrive and have his, um, interview Monday.

— Ian Rapoport (@RapSheet) January 5, 2018
Former Raiders head coach Jack Del Rio was fired just before the new year. It seems that once Gruden showed interest in coaching the team, the organization felt it right to part ways with Del Rio.
This will be Gruden's second go as Raiders head coach. He coached the team from the 1998-2001 seasons. Gruden then went on to coach the Tampa Bay Buccaneers and beat the Raiders in Super Bowl XXXVII (37).
Gruden has wasted no time assembling his team of coaches.
#Raiders coach Jon Gruden has 3 key hires already in place: #Rams QB coach Greg Olson as OC, #Bengals DC Paul Guenther as DC, #Cowboys special teams coach Rich Bisaccia as ST.

— Ian Rapoport (@RapSheet) January 5, 2018
The #Raiders coaching staff under Jon Gruden will be the most expensive in @NFL history: Jon Gruden will make $100M over 10 years. Coordinators are getting 4 year deals, sources say. 2 years in Oakland, 2 in Las Vegas.

— Ian Rapoport (@RapSheet) January 5, 2018
Gruden has spent the past nine years as the color commentator on ESPN's Monday Night Football. There have been numerous rumors of Gruden coming back to coaching during that time. Gruden always stated that he was happy in his current position, but something along the way convinced him to come back (maybe 100 million reasons).
It is no secret that this season did not go as expected for the Raiders. They finished 6-10 and third in the AFC West. This team has the talent to make a postseason run. It will be fun to see Gruden coach again, especially if we get more of this gold.
Gruden's back in black. ?

(via @NFLFilms) pic.twitter.com/8CjleICnlm

— The Checkdown (@thecheckdown) January 5, 2018