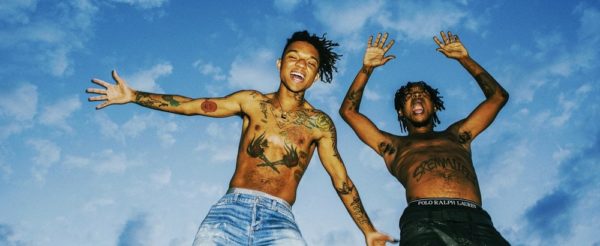 Th duo out of the Magnolia state is back with not one, not two, but three new singles. Released late last night, the Tupelo brothers have delivered "Powerglide", "Hurt To Look" and "Brxnks Truck". Keeping to their previous announcement that their next album would consist of a Slim Jxmmi project, Swae Lee project and Rae Sremmurd project, "Hurt To Look" is a Swae Lee single, "Brxnks Truck" is a Slim Jxmmi record and "Powerglide" is a joint track.
Following his recent success with "Sativa" and "Unforgettable", Swae Lee's "Hurt To Look" features his softer side. The four-minute track showcases Lee's melodic side on a love song that we could definitely be hearing well into the summer.
Much different than his brother's newest record, Slim Jxmmi's "Brxnks Truck" will have your speakers hanging on for dear life. The bass-heavy, party record allows Slim Jxmmi to flex or like he says, it allows him to be "young, fly and iced up."
The official Rae Sremmurd single seems to be the record with most staying power. Featuring the legend himself, Juicy J, "Powerglide" gives Rae Sremmurd the standard turn up record that we've come to expect from the rap group. Sampling Three 6 Mafia's "Side to Side", the record lends itself nicely to Swae Lee's hook and Slim Jxmmi's energetic verses.
There is still no release date for SR3MM, but in the meantime, fans can enjoy these records. Rest assured, the group is hard at work creating this unique project that will blend Swae Lee's Swaecation, Slim Jxmmi's solo project Jxmtroduction and the third studio installment from Rae Sremmurd. We'll keep you updated with more details about the duo's work as they become available.