The Portland Trail Blazers finished the 2017-18 season with 49 wins and, somewhat surprisingly, the third seed in the Western Conference. In equally surprising fashion, the New Orleans Pelicans literally ran them off the floor in the first round of the playoffs — sweeping them four games to nothing.
It was good for the Blazers to go through that. After basically running back the same team every year with nothing to show for it, the organization needed something to really hit them in the face to help encourage some change. Wait… that still hasn't happened yet?
New Faces
Signed guard Seth Curry to a one-year, $2.8 million deal
Signed guard Nik Stauskas to a one-year, $1.6 million deal
Signed guard Gary Trent Jr. to a three-year, minimum-salary contract
Drafted guard Anfernee Simons 24th overall
Hanging Around
Center Jusuf Nurkic re-signed on a four-year, $48 million deal
Hitting the Road
Guard Shabazz Napier signed a two-year, $3.8 million deal with the Brooklyn Nets
Forward/center Ed Davis signed a one-year, $4.4 million deal with the Brooklyn Nets
Guard/forward Pat Connaughton signed a two-year, $3.4 million deal with the Milwaukee Bucks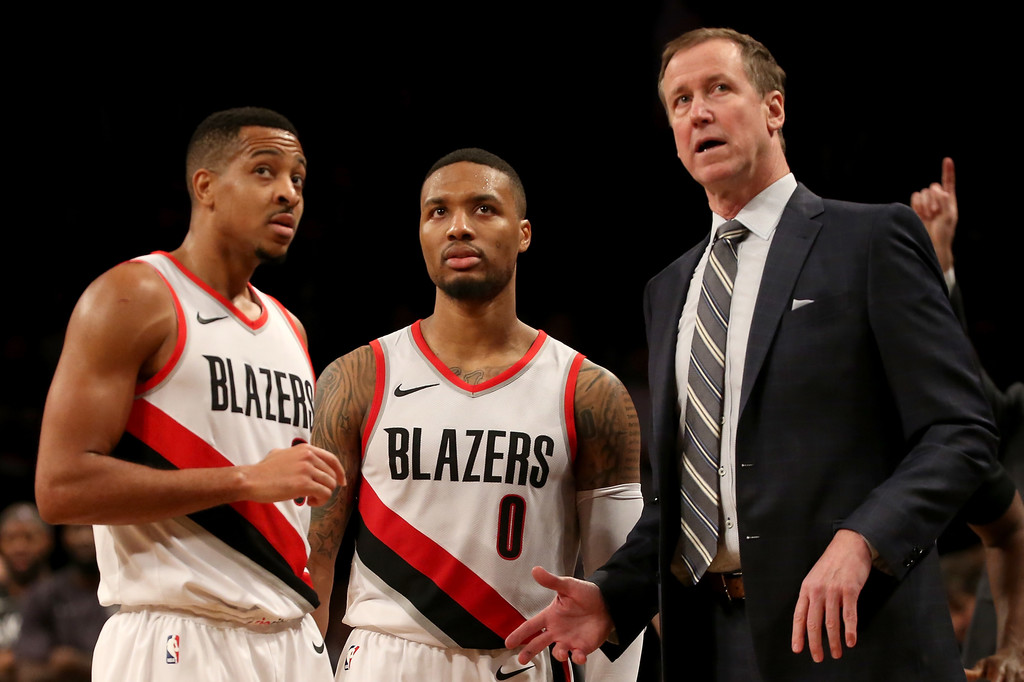 The Outlook
When the Toronto Raptors got fed up with losing to LeBron James in the playoffs, they made a big change — trading franchise legend DeMar DeRozan to the Spurs in exchange for Kawhi Leonard. It may not be a risk that pays off, but it does guarantee them one thing — a chance at something different.
Out West, there are even more obstacles. The conference's LeBron of the past few seasons, the Golden State Warriors, have given the Blazers some trouble in the playoffs. There's more than the Warriors, though — the West has the real LeBron now! And as Portland saw last postseason, Anthony Davis is nothing to mess with either.
And that's just the start. Paul George and Russell Westbrook, James Harden and Chris Paul, Donovan Mitchell and Rudy Gobert and Nikola Jokic and Gary Harris will make life hard each and every night for the Blazers. It's a conference that inspires innovation and renovation every year. Without a little bit of both, it's hard to keep up.
The Blazers, however, decided to ignore that line of thinking. It is hard to make splashes with their combination of little money and bad assets, to be fair. But no one put them in that position but themselves. Thanks to their top-heavy payroll, Portland has to rely on rookie-scale players they drafted or cheap fliers they signed. That was true last season, and it will ring even truer in 2018-19.
The loss of Ed Davis hurt. He's one of the best rebounders in the league and doesn't need much play to make an impact. The hole he leaves can be filled by sophomores Zach Collins and Caleb Swanigan, however. After years of struggling to find consistent, well-rounded play down low, the Blazers have a solidified group down there.
Jusuf Nurkic will be holding it down in the starting unit alongside small-ball four Al-Farouq Aminu. Swanigan and Collins will bring a different look off the bench. Swanigan isn't much of a defender, but he's an active rebounder and has flashed potential as a shooter and passer. Collins, the 2017 10th-overall pick, is skilled in the post on both ends of the floor and may become a floor-spacer as well.
It does all start and stop with Nurkic, however. Nurkic's defensive improvement played a large part in Portland ranking eighth in the league in defensive rating last season — up from 21st the year before. That improvement, along with Damian Lillard's First-Team All-NBA-level production, helped the Blazers' win total improve by eight.
Lillard, Nurkic, and CJ McCollum will win Portland a ton of regular season games. Maybe even enough to make the playoffs. Beyond that, however, their wing depth is thin and it might just be impossible to win like that in the NBA. High-volume snipers like Lillard and McCollum will almost always be able to keep up on offense, but their limitations on defense put too much pressure on everyone else. No matter the combination of players, it's hard to find a group of three players that can pick up the defensive slack while remaining impactful on offense.
Head coach Terry Stotts can stagger his lineups so that one of Lillard and McCollum is always out on the floor. Whoever remains will likely have to do some heavy lifting. Shooting runs in the family, so Seth Curry should be able to hang. Anfernee Simons may spend a good amount of time in G League as a rookie. Maybe Gary Trent Jr. is a diamond in the rough. Nik Stauskas, though… really?
To shorten things up, the Blazers just don't have enough balance. That's why they are one of the many teams trying to acquire Jimmy Butler. Butler might be exactly what the Blazers need. But there is no way in which they can acquire him, or any other talented wing, without giving up one of Lillard and McCollum. If they draw the line there, it will be more of the same this season and in following seasons until they decide to make a change.
With as many improvements as there were in the conference this season, it wouldn't be surprising to see Portland slip all the way out of the playoffs. But, at the same time, they have outperformed expectations before.