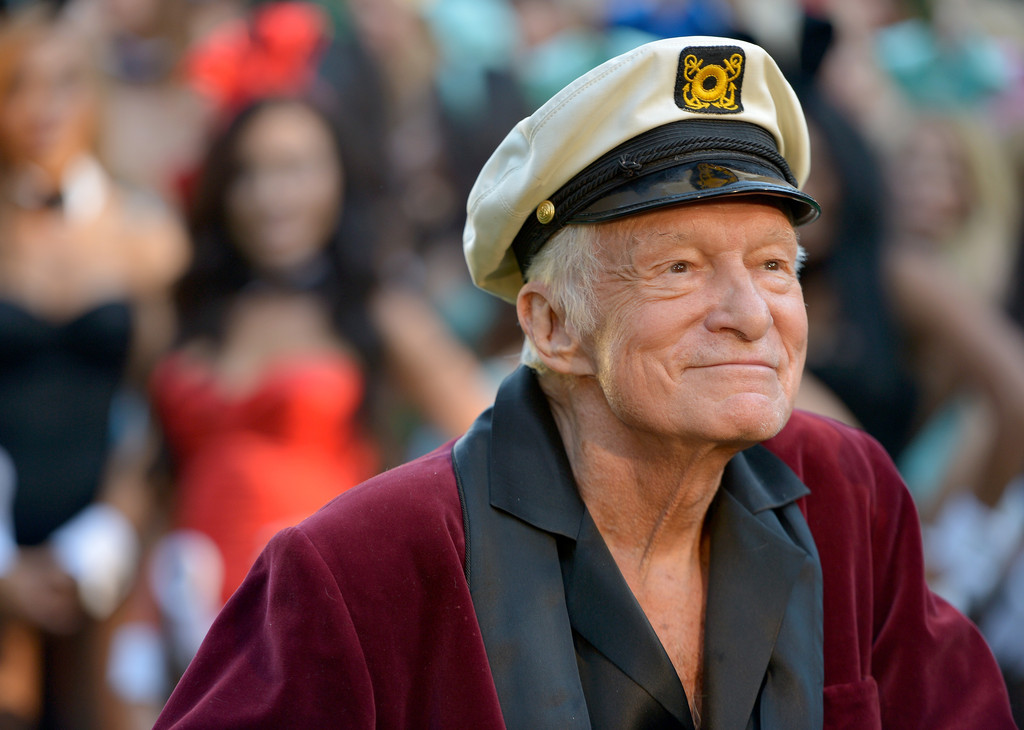 Hugh Hefner was the man just about every man wanted to be. The who masterminded Playboy to help usher in a new sexual era in popular culture was an icon to many for his media revolution and a legend to others based on the stories about his time spent in that infamous mansion in Beverley Hills.
After living a full life most people only would dream of, Hugh Hefner has passed away at 91.
American Icon and Playboy Founder, Hugh M. Hefner passed away today. He was 91. #RIPHef pic.twitter.com/tCLa2iNXa4

— Playboy (@Playboy) September 28, 2017
BREAKING: Playboy says founder Hugh Hefner is dead at age 91.

— The Associated Press (@AP) September 28, 2017
Playboy founder Hugh Hefner has died at 91, ET has learned. More to come @etnow. pic.twitter.com/1q1AdEi1JL

— EntertainmentTonight (@etnow) September 28, 2017
Following comes from Entertainment Tonight.
(Hugh Hefner) died on Wednesday from natural (causes) at his home, The Playboy Mansion, surrounded by loved ones, according to Playboy Enterprises, Inc.
Playboy released a statement to PEOPLE Magazine.
"Hugh M. Hefner, the American icon who in 1953 introduced the world to Playboy magazine and built the company into one of the most recognizable American global brands in history, peacefully passed away today from natural causes at his home, The Playboy Mansion, surrounded by loved ones," a rep for the Playboy Enterprises founder said in a statement to PEOPLE.
Hugh Marston Hefner was born on April 9, 1926 in Chicago, Illinois to parents Grace Caroline and Glenn Lucius Hefner. Hefner had a stint in the Army but he then went on to graduate from the University of Illinois in 1949. The same year he married his college lover, Millie Williams and the couple went on to have two children.
Hefner founded Playboy back in 1953 thanks in part to a $1,000 loan from his mother and went on to become one of the most successful entrepreneurs of the 20th century. He built the first 'Playboy' issue around a full-color photo he purchased for $500 of a nude Marilyn Monroe before she became a movie star. The cover sported no publication date because Hefner was unsure if he would be able to publish another.
Little did he know, that cover and many others would become staples of the sexualization of America. There are too many iconic Playboy covers to list but when you have the likes of Pamela Anderson, Carmen Electra, Anna Nicole Smith, Jenny McCarthy, Tinashe and Kate Moss gracing your covers, it's not hard to understand why Playboy was tremendously popular. Millions of walls had Playboy posters across the world all thanks to Hef and his vision.
He made multiple appearances in pop culture from music videos to television shows and movies appearing alongside some of the biggest names in entertainment. Hefner also starred in a show centered around life at the Playboy Mansion called 'Girls Next Door'.
Hefner sold the iconic mansion in 2016 but buyer Daren Metropoulos allowed Hefner to stay at the residence until his death. I'm sure Hef has his own fantastic mansion wherever he goes next.