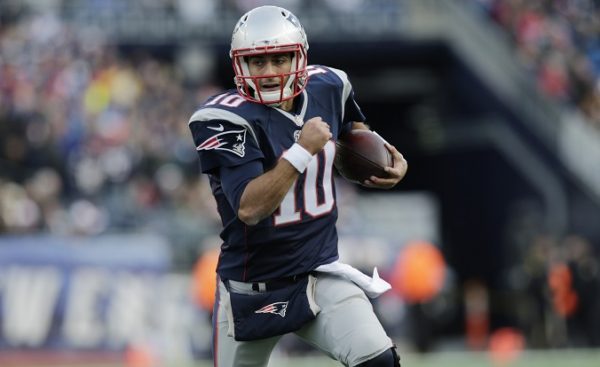 The trade deadline is starting to heat up. The New England Patriots have agreed to send quarterback Jimmy Garoppolo to the San Fransisco 49ers for a 2o18 second round pick. Adam Schefter reported the news about the trade via Twitter.
Major QB shakeup: 49ers trading 2018 2nd-round draft pick to New England for Patriots' QB Jimmy Garoppolo, sources tell ESPN.

— Adam Schefter (@AdamSchefter) October 31, 2017
Many people believed Garoppolo would become the next starting quarterback for the Patriots when current quarterback Tom Brady would retire. He played well when Brady was suspended for the first four games of last season and many Patriots fans enjoyed watching him. However, with this move, the Patriots seem confident that Tom Brady has many more years left in the tank.
This trade also affects the upcoming offseason for Washington Redskins quarterback Kirk Cousins. San Fransisco seemed to be an easy landing spot for Cousins if a long-term deal with the Redskins could not be reached. With the acquisition of Gorappolo, this officially rules the 49ers out as a potential new home for Cousins.
It is no lie that the 49ers are in a rebuilding year. Both Brian Hoyer and C.J. Beathard have taken the reigns as starting quarterback for the team this year. Currently, the 49ers sit at a 0-8 record on the season.
Trading for Garoppolo gives a small glimmer of hope for the future of the franchise. Though, it is hard to believe that just a 2nd round pick was the best offer for the Patriots. Time will ultimately tell if the trade was worth it, depending on who the Patriots draft with this future pick.