Nico Mannion out the University of Arizona is one of the more polarizing prospects in the 2020 NBA Draft. Mannion was a highly regarded prep superstar that was ranked the 9th best prospect per 247 Sports. Nico has dual citizenship and actually played for the Italian National Team at the U16 European Championships where he averaged 20 PPG, 6 RPG, and 4 APG. The break-out performance that put him on the map was he showed out at the Nike Hoops Summit with a 28 point, 5 rebounds and 5 assist performance. After signing with Arizona, Mannion showed his high basketball IQ, great passing ability, and can hit shots. However, his defense left scouts wanting more and is particularly quick to the basket. Let's take a closer look at Mannion.
Nico Mannion with the hammer ? pic.twitter.com/ZrYlNDvd8A

— AZ Finest Mixtape (@AZFinestMixtap) November 22, 2019
Basketball IQ/Passing Ability
Mannion is a pure point guard that sees the court well and seems to have a knack for making the right play. Many consider him a strong and crafty floor general that is great at directing traffic on the court. He can run the pick and roll with the best of them, which will translate well in the NBA. He's well rounded in the fact he can play up-tempo/ in transition but has the capability to play in the half-court as well. Overall, Mannion can fit on any team/system. Mannion was a leader on an Arizona team that unfortunately struggled towards the end of the season but was a bright spot. He comes from a basketball lineage with his father being a pro in Italy.
Nico's specific skill that really translates well to the NBA is his high-level passing. Mannion averaged 5.3 APG and had three games where he had double-digit assists. That doesn't jump off the paper, but his passing package is off the charts.
Athleticism and Shot Making
Mannion is a solid 6-3 which is a good size for an NBA point guard. He's a very sound athlete that can glide to the basket and take some contact around the rim. One of the attributes that Mannion has a high ceiling is his shot-making. At the college and international level, he had a knack for making timely shots and could create his own shot, plus come off screens and hit set shots. At the next level, Mannion will need to grow and utilize his shot-making.
Weakness
Unfortunately, Mannion doesn't have the quickest feet, which will be a major problem defending NBA guards. Also, he only possesses a 6-2 wingspan which is smaller for his size. In the half-court setting, he hasn't proven he can defend athletic guards. He'll be viewed as the weak link to opposing teams due to all of this.
2020 NBA Draft Comparision: TJ McConnell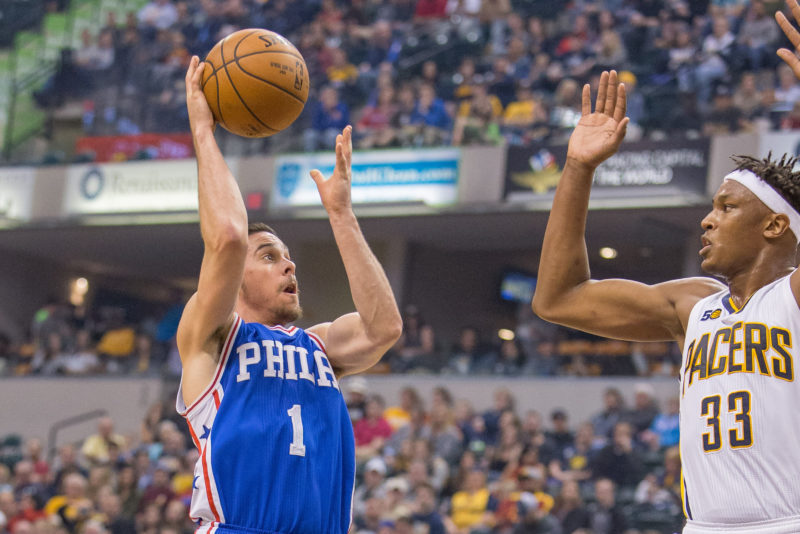 The NBA will always have a need for players with a high basketball IQ that can pass and hit shots. However, not being a lockdown defender is really going to hurt his longevity as an NBA player. A year ago, I think most scouts would have considered him a lottery pick, but I see him slipping late first-round or early second round. His Arizona career didn't particularly do him any favors, but his international experience and previous hype are going to make him one of the more polarizing prospects in the 2020 NBA Draft. His best-case scenario is carving a journeyman type career/ bench rotation role like TJ McConnell has embraced.