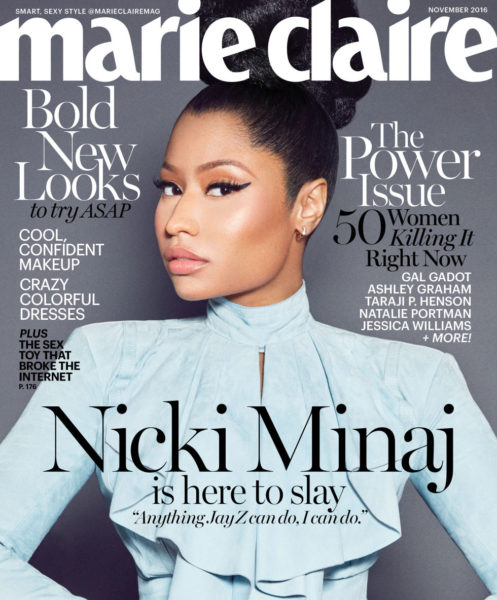 As of today, we're quickly approaching the two year mark since Nicki Minaj released her third studio album, The Pinkprint. Spawning more hits for the rapper and further cementing her place in Hip-Hop, Nicki Minaj has come a long way over the course of her career. It appears that the folks of Marie Claire have noticed that as the Queens rapper has landed on the November issue of the magazine. Being one to almost always deliver insightful interviews, Ms. Minaj talks everything from Black women to modeling her career after Jay Z.
On the people living with violence in our country: "We tend to not remember the black women who are mourning these men and who are thinking, Oh, my God, what am I going to tell my child now about where his father is, and the struggle it is for black women to then move on after they lose their husband or their boyfriend … The strong women in these inner cities often go unnoticed … no one really ever puts a hand out to them."

On competing with male rappers: "I don't need to read a book about [business]. I can look at someone's career and just pinpoint the dos and the don'ts, and the one person I've done that with for my entire career was Jay Z. He did such a great job being an authentic street guy and a businessman, and I was like, Why aren't there women doing that, taking the success from rap and channeling it into their empire? I felt like anything he could do, I could do."
Seeming to be as focused as ever, we can't wait to see what else Nicki Minaj has in the works. Check out more excerpts from the interview, here.