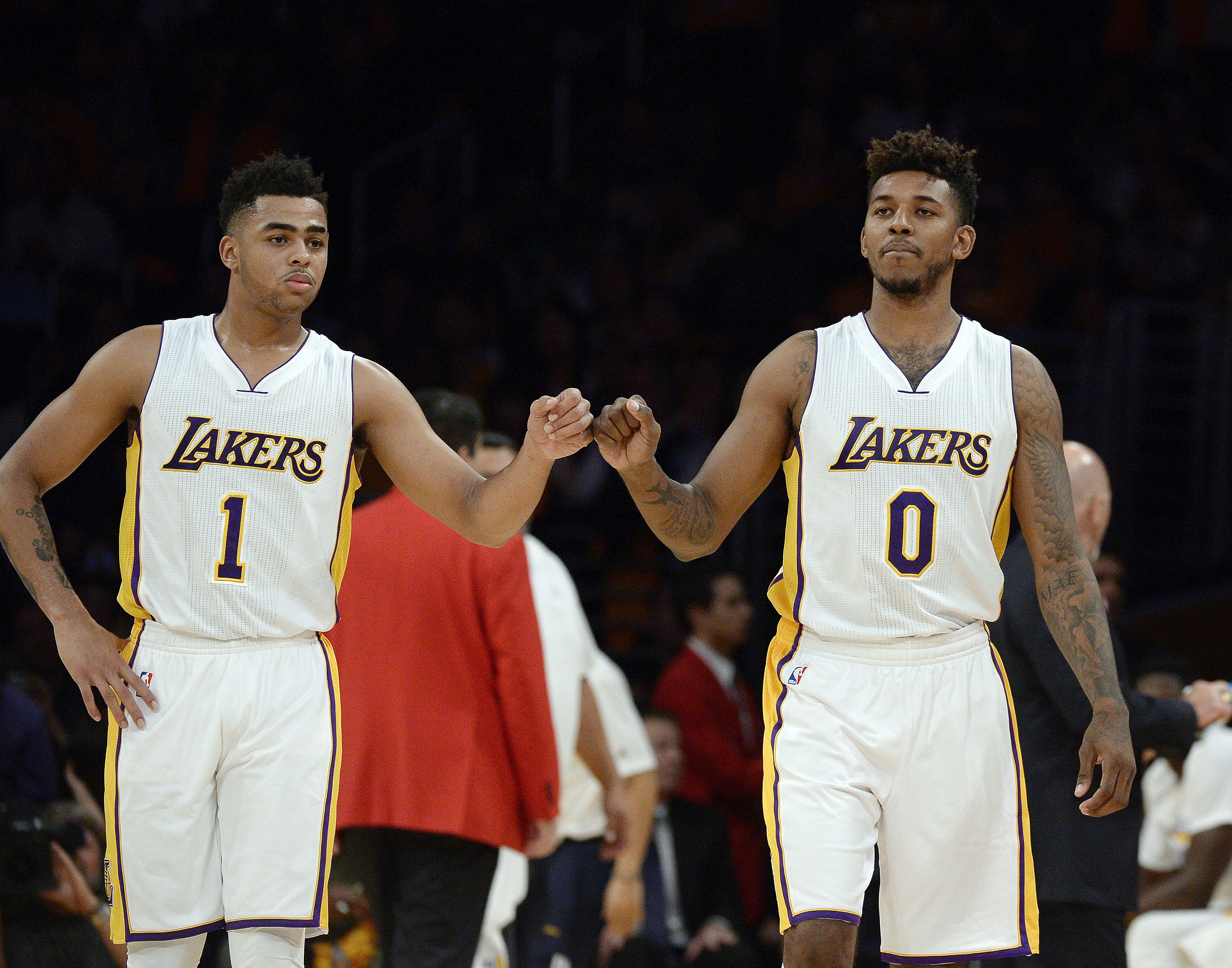 D'Angelo Russell has a bright future in the NBA. The second year Los Angeles Lakers point guard is only 20 years old and he has all the makings and potential to be the next big thing for one of the most historic franchises in the NBA. Russell's future is clear, the Lakers have all the faith in the world in him. Nick Young on the other hand, there's no guarantee if he'll be back to start next season.
Russell and Young became teammates last year after the Ohio State product was selected by the Lakers with the 2nd pick in the 2015 NBA Draft. Everything seemed to hit off well between the two and some of the other younger Lakers. Russell and Young often joked in the locker room after games, win or loss, and they had some fun. Then, one day it all went downhill.
Russell recorded Young talking about cheating on his wife and it immediately became national news. The younger Russell took complete blame and says that someone sent out a personal video meant only for his friends. It was a mess and both Young and Russell took heat for their actions.
It's been a few months since those issues and the drama behind it has died. People aren't talking about it outside of making the occasional lame joke on social media but it is over. That appears to be the approach that Young is taking when it comes to his future relationship with Russell.
Following from Mark Medina of the Los Angeles Daily News.
Young maintained he no longer harbors animosity toward Lakers second-year guard D'Angelo Russell, who secretly recorded Young on his phone admitting to infidelities with rapper and former fiancee Iggy Azalea. When the video accidentally became public late last season, Young was not initially receptive toward Russell's efforts to apologize.

Young has since dismissed concerns on whether he could coexist with Russell, who represents a significant part of the Lakers' young roster.

"We're teammates," Young told the Southern California News Group. "It's been so long, so it's kind of old.

"We'll be able to work it out. We've already been working it out. It is what it is. I can't be mad forever."

Young even chuckled about Russell's recent Foot Locker commercial with Philadelphia No. 1 pick Ben Simmons. In the ad, after Simmons asks Russell for advice on his rookie season, Russell takes Simmons' phone and throws it toward the ocean.

In apparent sarcasm, Young reacted by tweeting: "real funny."

More than a month later, it appears Young found some humor in the incident.

"I need my commercial now," Young said, laughing. "I'll explain what happened to my life."
Whether or not Russell and Young become friends again is unclear. The result of D'Angelo's actions seemingly ended Nick's marriage and it's a situation that has never been presented so out in the open before. They might not be friends again but they are teammates, for now. So regardless of what happened in the past, they need to try to work together towards a common goal.
Plus, D'Angelo Russell has a reputation to maintain and for future teammates it could be an issue for some when it comes to deciding whether or not they join the Lakers. D'Angelo admitted it was a mistake made by a young kid and he wanted to move on. It appears that Young is ready to do the same.