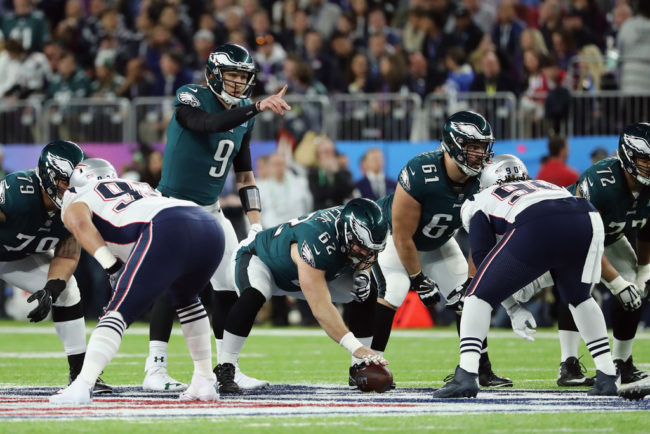 The Jacksonville Jaguars are signing former Super Bowl MVP Nick Foles to a four-year, $88 million deal. Reports have the amount of guaranteed money at $50.1 million. Foles signs with Jacksonville just a few years removed from pondering retirement after being cut by the Rams.
The NFL Network's Ian Rapoport was first to report on the signing via Twitter.
Source: Nick Foles is signing with the #Jaguars.

— Ian Rapoport (@RapSheet) March 11, 2019
Rapoport went on to report on the specifics of the deal.
The #Jaguars had Super Bowl MVP Nick Foles as their top target. Per @MikeGarafolo he gets 4 years and $88M. Large.

— Ian Rapoport (@RapSheet) March 11, 2019
ESPN's Adam Schefter reported on how much of the contract was guaranteed for the quarterback.
Guranteed money for Nick Foles in Jacksonville, per source: $50.125 million. https://t.co/45h5eJtHkM

— Adam Schefter (@AdamSchefter) March 11, 2019
Rapoport also reported on what the Jaguars are going to do with quarterback Blake Bortles.
The #Jaguars are expected to release QB Blake Bortles when QB Nick Foles' deal is official and signed, I'm told. Will be a few days. But Bortles will be free.

— Ian Rapoport (@RapSheet) March 11, 2019
After making a playoff run in the 2017-2018 season where the defense was the strength of the team, many thought that the Jaguars would improve the quarterback position this time last year. Jacksonville kept Blake Bortles at the helm and they went a disappointing 5-11. With a defense that is another year older and an offense that doesn't have many weapons, it is fair to wonder if the Jags waited too long before making the move at quarterback that should have been made as far back as two years ago. Whether or not Nick Foles will be the improvement on Bortles that Jacksonville was searching for is yet to be determined.