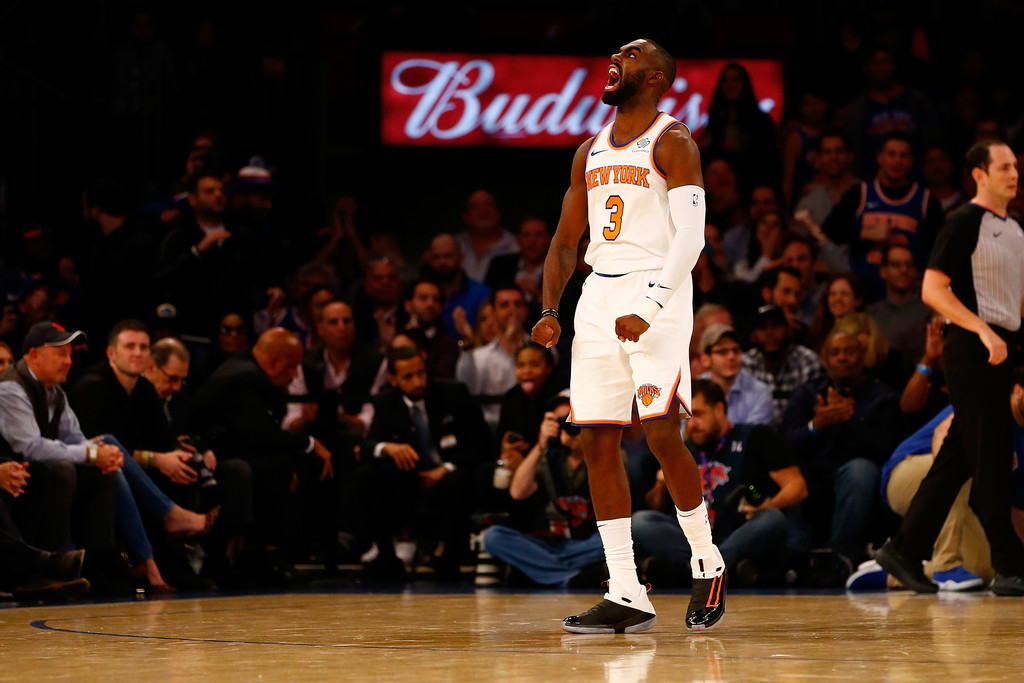 In the 2017 offseason, teams around the league spent money frivolously on players who are now overpaid and unmoveable. One of those teams that spent big were the New York Knicks, who offered a four-year, $71 million contract to Atlanta Hawks restricted free agent Tim Hardaway Jr. As those around the league were baffled by the offer, Hardaway quickly accepted the deal that would return him to the team that drafted back in 2013. The Hawks did not match the offer, and therefore Hardaway was back with the Knicks.
In his first year back in New York, Hardaway was solid, starting in 54 of the 57 games he appeared in. Behind Kristaps Porzingis, Hardaway was the Knicks leading scorer, averaging 17.5 points per game. Primarily a threat from the outside, he struggled with efficiency, shooting just 31.7 percent from the 3-point line — a surprisingly low number. However, the Knicks were a poor team and once Porzingis went down, the number of offensive threats dwindled even further. This allowed teams to hone in on Hardaway.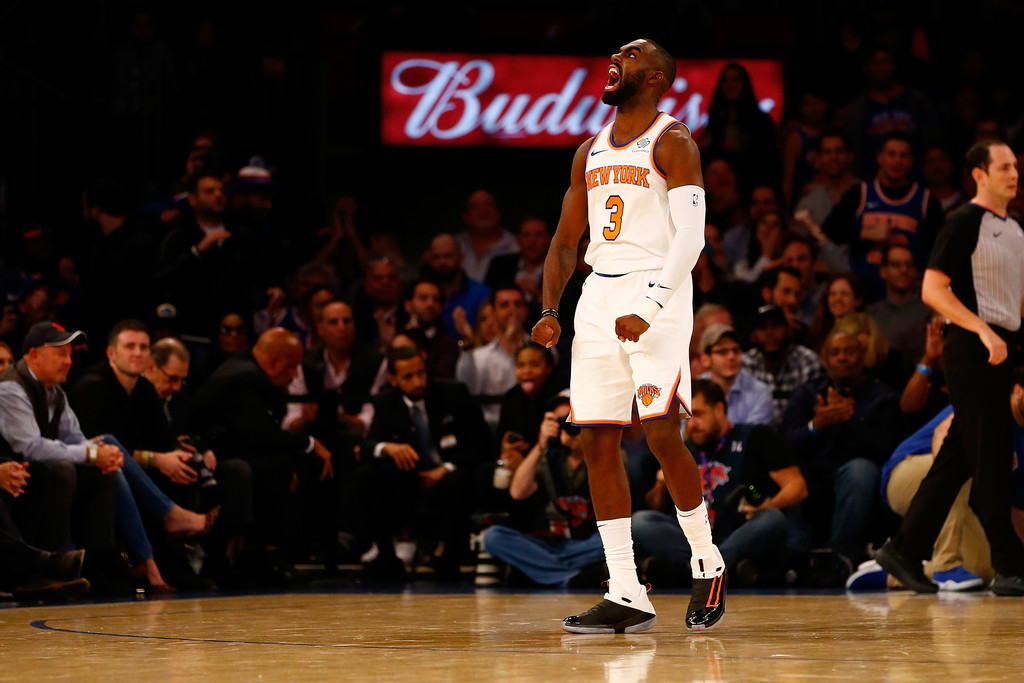 This offseason, New York made a commitment to adding more tangible scorers to the roster by drafting Kevin Knox from Kentucky and uncovering Allonzo Trier, who went undrafted out of Arizona. Although Knox just recently returned from injury, he has not been able to settle in and make the expected impact on the offense that he eventually will. Trier has exceeded any expectations placed forth for him and has averaged just under 12 points per game on uber-efficient numbers from the field.
However, with Porzingis still out due to the ACL tear he suffered nine months ago, Hardaway has been empowered with being the number one option in the Knicks' offense. The decision by new head coach, David Fizdale, has paid off.
The Knicks are not a good team, and they aren't necessarily trying to be good either. Along with the likes of Knox and Trier, Fizdale has placed a heavy emphasis on playing the young bucks on the roster in Frank Ntilikina and Damyean Dotson. Following suit with playing young talent, he has given opportunities to numerous reclamation projects in Trey Burke, Mario Hazonja, Noah Vonleh, and Emmanuel Mudiay. This season is not about winning in New York. It has been about finding players who can fit into the team's long-term outlook.
Tim Hardaway Jr. has shown that he fits, and can be a pretty important piece.
Through the Knicks first 14 games, Hardaway has averaged 23.2 points per game on 41.6 percent shooting from the field and a much more efficient 35.5 percent from deep. He has recorded three games in which he scored 30 or more points and has had just three games where he has scored less than 15 points.
Outside of scoring the basketball, Hardaway has continued to show improvements in other facets of his game as well. While his turnover percentage has taken a slight dip, his assist percentage has risen to 16.3 percent. In comparison, Hardaway boasted just a 12.7 assist percentage in the 2017-2018 season.
In the clip above Hardaway makes the right play in transition, a play he may not have made in years past. Instead of putting his head down and going straight into Deandre Bembry for a contested shot at the rim, he slows the ball down and waits to find Trey Burke on the wing for an open 3-pointer. Those types of reads are important for a player that has the ball in his hands as much as Hardaway does, an encouraging development to watch come together.
Above, Hardaway makes a beautiful lob pass to Mitchell Robinson for an easy dunk. He notices Rondae Hollis-Jefferson inching up towards himself and away from Robinson and makes the right decision to go up top to the big man.
He is an explosive scorer and a consistently developing all-around player, but there are still crucial flaws in Hardaway's game.
The main flaw is his battle with consistency. In games where he has struggled to score, he has really struggled. Two out of the three games in which he scored less than 15 points he only managed seven points apiece. He was a -21 in the plus/minus category in two of the three games and a -18 in the other. All three games ended in defeat for New York. For Hardaway to truly assert himself as an exceptional player, he must find a way to avoid nights like these. If the shot is not falling for him, then he must find other ways to contribute — whether it be as a distributor or competing at his highest level on the defensive end, a side of the court he has struggled on.
This may just be a hot start for Hardaway, and his numbers may dwindle down. But for the Knicks, they must do everything they can to not let that become the case. They must continue to use him as their number one option and allocate around 20 shots a game for him. Continue to use him as a facilitator, even with their bevy of point guards on the roster.
At 26 years old Tim Hardaway Jr is having the best season of his career and has taken his game to a level that raises the ceiling of a Knicks team that has been disastrous over recent history.