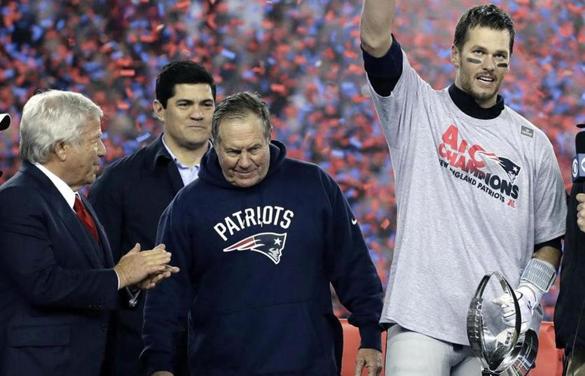 Less than 24 hours ago, ESPN published an article showing the turmoil within the New England Patriots. The article focused a lot on Alex Guerrero, a "team" fitness expert and a friend of Brady's, as the primary reason for the rift between the trio.
ICYMI For almost two decades, Bill Belichick has managed to subvert the egos of his best player, his boss, and himself for the good of the team, yielding historic results. This year, though, the dynamics have been different. https://t.co/H1In1GsQht

— Seth Wickersham (@SethWickersham) January 5, 2018
The article has quickly made its way through media circles, seen by anyone who is interested in football. This includes those within the Patriots organization. Owner Robert Kraft, head coach Bill Belichick, and quarterback Tom Brady released a joint statement on the matter.
"For the past 18 years the three of us have enjoyed a very good and productive working relationship. In recent days, there have been multiple media reports that have speculated theories that are unsubstantiated, highly exaggerated or flat out inaccurate. The three of us share a common goal. We look forward to the enormous challenge of competing in the postseason and the opportunity to work together in the future, just as we have for the past 18 years. It is unfortunate that there is even a need for us to respond to these fallacies. As our actions have shown, we stand united."
Rumours of a decline in the relationship between Brady and Belichick have been circulating for some time. According to the article, the decision to trade Jimmy Garoppolo was an infuriating choice Belichick had to make because of Brady's demands. The article goes on to say Brady was in a much happier mood after the trade was finalized.
This article comes at a critical time in the season. The Patriots are the first seed in the AFC playoffs and are considered by many as the favorites to win the Super Bowl. Though this is not the first time the Patriots have faced scandals, it does come on the eve of the playoffs.
This stirring of drama will produce one of two outcomes: either the Patriots become distracted and fall flat, or it will unite the team and they will become even more dangerous.