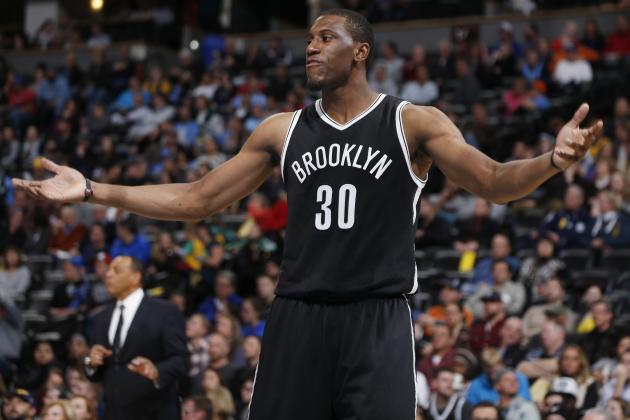 (UPDATE: 6/23/16):
According to Adrian Wojnarowski of The Vertical on Yahoo! Sports, Thaddeus Young has been traded to the Indiana Pacers for the 20th overall pick in the 2016 NBA Draft and a future 2nd round pick.
Brooklyn has traded forward Thad Young to the Indiana Pacers for the 20th pick and a future 2nd rounder, league sources tell @TheVertical.

— Adrian Wojnarowski (@WojVerticalNBA) June 23, 2016
Thaddeus Young is one of the pieces the Brooklyn Nets are looking to build around alongside Brook Lopez. The tandem might not be the exact fit for today's NBA style but they are effective and Lopez is a fringe All-Star every year. Young, on the otherhand, is a player that fits the mold of a stretch four big man although his defense might be suspect at times.
Young has some value for both the Nets and other teams around the NBA. The forward had said recently he was told by new general manager Sean Marks that he would be safe and avoid a trade.
The Nets want to make some moves to help improve their future given they do not have any first round picks in this upcoming draft and next year as well. They need to make moves to improve their future and they might have to move some veterans in order to do so.
Now, it appears that the business end of the NBA is coming true to its form and Young has been placed on the trade market. He's available to the highest bidder, but at a cost and in particular a team in the Western Conference.
Following from Adrian Wojnarowski of The Vertical on Yahoo! Sports.
Sources: Several Western teams aggressive on Thad Young, whom Brooklyn's working to move to highest bidder. This gets Nets into first-round.

— Adrian Wojnarowski (@WojVerticalNBA) June 23, 2016