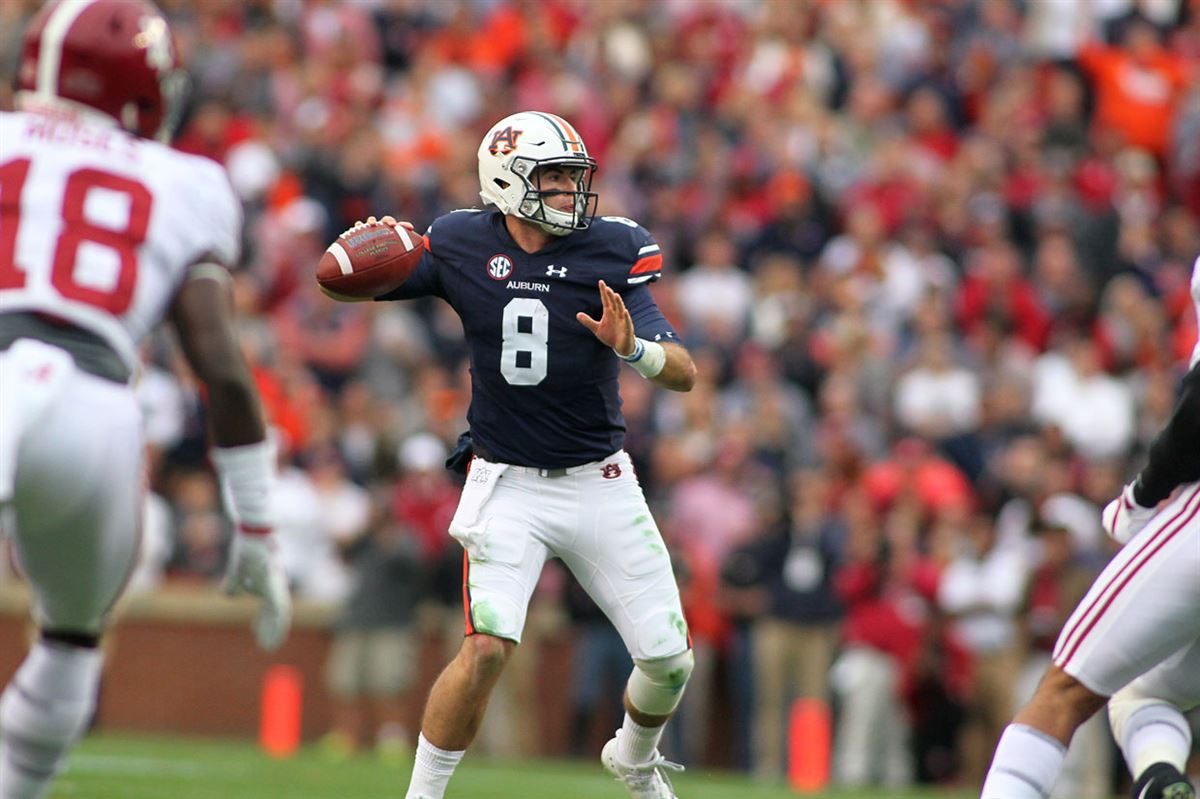 Everyone was ready for a simple College Football Playoff selection day Dec. 3, but it all came tumbling down Saturday in Auburn, Ala.
The top-ranked Alabama Crimson Tide fell to rival Auburn, 26-14, in the Iron Bowl and opened the door for chaos in the College Football Playoff.
If Alabama had won out, it would have eliminated Auburn and Georgia along the way and secured one spot for the SEC.
But now we will hear Alabama fans screaming from the rooftops about how they deserve a chance to compete for a championship, despite looking quite mediocre in the past two weeks against Mississippi State and Auburn.
The latest AP Poll is out and it shows Alabama with a slight edge over Ohio State in the rankings before the Buckeyes hit Indianapolis for a Big Ten title showdown with Wisconsin.
Latest AP Poll:
1. Clemson
2. Oklahoma
3. Wisconsin
4. Auburn
5. Alabama
6. Georgia
7. Miami
8. Ohio State
9. Penn State
10. TCU

— SportsCenter (@SportsCenter) November 26, 2017
Here are five observations about the College Football Playoff race before the College Football Playoff committee releases its new rankings Tuesday.
1) Ohio State Edges Alabama Crimson Tide
Ohio State came into the weekend of "The Game" against rival Michigan needing to take care of business on the field and needing to see Alabama win out to secure a definitive playoff spot.
But Alabama came up short in spectacular fashion, leaving things in the hands of the College Football Playoff committee.
The Buckeyes still have a huge hurdle against No. 3 Wisconsin in the Big Ten Championship Game, but Ohio State has the most talent in the Big Ten and should presumably be favored to win the game.
The final playoff spot could come down to an Ohio State vs. Alabama ballot box showdown if Oklahoma takes care of business against TCU in the Big 12 title game.
If we're being real, there is no contest. Alabama's strength of schedule may finally come back to bite it in the backside.
Ohio State would boast wins against three top-20 opponents in Penn State, Michigan State, and Big Ten West champion Wisconsin.
Its only major blemish is an embarrassing Nov. 4 loss to Iowa, which many people will point to as a reason to keep the Buckeyes sidelined.
But ultimately the committee has to look at who teams have beaten.
If you cannot defeat playoff-caliber opponents, why would you make a good playoff team?
Despite having zero bad losses on the résumé, the Crimson Tide haven't beaten many quality teams.
Their best wins are against an LSU team that lost at home to Troy and a close win against four-loss Mississippi State.
Make no mistake. This Alabama team is not comparable to Ohio State's 2016 squad, which snuck into the playoff without a conference title.
Résumés matter in this new age of college football.
Ohio State resume in 2016 (opp ranking at **end of reg season)
Won AT 9 Oklahoma
Won AT 6 Wisconsin
Won vs 5 Michigan

Alabama resume in 2017
Won vs (10-ish) LSU

No contest pic.twitter.com/UCzNHWhESl

— Jason McIntyre (@jasonrmcintyre) November 26, 2017
2) TCU-Oklahoma Will be Huge
Oklahoma and TCU are squaring off Dec. 2 for the second time in less than a month in Norman, Okla., for the Big 12 championship.
The Sooners handled Gary Patterson's TCU defense in their first meeting for an easy 38-20 November victory, pushing quarterback Baker Mayfield into the thick of the Heisman race.
But this newly implemented Big 12 title game could throw a monkey wrench into the entire College Football Playoff system.
Under last season's Big 12 format, the Sooners would have already clinched a playoff spot and would be sitting pretty.
Now the Horned Frogs have a chance to make some much-needed adjustments and spoil the party for Oklahoma.
The only issue is a two-loss Oklahoma team would still have a major argument for entrance into the playoff picture if Ohio State is sitting there as a two-loss Big Ten champion.
The Sooners demolished the Buckeyes Week 2 in The Shoe by 15 points and it would be difficult to argue Ohio State is more deserving of a spot than Oklahoma.
It would be mind-boggling to figure out what the committee would do with two-loss TCU, two-loss Oklahoma, two-loss Ohio State, and one-loss Alabama. It would be complete madness.
3) Auburn's Meteoric Rise
Auburn coach Gus Malzahn has seemingly been on the hot seat ever since he lost the BCS National Championship Game to Florida State in January 2014.
The former offensive coordinator for Auburn's 2010 national title team has struggled to find a quality quarterback since Nick Marshall left the program and he was left for dead after the Tigers lost to a struggling LSU program Oct. 14.
Malzahn kept his cool and was able to turn his team's fortunes around behind poise in the pocket from quarterback Jarrett Stidham and a powerful running game.
Junior running back Kerryon Johnson has carried the Tigers in the past three weeks, including two huge performances against Georgia and Alabama, who both were ranked No. 1 in the country when they faced Auburn.
Johnson racked up 104 tough yards on 30 carries against Alabama and pulled off the rare tailback jump pass to give Auburn some early momentum.
Raise your hand if you had a Kerryon Johnson jump pass TD from the wildcat as the first score of the #IronBowl pic.twitter.com/U09apCjOz0

— Def Pen Sports (@DefPenSports) November 25, 2017
Johnson suffered a shoulder injury late in Auburn's upset victory Saturday, and his status is unknown for Auburn's SEC Championship rematch with Georgia.
It's clear Auburn is the hottest team in college football, but it'll be difficult for the Tigers to keep up their magic if Johnson is unable to be effective in Atlanta.
4) Pitt's Troll Chain was Amazing
The Miami Hurricanes entered their Black Friday matchup with seven-loss Pittsburgh ranked No. 2 in the country and they were presumably on their way to an undefeated regular season.
No one expected Pittsburgh to put up such a great fight or for Miami quarterback Malik Rosier to look so pedestrian against an ACC bottom dweller.
Rosier was 15-of-34 for 187 yards and finished with a poor 29.7 QBR.
The junior from Mobile, Ala., missed multiple deep passes and was eventually benched for sophomore back up Evan Shirreffs late in the fourth quarter.
Pittsburgh pulled off the 24-14 upset after Rosier lost a fumble in Miami's final possession.
The postgame trolling was at an all-time high. Pittsburgh cornerback Avonte Madox, who forced the game-winning fumble, hit the postgame press conference in Pittsburgh's own version of the "Turnover Chain."
Avonte Maddox, who forced the final Miami fumble, is really wearing this chain pic.twitter.com/go7UefBIDg

— Brian Batko (@BrianBatko) November 24, 2017
5) USF-UCF Broke the Scoreboard
Black Friday was the perfect day to let your Thanksgiving food coma subside as you watched some great college football.
And no game was better than USF and UCF's "War on I-4," which featured two explosive quarterbacks and 91 combined points.
Late in the fourth quarter, USF quarterback Quinton Flowers hooked up with receiver Darnell Salomon on an 83-yard touchdown bomb to pull within two points.
First play from scrimmage #Central HS (FL) alum & #USF #Bulls WR Darnell Salomon (@3way_era) catches an 83-yard bomb from #Jackson HS (FL) alum QB Quinton Flowers (@SpotTheBall_9) #USFvsUCF pic.twitter.com/jpZG2uWQh7

— Sleeper Athletes (@SleeperAthletes) November 25, 2017
The Bulls would successfully add the two-point conversion to tie UCF at 42 with 1:41 remaining in regulation.
The USF sideline was rocking and all signs pointed to overtime in Orlando, Fla.
But the Knights rose from the ashes on the very next play. UCF's Mike Hughes took the ensuing kickoff back 95 yards to the house.
Knight Nation, we leave you with this…

Take it away, @ucf_marcdaniels (and Mike Hughes) ?#UCFast pic.twitter.com/yQFLnudCQ2

— UCF Football (@UCF_Football) November 25, 2017
The electrifying return clinched an undefeated regular season for Scott Frost and the UCF Knights just two seasons after the team went winless in the regular season.